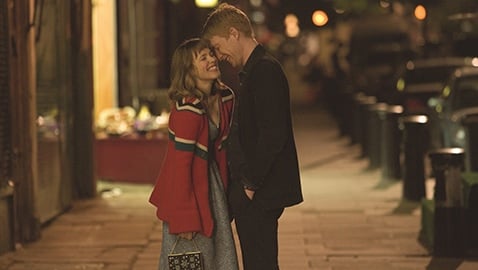 It's "About Time" Richard Curtis hits the screens again with this year's new rom-com.
Directed by
Richard Curtis
Starring
Domhnall Gleeson, Rachel McAdams, Bill Nighy
Release Date 
Nov. 8
Rating: 8/10 
Romantic comedies tends to follow a fairly simple formula: Guy meets girl, they hit it off, they hit a roadblock, they overcome it and then fall — and remain — madly in love. Interwoven humor from quirky friends or disastrous situations only strengthen the couple's bond. Although this holiday season's new rom-com, "About Time," is categorized as such, the rom-com formula is employed effectively, with its own deviations, and makes you want to fall in love all over again.
Take the irresistible Rachel McAdams, a name easily identifiable with the world of romantic movies ("The Notebook," "The Vow"), and a charming young Irishman — in this case Domhnall Gleeson ("True Grit," "Anna Karenina") — for your perfect duo. To top it all off, director Richard Curtis ("Bridget Jones' Diary," "Love Actually") has another go at a charming, endearingly British romantic comedy. The film, which takes place in England (countryside and London), is a subtle yet appreciated accent to most Americans' expectations of a rom-com in Los Angeles, New York City or Seattle.
As in any rom-com, the relationship grows through a series of dates and encounters, but the catch is that the male lead, Tim (Gleeson), can time travel, as can his father and every other male in his family. Tim can repeat a romantic encounter once, or twice, and sometimes for a third time, and it gives him the opportunity to manipulate the situation to meet his wishes, like when he "first" bedded Mary (McAdams). The premise is eerily similar to that of 2007 drama "The Time Traveler's Wife," which also stars Rachel McAdams, but this time, time travel is used to comedic effect. Although time travel proves to be the defining asset of Tim's experiences, the theme, quite predictably, is the realization that we all live in the present and that is what we should cherish.
The moral is overdone and the sci-fi twist is fairly unoriginal, but the execution is enjoyable. Time travel within the movie is explained briefly and vaguely: Get into a dark and enclosed space, close your eyes and clench your fists while thinking of where you want to be. Being critical on the overtly simple time travel is understandable, but the ultimate reason to watch "About Time" is for the romance and comedy.
Alas, no rom-com would be complete without a wonderful supporting cast. The father, played by Bill Nighy, carries a dry sense of humor and acts much more like a friend or mentor than a father. He's a character integral to the film, and much enjoyed while on screen. The rest of the family — mother (Lindsay Duncan), sister (Lydia Wilson) and uncle (Richard Cordery) — are your basic rom-com characters but are exceptional in playing them.
The film adds up quite simply: an eye-catching cast with great chemistry, an easy-to-follow storyline and an ending that will make most of all the audience happy. It's predictable from the get-go, and quite frankly, the film wouldn't be worth your money if you deem it another rom-com. But that's not the point. "About Time" does all the formulaic aspects exceptionally well, it stands above run-of-the-mill rom-coms and is a definite must-see for those dedicated to the genre.