Whatever She Wants: Julien Baker & The Heart of boygenius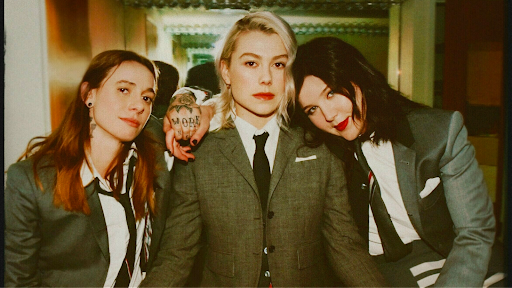 Xuan Ly, A&E Co-Assistant Editor
May 29, 2023
Editor's Note: The following article includes potentially distressing discussions of drug addiction and suicide.
With the release of their new album, "the record," and riding on the success of each member's rising solo career, boygenius has reached new levels of mainstream fame. In 2018, the trio-band released their first project and subsequently split to focus on their solo careers. For the next five years, boygenius fans prayed for the miracle of another collaboration from indie-rock stars Phoebe Bridgers, Lucy Dacus, and Julien Baker. Even without another joint release in sight, the band did not leave their fans unsatiated; between "boygenius" and "the record," all three members released at least one major album: Bridgers' "Punisher," Baker's "Little Oblivions," and Dacus' "Historian" and "Home Video." Within these solo projects, the crux of the trio's friendship can be found: a love that transcends the individual. 
Julien Baker is well-known as the heart of boygenius; she met Dacus in 2016 and Bridgers just a month later, keeping in close contact with both and exchanging emails regarding their favorite books and experiences on tour. When Bridgers, Dacus, and Baker found that they would tour together in 2018, the three headed to the studio in hopes of making a song to promote the tour. At the end of their sessions, they had polished six songs, which became the highly regarded "boygenius" EP. In their solo albums following "boygenius," listeners are given hints at their continued friendship and musical collaboration through appearances as backing vocals for each member's album. The trio's harmonies are unmissable with Dacus' grounding alto, Baker's soft soprano, and Bridgers' husky tone creating a heavenly amalgamation of emotion. 
With the release of her debut album "Sprained Ankle" in 2015, Baker began sharing her internal conflicts with religion, queerness, and self-destruction. In "Brittle Boned," Baker sings candidly: "and a line of rifles aimed at my sick mind / 'cause I'm so good at hurting myself." Across her next two albums, Baker continues tackling her unlovable nature and her worries about becoming too burdensome. Since her teenage years, Baker has been working through the cycle of recovery from a severe drug and alcohol addiction. During the 2018 tour, in which boygenius was formed, Baker's sobriety and her ideas surrounding self-worth were heavily tested. In an interview, Baker notes that she does not "want to construct a narrative of this sort of oscillating prodigal redemption," hinting at the pressures that come with maintaining sobriety in the spotlight, especially in a culture of toxic positivity that sugarcoats recovery. 
Baker's most recent album, "Little Oblivions," features similarly dark themes of self-reflection and slow healing in the absence of substance use. The chilling song "Favor," in which Bridgers and Dacus appear as backing vocals, discusses Baker's struggle with suicidal thoughts and the people who have kept her afloat. Baker wonders if the weight of her addictive personality is too much for the people she loves: "how long / do I have until / I've spent up / everyone's good will?" The beginning instrumentals are dark, nearly swallowing Baker's shy voice as she confesses to her self-destructive behavior despite her friends' help. Even so, Baker ensures that those close to her are aware of their role in her life: "who put me in / your way to find? / what right had you / not to let me die," which is phrased to hint at her complex relationship with self-loathing despite the support circle she has accrued. It is clear that Baker holds her friends near and dear while simultaneously being aware of the pain she has caused them: "if I had my way / I'd have missed you more / than you missed me."
Bridgers and Dacus' deep adoration for Baker is unmistakable, each releasing a song rumored to be dedicated to and directed towards their close friend. The grimmest track on Dacus' recent album, "Home Video" is thought to be about Baker. In "Please Stay," Dacus quietly begs a close friend to stay alive, even if the dynamic of their relationship must change. She begins by describing the fear of seeing mundane routines left behind: "your clothes in the dryer / your hair on the shower wall / … the books on your shelf that you never read." Dacus explains that she has been close to many people who have contemplated or committed suicide and has discovered the importance of being a confidant and taking things one day at a time. This is clear in the climax of "Please Stay": "call me if you need a friend, or never talk to me again / but please stay / but please stay." Dacus conveys the helplessness felt by all those involved, which is further shown by the inclusion of Baker and Bridgers' backing vocals, who join to sing the single line: "what else am I supposed to do." In knowing each person's background, different perspectives are added to the phrase but are all ultimately connected by feelings of lost agency and personhood. 
The penultimate song in Bridgers' album "Punisher" is believed to be an ode to Baker. In fact, the trio's vocals for "Favor" and "Graceland Too" were recorded on the same day in Baker's hometown in Memphis. "Graceland Too" is set in a time when Baker is "no longer a danger to herself or others" — whether or not the setting indicates the present is up for listeners' interpretation, but one cannot ignore the hope hidden in Bridgers' assertion. Still, Bridgers does not shy away from the past, fully aware that the past is inescapable. She hints at Baker's suicidal ideations and the role that Bridgers has maintained as a close friend: "said she knows she lived through it to get to this moment / ate a sleeve of saltines on my floor and I knew." Similarly to Dacus, the overwhelming love that Bridgers has for Baker pushes her to prioritize Baker's well-being over her own. The two join together to sing the end of the second verse that describes Baker's journey away from the memories, good and bad, attached to her hometown, indicating their unending support of Baker's decisions. In the outro, Dacus and Baker become Bridgers' echoes, following Bridgers' main assertions "whatever she wants" and "I would do anything" with "whatever you want," creating a cathartic communication between the trio. The song ends with Dacus and Baker's vocals, highlighting the importance of the trio's friendship. 
In an interview with GQ on her experience with staying clean, Baker emphasizes that "simply being reminded of your own agency can be a powerful thing." In "Please Stay" and "Graceland Too," while they make their opinions known, Dacus and Bridgers ultimately put aside their own hopes for Baker and underscore her ability to choose her own path. Baker expresses that her hopes for the future include continuing to learn, being patient with herself and others, doing what feels right for herself, and getting a master's degree. Through it all, there is no doubt that Dacus and Bridgers will be by her side.
Image courtesy of NPR