University of California Sees a Drop in Number of Applicants
The number of applications for the Fall 2023 admissions cycle generally declined across the University of California system, particularly among nonresident applicants, according to a report released by the UC Office of the President. Though UC San Diego saw a drop in applications, this change was only among international students.
In comparison to the Fall 2022 admissions cycle, the University of California reported that there was a 2.2% decline in total applications, UCOP said. UC campuses overall saw a reduced number of applications from in-state community college applicants as well as out-of-state and international applicants. The decline in applications from community college students aligns with an overall decrease in enrollment at these institutions, largely credited to the COVID-19 pandemic. However, there are more nuanced reasons behind the waning number of international applicants, who make up a significant portion of the 2.2% decrease.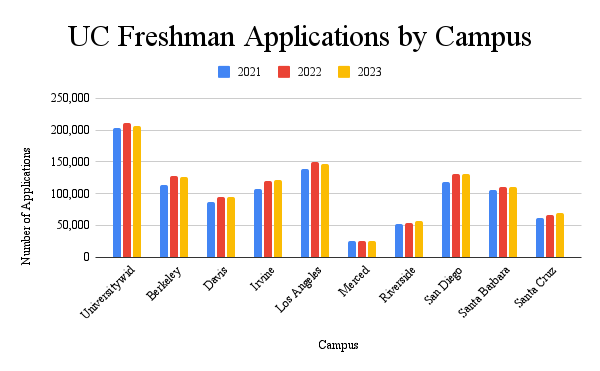 "Without speaking with students on why … we speculate there may be growing interest in attending colleges and universities in their home countries, geopolitical considerations, some ongoing COVID-19 travel restrictions, etc.," UCSD Associate Vice Chancellor for Enrollment Management Jim Rawlins said to The UCSD Guardian.
According to Rawlins, there has not been a decline in those applying to UCSD from California or out-of-state applicants in comparison to previous application cycles or other UC campuses; the decrease is attributed to fewer international applicants. In fact, applications from American students have steadily increased over the years, he said. This is not seen across the entirety of the UC system, however. Systemwide, the general trend is that applications from California, out-of-state, and international students have all decreased. For example, at UCLA freshman applications from all three groups decreased from the Fall 2022 cycle. Conversely, for some universities like UC Riverside and UC Santa Cruz, freshman applications from all groups have increased. At UCSD, while the number of international applicants decreased from the Fall 2022 cycle, they increased from the Fall 2021 cycle.
While applications from most racial groups also declined across the UC system, the application pool reflected a slight increase in Chicano/Latino and Indigenous applicants compared to the Fall 2022 cycle. At UCSD, however, almost all minority applicants, other than Asian Americans, increased since last year.
Rawlins also made clear that the drop in applicants likely has little to do with financial affordability. Nearly 70% of UCSD students receive some form of financial assistance, he explained, which has provided more support to students than in prior years. 
"Financial aid packages are now covering a larger share of the total cost of attendance compared to previous years," Rawlins said.
Rawlins added that the decline in applications does not reflect nor affect UCSD's objectives. "Our goal is not to reach record numbers of applications but to encourage students to see us as a possibility as a university where they can achieve their academic ambitions."
The University of California will release additional admissions data in the upcoming months that will include the number of students who decide to enroll.
Art by Nicholas Regli for the UCSD Guardian
Data Visualization by Sophia Fang for the UCSD Guardian