Behind the Tritons: Q&A With Associate AD in Communications Jeff Tourial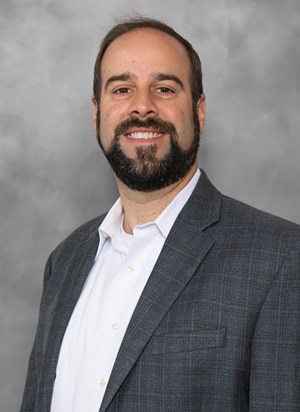 The following is the transcript of an interview with UC San Diego Associate Athletic Director in Communications Jeff Tourial, conducted on Nov. 4 over Zoom. It has been lightly edited for grammatical purposes, and some questions have been cut for length.
Could you explain what the duties of the communications staff are?
The short version is that we are charged with telling the story of UC San Diego Athletics, our teams, and our coaches or scholar-athletes, and we do that through a variety of means, including working with media members, such as yourself, and through media relations efforts. We do that through telling our stories ourselves, through our website, and our social media channels, and we do that through our video production and creative services units. And those are just some of the ways we reach out, and our audiences include fans, alumni, parents of current scholar-athletes, the scholar-athletes themselves, and very important recruits. Our coaches are always trying to find the best recruits to come play here in the future, so a lot of our messaging is targeted towards them.
What does a normal day look like (pre-pandemic) for you and your department?
It's a funny question. It depends. If we had a basketball home game, leading up to that day we'd create the game program that goes out for fans that attend the game at the arena, write a preview for the website, go to practice, and talk to the head coach and a couple of the players about what to expect with that opponent so we can work that into the preview and so on.
So all that's done before game day. On game day itself, I tend to come in a little bit later because it's going to be a longer night. So I come in and make any last edits to the program and print and make those final copies. If we have media attending the game, whether that's associated with the visiting team, such as their radio broadcaster, or if we have print media or television coming to cover our game, we make sure that we have credentials for them and that those get to our ticket office for later distribution.
We go to shootaround sometimes — not always, but sometimes we go to see if there's any last minute changes to our lineup, or if somebody has been injured, finding out whether or not that person might play that night to have that latest information. Then I head over to the arena a couple hours before tip-off. So for a 7 o'clock game, I would want to get there at 4:30 to make sure that we set up the computer that keeps the official stats that go to the NCAA and make sure that tablet is working properly with our video board so that fans in the arena can see how many points someone has or how many fouls they have. All of that data is generated automatically. Then I make sure our television broadcasters and any radio on site have everything they need, make sure they know our team storylines, and have correct pronunciations of everybody's name so they're obviously not mispronouncing anything. We also oversee the table crews for the game management folks — the person that runs the scoreboard, the person that runs the shot clock, the person that runs the game clock, the statisticians who keep the official stats, the official scorer, which is the person that wears the referee jersey that sits at the table who keeps a handwritten book in pencil. And that's the official record of how many fouls the player has and those kinds of things. So we make sure all that staff gets where they need to be.
And then of course, the game will happen, and postgame, if there is media onsite, I coordinate postgame interviews and make sure that media gets to talk to the coach, the players, whomever they'd like to speak with, all the while writing my own recap to put on our website and distribute to media in a timely fashion and managing social media during the game. Postgame, I'll add in a video recap, highlights, and an interview, and upload all that to our website. So usually again for a 7 o'clock game I'm probably finished 10 or 10:30 p.m. and then I head home, and then usually I still have some more to do — archiving photos, creating a photo gallery and so on, but I like to do that stuff from the comfort of home.
UCSD is often seen as not a very big sports school, and not especially a large brand in the area — are there unique challenges to marketing athletics at a school like this one?
I think that's one of the really exciting things, frankly, and a big opportunity for us. One of the reasons that I was interested in working here and that I'm excited to be here is that the move to Division I really opens so many doors for UC San Diego Athletics to enhance our brand and grow our identity, which we in turn believe — and those of us who've worked in Division I our entire careers are quite confident — will enhance the university's brand, and will enhance the visibility for UCSD as a whole, now that we're in Division I.
Frankly, marketing games to students is a much bigger challenge in Division II where our opponents may not be as well known. They're not household names per se, and that's not to take anything away from those universities, but for maybe a casual sports fan, or a student on campus who's not a big sports fan but is looking for something fun to do recreationally, they have this opportunity now. Now that we're in Division I and will be playing Big West opponents, the likelihood is that the casual fan is much more familiar with [California State University,] Fullerton or UC Irvine than maybe the opponents we were playing prior.
We think that over time, that affinity for our teams will grow amongst the students on campus, and within the San Diego community. Now we will be mentioned in the same breath with [San Diego State University] and with the University of San Diego, and while we don't play football, we think that over time we'll be competitive in basketball, and in other sports, maybe even sooner than that. And that's a big opportunity for us to grow awareness in the community. The underlying part of it that I didn't even mention was that we have the biggest enrollment of any school in the area now; as of last week, there are over 40,000 currently enrolled at UC San Diego. And so, as those students progress and then become alumni, our alumni base will grow and hopefully, again, that affinity will catch on.
What has changed about the way your department has operated since the COVID-19 pandemic struck in March?
Well, I think the biggest thing is, fundamentally, there aren't games to cover, write about, talk about, and promote. And for us, as a department staff, we're working remotely. So not being on campus every day, and not having that face to face interaction with our scholar athletes that we've had in the past, that's been a big adjustment. But for us in communications — and this would apply to our friends in marketing as well, but really, all of us in external operations — without games, we've had to pivot and find other ways to try to keep our audiences involved.
So in communications we have created a lot of series, primarily for our website and for social media, to tell our story a little bit differently. So one of the first things we did was a series called Alumni in Action where we focused on UC San Diego Athletics alumni who work in the healthcare profession as doctors, nurses, etc. And we did several feature stories about former Triton scholar-athletes who now are making a difference in the world and helping to fight this pandemic. And we've continued that throughout the summer, through various series that we've done. One that we're doing right now, we call Triton Tuesday, and every Tuesday we'll do a piece about the university that the casual fan may not know, and that really is, again, targeted at prospective scholar-athletes as they look to learn more about our institution.
While they can't come on campus and see a game and see what the atmosphere is like, they may not know that UC San Diego is ranked so incredibly highly in all these national and international rankings, and they may not know that we have Nobel Prize winners on campus, or they may not know — though they probably do — about how the amazing weather here in La Jolla and the access to the beaches and so on. So we're trying to shine the light there. It's very different now that I'm sitting in front of a computer on Zoom all day as opposed to being on campus, but we've obviously all had to adjust.
When sports start coming back, starting with basketball on New Year's Day, what are your department's plans to balance safety and effectiveness?
That's the right question. And to be clear, health and safety is paramount. That is above everything else, so everything we do to cover those games will start with the health and safety lens, and how can we best ensure that we are doing everything we can to keep the scholar-athletes and the team safe, and of course ourselves and anybody who might be working or covering the event.
Specifically, with those games, there won't be fans. The Big West Conference has decided that. I'm not sure that we would have been able to, even if we wanted to, but the conference took that out of our hands and there won't be fans onsite. So that element has been removed. But for us, how can we staff the events and do what we need to do, what we're required to do, but have fewer bodies if possible? And when that's not possible, how can we space them out from one another so that there is more space between each of them? And, of course, we'll all be wearing masks — that is a university requirement anytime anyone's on campus.
We're modeling that out right now, and I don't have a final plan to share with you, but in the coming weeks we'll have a finalized plan of how we're going to approach that.
What do you think is the biggest challenge in UCSD's transition to Division I, especially at this current moment?
The biggest challenge right now is the environment that we're in. There were a lot of grandiose plans we had as a department and as a university to celebrate the move. It's something that's been many years in the making, and the pandemic changed that. It wouldn't be right or appropriate, and probably not feasible, to do a parade in downtown San Diego, or to spend a lot of money on billboards that go up along Interstate 5 promoting the move. Not to say some of that can't happen down the road, but those kinds of plans have been shelved.
July 1st is when the move happened as far as the NCAA is concerned, and throughout this fall it should have been a lot of celebrating and milestones. First this and first that, first Division I game, first Division I goal, first Division I win. A lot of that has been muted a little bit, but we're taking the long view in that, when the students and faculty voted, several years ago, to make this move to Division I, it was for all the reasons that we talked about a few minutes ago, and how this is really going to help not only the department, but the visibility of the university. And all of that will still happen, it's just the short term celebratory tone that isn't there, and that's too bad. That's unfortunate, but again, it's obviously nothing that any of us can control, and so we'll try to make the best of it.
What are you looking forward to the most in UCSD's transition to Division I?
I think today, in early November, it's just some semblance of getting back to playing games. I think that's why we're all here. But, in the big picture, UC San Diego will be a leader. Look at the university and everything it's done in its 60 years of existence. It's been a leader. It's been an innovator. We've tried to do that in athletics too, and I think now, given this Division I platform, as our school and our programs make the transition into the Big West Conference and into Division I, over time you will see UC San Diego as a leader in the conference and beyond. And we do expect to win conference titles and more than that in the coming years — that's not something that will necessarily happen here in 2021, assuming we play games, but in the coming years after we've made the transition into Division I, I think we're going to be ultracompetitive. That's going to be fun to see because UC San Diego, as you and I know, is such a special place, and the ability to showcase that to a much, much broader audience than we would have been able to do in the past, I think that's the exciting part.
Photo courtesy of UC San Diego Athletics