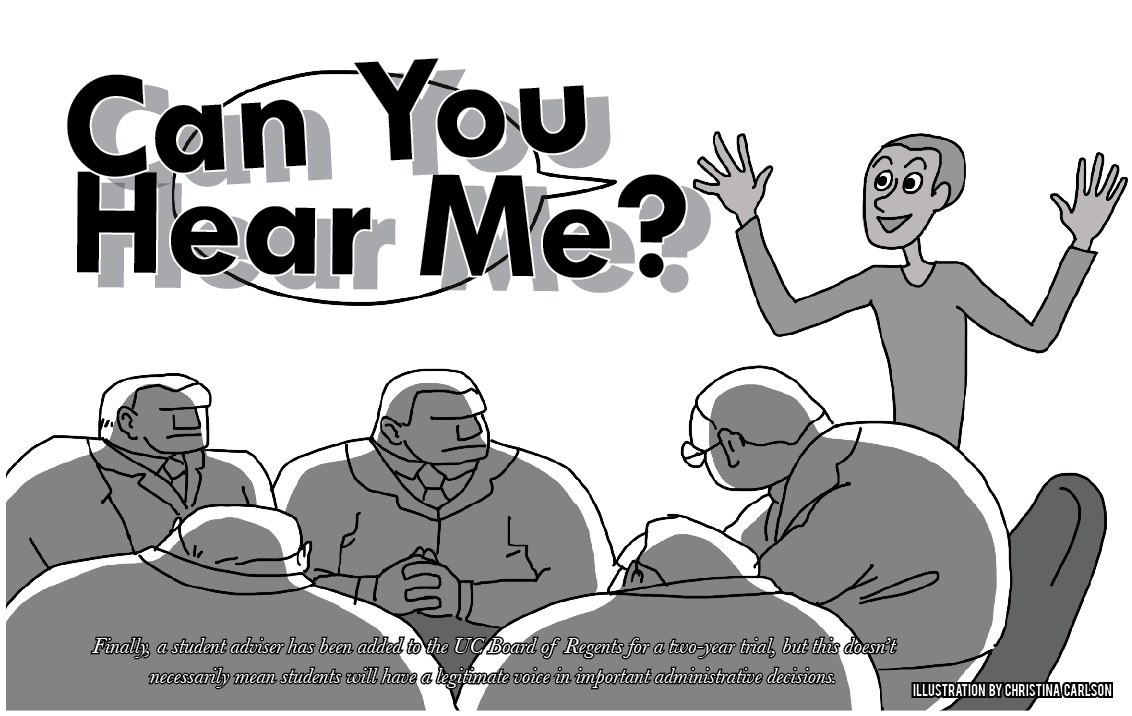 The UC Board of Regents unanimously approved student regent Avi Oved's proposal to add a nonvoting student adviser to the board for a two-year trial period last Thursday. Student advisers will serve on the board for one-year terms and come from different academic degree levels than the student regent. Since the 2016-17 student regent designate, Marcela Ramirez, is a Ph.D. student, the candidates for the 2017 student adviser position will likely consist of undergraduate students. This way, both undergraduate and graduate University of California students have an opportunity to communicate their specific needs to the regents. 
While this new position will increase student representation and facilitate communication with the board, it might not be as impactful as it appears to be. Oved's proposal initially sought to add another voting student regent to the board, and he spent most of his term working to make this proposal feasible. After one year of compromising with the regents, an "adviser" position is the most they will accept. Yes, adding another voting member to the board would require a constitutional change, but why is that impossible for the regents to consider?
The student adviser position is a good start to bridging the gap between UC students and administrators, but students need real power in order to truly ensure that their voices are heard. The UCSD Guardian editorial board commends Regent Oved for his tireless efforts to implement change. We urge future student regents not to feel satisfied with the amount of representation his proposal currently allows for and to instead continue to push for the voting rights on the board that he originally intended.
Being able to hear and understand students' perspectives is a step in the right direction. Unfortunately, this is only the first step. As UC President Napolitano pointed out, the Board of Regents and the UC Office of the President already meet with students on a regular basis to hear their perspectives. As always, the more student voices they hear, the better, and with the new adviser position, this will be happening more frequently. 
As we have seen during the tuition hike protests and the issue of divesting from private prisons, among others, the Board of Regents is by no means obligated take any action in direct response to student protests or petitions. In addition, when it comes to critical decisions such as tuition hikes, students voices may be heard but the votes are ultimately cast by a group of non-students who are appointed on the board for fixed 12-year terms and cannot be directly held accountable by students or Californians. However, even if students may not have a direct impact on the board, the positions of student regent and student advisor do provide a platform to organize and promote student activism. 
The UC Board of Regents in and of itself commands media attention and, when conflict or discussion arises, people across the nation pay attention. In addition, the board does include several ex officio officers who have seats up for election, including the governor, lieutenant governor and speaker of the assembly. While the regents themselves may choose to ignore student voices when casting their votes, those who hold California's purse strings will be listening. Over 90 percent of the 246,000 students enrolled in the UC system are California residents, many of whom are eligible, or will be eligible, to vote during their college careers. When mobilized, students are a formidable force to be reckoned with at the polls. Together, all three students sitting on the UC Board of Regents will be able to augment mobilization efforts and enact change. Furthermore, their individual efforts can be streamlined to address the needs of specific communities alongside general system-wide goals.
It is also important to remember that, at the end of the day, the student regent is also a student with priorities that go beyond the UC system and with plans that extend past their undergraduate and/or graduate years in system. A maximum two-year term is not nearly enough time for a proposal or idea to be actualized; the student advisor position in itself is the germination phase of Oved's ultimate aim of a second student regent that could easily be forgotten if future students do not continue to push for it. The duty of the UC Board of Regents is to secure the future of the University of California as an institution, not necessarily the prospects or well-being of students who will eventually leave. As such, as fellow students, we have a responsibility to support our student leaders and our successors through continuous lobbying and advocacy efforts of our own and in whatever ways we can.