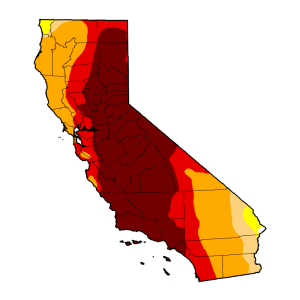 Out of 38.8 million Californians, most of us brush our teeth, drink Earl Grey tea, water our tomato plants, wash our dogs and lounge in tubs with scented bath bombs. We continually do all these things with the snowmelt we were skiing on in February and the precipitation that dampened Northern California in November. Or, at least, that was the plan.
Over the past few years, the water supply expended on the ever-growing, resource-gobbling population of California has exacerbated the worst drought in recent history. What used to be a mild drought has compounded to dangerous levels by the lack of surface water to refill reservoirs. California may not revert back to its pre-settlement desert state filled with rattlesnakes and tumbleweeds, but without a reliable water source, the forecast looks rather dystopian.
Our future is up in the air, quite literally.  As part of the Scripps Institute of Oceanography, the Center for Western Weather and Water Extremes has been studying the drought's implications for large-scale weather patterns. A particular type of storm called Atmospheric Rivers, which normally drenches Northern California and feeds Southern California, has skipped California for the East Coast. Some climate specialists attribute the lack of storms to an Atmospheric Ridge, an area of high pressure, off the coast. Just a couple of these storms could help alleviate the drought and start recovery.
Dr. Marty Ralph, director of the CW3E, stressed the importance of these Atmospheric Rivers.
"[Atmospheric Rivers] end up producing 30 to 50 percent of precipitation. We might get six or eight ARs in Northern California, and they produce 40 percent of the Sierra snowpack," Ralph told the UCSD Guardian.
The immediate answer to water supply problems is not to do our rain dances and wait for ARs but to conserve. Gov. Jerry Brown enacted the first mandatory water restrictions in recent history, beginning this Wednesday, May 6, in hopes of reducing water use by 25 percent. However, there is much more that we can do. Considering the millions of gallons pumped throughout California, a five-minute shower seems insignificant, but Ralph emphasized the cumulative power of conservation.
"The choices we make everyday can really make a difference," Ralph said. "Every citizen can do their part to conserve water as a valuable resource."
As we cut back, it is easy to blame the deficit on the prolific agricultural communities or metropolitan areas. Although agriculture uses nearly 80 percent of the water in the Golden State, water cuts have hurt many farms: 400,000 acres lay fallow up and down the state, and already 17,000 seasonal and part-time jobs have been cut. So far, the ranchers and farmers have avoided more damage by pumping unregulated amounts of groundwater from wells and aquifers to make up the difference. Gov. Brown's legislation still largely ignores agriculture's drain on the water system. The justification is simple: Cuts to agriculture can and will wreck agricultural exports, while cuts to the urban areas mean that you can't have your daily bubblebath. That being said, agriculture cannot continue to use massive quantities of water inefficiently.
However, water efficiency is useless without reforming the "use it or lose it" mentality written into the water right laws. Currently, California has a complicated system of water rights that is more suited to Gold Rush pioneers than 21st century mega-farms. If water rights are not used, they are assumed to be abandoned, and the farmers lose the right to the water. This leads many to use all of their allotted water even when it is superfluous. Currently, legislators in Sacramento are curtailing these rights with appropriate weariness.
Meanwhile in our very own San Diego County, the Carlsbad Desalination Project is finally conquering Samuel Taylor Coleridge's quandary: "Water, water everywhere / nor a drop to drink" from "Rime of the Ancient Mariner." $1 billion is being pumped into a desalination plant powerful enough to produce 7 percent of the water supply needed in San Diego County. The desalination project is energy-intensive, which leads many to ask if some fresh water is worth the environmental costs. However, if operations succeed, it could be a major development in the water crisis, not only for California but also for arid regions, such as Israel and Saudi Arabia.
The plant is scheduled to open next year, but the CW3E has been working on methods to save water closer to the source that can be applied for this year's wet season. As we approach the rainy season, the reservoirs will be kept low to absorb flood waters from winter storms. Climate scientists of the CW3E have been working to accurately predict ARs that bring winter floods and precipitation.
"We are hopeful, [and] we have a chance to develop the methods and work with civil engineers, water managers and flood control," Ralph said. "There could be the potential for extra water to be kept in the winter and then released if a storm comes. If a storm doesn't come, that water is available for summer. "
The scientists and engineers at the CW3E prove that the greatest resource we have in combating the drought are Californians. We are a persistent lot. Persistent enough to build a life in a desert shaken constantly by the earth and call it Golden. We cannot point fingers in this dry heat and blame other Californians for a statewide disregard for our most important natural resource.
"Drought is a very natural part of our climate here, and we have an incredible system of very talented and dedicated people in engineering and water supply who figured out to how to provide reliable water in face of that great variability," Ralph said. "Be confident that the drought will end and the water system will continue to supply water — but be respectful of that water and how important it is to conserve."