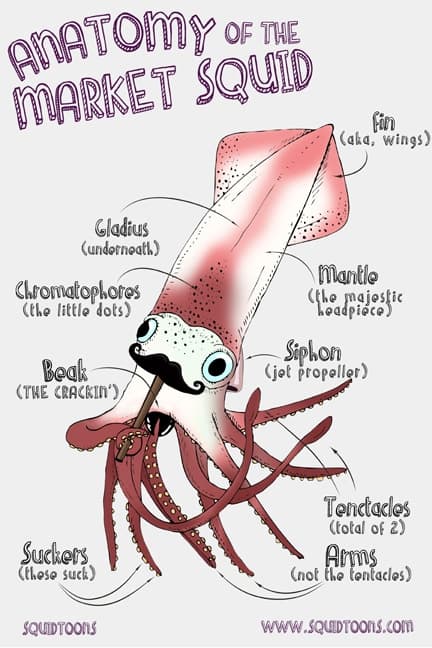 Imagine sitting in a biology class very close to dozing off into Wonderland, when the professor pulls up a comic titled "World's Derpiest Fish" on the PowerPoint.
One would snap out of daydreaming to find out which unlucky fish has been given that title. Reading the colorful and humor-filled comic, one would agree that with its barely noticeable tail, oversized fin and large, flat body, the Ocean Sunfish certainly seems like the world's derpiest-looking fish.
This fun cartoon is just one of many on a website called Squidtoons that aims to educate readers while provoking laughter. Garfield Kwan, its creator and director, launched this website with the idea of using vibrant, creative art to attract people to learn by "illustrating science with farts, burps and giggles," as the website claims.
Kwan, a first-year graduate student at the Scripps Institution of Oceanography, was inspired to launch this website when he came across another comic website, The Oatmeal, run by Matthew Inman. Kwan got the idea to combine cartoons and scientific knowledge when he read a specific comic called "Why the Mantis Shrimp Is My New Favorite Animal."
"With the mantis shrimp piece, [Inman] was able to just teach people science and make them laugh at the same time, and I wanted to see more of that." Kwan told the UCSD Guardian. "I just grabbed a couple of friends who could draw and shared the same passion, and then we started something called Squidtoons."
After a few weeks of planning with friends, the Squidtoons website was launched on Aug. 6, 2013. One of the first artworks, "The Anatomy of the Market Squid," was drawn by Sixth College junior Dana Song, the chief scientific illustrator. Although Song and some of the other artists are not personally involved with marine biology, Kwan feels that drawing Squidtoons allows the artists to bring a new, unique perspective to the art.
"[Song's] background isn't necessarily marine science, so it's her first time learning the topic," Kwan said. "And because it's her first time learning it, we're letting her decide where to go [with it]. [The comic] doesn't [teach] like a professor lecturing; it becomes a shape all on its own."
Kwan, who came into UCSD as a psychology major, discovered his deep love for marine biology could be turned into a Ph.D. when he worked at Stuart Sandin's lab to fund his college costs. He ended up graduating from UCSD in 2013 with a degree in marine biology and is currently researching ocean acidification and its effects on fish behavior and their brains in the Martin Tresguerres Lab. Although he prefers to work behind the scenes, Kwan has published a few of his own artworks, including "Losing Nemo," which creatively illustrates his research.
Because Kwan's idea interweaves science and art, which seem like two opposite sides of a spectrum, different kinds of people are able to work together. Song is one artist who works with Kwan because of their common goals despite their different interests.
"I really like [Kwan's] reason for starting Squidtoons, and a lot of it is because it's very art-based." Song said. "A big part of Squidtoons is mostly teaching through visuals, in very interesting visuals. So that's what really caught my attention, and that's what's keeping me stuck with doing Squidtoons because I just like it. Art is my alleyway."
Usually, Kwan will present topics and certain facts he will want the artists to draw out, and he will allow them to have free reign in their representations. However, he thinks being a busy graduate student also helps with thinking up unique artwork.
"I would say the best formula would be being delirious —sleep-deprived," Kwan said. "It makes you think of really random, crazy stuff, and I think that's one of the biggest contributions. Unfortunately."
Kwan's long-term goal for Squidtoons is to see its illustrations used by teachers and professors to educate students.
"I would like to see [Squidtoons] become a major outreach avenue for professors and universities. It could be a major teaching tool to teachers, public schools or private schools — it doesn't matter," Kwan said. "And I want to see the expression of research and art and science to be more similar than distinct."
Although many of the artists working for Squidtoons are doing so voluntarily, Kwan hopes that he will be able to hire them full time and expand Squidtoons even more. He is looking to illustrate other scientists' research so that a portion of their outreach grant funding can go back to Squidtoons which could then be used to pay the artists and keep the project afloat.
"I could see [Squidtoons] getting bigger — a lot bigger — because it is growing as of now. A lot of places that we've never even heard of have contacted us and asked for a collaboration," Song said. "So I feel like, at this rate, the amount of attention that we're getting will continue to expand exponentially, mostly because we are receiving so much attention from all these new orgs."