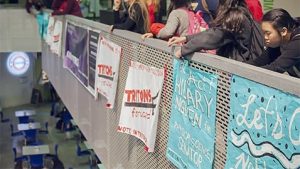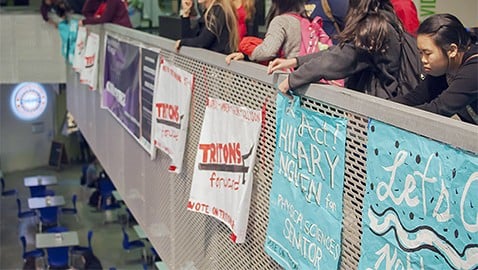 Two weeks in and A.S. Council is already making us smile. Last week's appointments of Sierra Donaldson, Seraphin Raya and Tristan Britt to various Associate Vice President positions were more than just the right move on A.S. Council's part. The nominations and confirmations of the former Let's Act! candidates not only show a willingness to pursue diversity, but a tangible effort towards that means diversity is already underway. If their appointments in the past few weeks are any indication, we can look forward to a year of an A.S. Council whose diverse voices represent most (if not all) of ours.
Former New York Senator William L. Marcy once proclaimed, "to the victor belong the spoils" after President Andrew Jackson loaded his cabinet with political allies and supporters. This so-called spoils system has indeed been employed in A.S. Councils of old — as recently as last year. At the start of the 2013–14 Council's term, then-AVP Academic Affairs Sammy Chang was denied an opportunity to repeat his stellar performance in that position by a Council whose landside Keep it REAL victory had defeated Chang's One Voice Slate. The job ended up going to Chang's protege, current A.S. President Robby Boparai, who seems to have allowed bygones to be bygones.
This year, virtually all of the candidates that our editorial board met with before the Week 2 election voiced support for the transportation referendum as the solution to the commuter crisis for UCSD students, and it seems as though the current A.S. Council is on the same page and ready to work together.
Donaldson, Raya and Britt were strong candidates for campuswide senators and VP Finance and Resources, respectively, and we worried that a Tritons Forward sweep of the top 14 positions would shut out competitive voices on principle.
AVP Environmental Justice Affairs Donaldson's work with advocacy issues and a deep internal knowledge on how A.S. works will be useful to the newly-instituted executive — which has only two years of combined Council experience. Raya's campaign earlier this quarter showed strong resolve to keep our student leaders accountable; his famed "A.S. Report Card" idea received praise from both slates. Raya, at the helm of A.S. Concerts and Events, is well suited to keep his own office transparent, which is a necessity in the face of an uncertain Sun God Festival. Britt brings a high level of fiscal knowledge to the fourth floor, which will come in handy for an office that required a $60,000 bailout to keep student organizations afloat.
Additionally, nominees from the boards of both College Democrats and Republicans will ensure a balance of ideologies as well as diversity in Council chambers. Perhaps most notable of all is the decision to keep presidential runner-up Kyle Heiskala in charge of ASUCSD MOVES for another year. This move is not only the fundamental opposite of Chang's rejection in 2013, but it is also the best one Council could have made, as Heiskala's knowledge and passion for resolving the transit problem surpasses those of any other student we are aware of.
The forward-thinking choice to keep multiple Let's Act! folks on the fourth floor occurs at a time when campus politics seem to have entered an era where slate ideas and practices transcend years and elections. We applaud A.S. Council on their efforts to promote an inclusive student government unmoved by slate politics and hope to see Council pursue future initiatives with the same open-minded mentality.