No. 13 tennis struggled against No. 17 Midwestern State, tallying only two wins in total last Wednesday.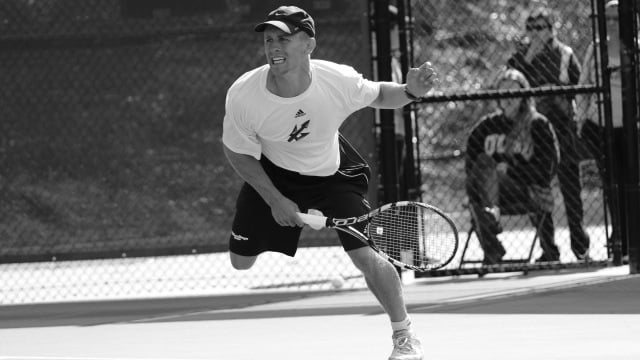 After nearly a month-long hiatus, the No. 13 UCSD men's tennis team headed to Sanlando Park outside of Orlando, Florida for the NCAA Division II Championship Tournament last Wednesday, May 14 but failed to keep up against No. 17 Midwestern State University in a round-one tournament exit. The Tritons (15–10 overall) could only take one match each in both singles and doubles against the 19–6 overall Texas natives.
The match between MSU started in the afternoon after a four-hour rain delay with the No. 1 and No. 2 doubles contests. UCSD's freshman Alexandre Miaule and sophomore Horea Porutiu fell 8–2 in the No. 2 slot, but senior Max Jiganti and junior Kona Luu took the top-ranked match against No. 11 nationally ranked junior Tomas Grejtak and freshman Ramon Toyos.
After the first two doubles matches, both squads were tied at one match apiece. Entering into the No. 3 match, the Tritons gained momentum. Down 7–5, UCSD's pair of senior Rajeev Herekar and junior Mark Meyer dug in and tied the match up at 8–8. However, the tiebreaker slipped away from the Tritons, who ultimately lost 7–3.
"The turning point was in [that match]," Luu said. "If we won that match, we would have gone up 2–1, which would have made it a lot easier for us … to try and win three singles instead of four."
With MSU up 2–1, the play shifted from doubles to singles, during which the Mustangs ran away with the win.
"We knew everything was going to be close on each court," UCSD head coach Timmer Willing said. "We knew we had some advantages on some courts and some disadvantages on others, but it was just a physically grueling match for each court involved."
MSU won the first match, with Toyos beating UCSD's sophomore Ganesh Alagappan in two straight sets in the No. 3 slot. In the following match at No. 4, Luu faced MSU junior Jarrod Liston but came up short despite winning the first set 6–2. Luu dropped the last two sets 6–4 and 6–1, giving MSU a 4–1 lead on the day.
The final vestiges of hope for the Tritons came at No. 5 as Porutiu tallied the Tritons' only singles victory, after winning a grueling first set 7–6 and taking the second set 6–4 against Mustang freshman Christopher Norrie.
With UCSD down 4–2 and only two matches remaining, the Tritons failed to mount a comeback as the Mustangs clinched the victory as No. 2 Herekar battled No. 43 sophomore Kyle Davidson, winning the first set 6–4 but falling hard in the next two sets 6–4 and 6–1.
No. 38 Jiganti played in the unfinished, final set at No. 1 as the Mustangs moved on to the next round of NCAA play.
While UCSD's postseason was cut short, Wednesday's competition marked the 13th time in 14 years that the Tritons have qualified for the national tournament.
"This whole year our goal was to get back to nationals, and we accomplished that," Luu said. "We practiced really hard for this, and we just gave it our best at nationals and we just happened to come up short."
After suffering what he called "mental fatigue" toward the end of the year, Willing nevertheless reflected positively on what was still a strong 2013–14 season.
"Overall, I'm very happy with the guys," Willing said. "I was disappointed we didn't get that last win to get to play West Florida, who ended up winning the championship. That's a little bit disappointing, but by no means am I disappointed in how our team did this year."
While their season has only just ended, the Tritons have already begun making improvements for the upcoming 2014–15 season.
"We have a couple good recruits signed, [along with one], maybe two, transfers, and then we're returning six starters from this national team," Willing said. "The field is going to be much deeper next year, so it's going to be a little more difficult, but I think our team each year is going to get better."