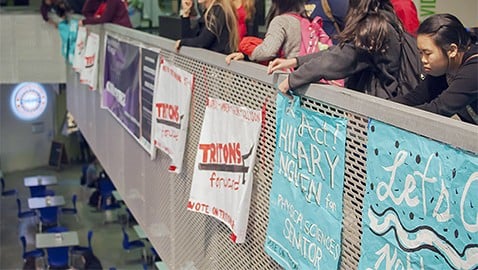 During the A.S. Council general election, any individual can file a grievance against a candidate for an unfair violation of election bylaws. However, most of these are petty trivialities that don't really have any place in a full hearing. Although the hearings maintain fair-practice elections, holding them for minor quibbles and infractions and delaying the election process is thoroughly unnecessary.
We consider ourselves lucky that there were only two slates running this year because evaluating grievances is a time-consuming process for everyone involved. When a grievance is filed, selection committee officials set a hearing to further investigate the case and determine whether the accused will be disqualified or sanctioned. If a decision is disputed or not made (or if an individual found guilty does not want to issue a public apology), the case can be appealed to the A.S. Judicial Board to further review the evidence. Unfortunately, election bylaws note that election results may not be announced until the current sitting A.S. president settles and ratifies all grievances and appeals.
Because of this tedious process, grievances have had a long history of significantly delaying the results of the A.S. Council elections. Though Council should hold hearings for serious offenses due to the possibility of a disqualification, the majority of hearings are held due to a variety of absurd reasons. Glossy poster paper and duct tape-related grievances are extremely tired topics for hearings, and the process for evaluating petty complaints during elections is in serious need of a rethink.
UCSD has even seen years where grievances were the cause of literally all election delays. The 2011–12 A.S. Council election, in fact, managed to set a record number of grievances. Due to a whopping 25 grievances filed against various slates and referendum campaigns, election results were pushed back three days.
Though we've seen some improvement over the years, the current guidelines still allow for a repeat of the 2011 debacle. This year, results were delayed six hours due to the fact that Council still had grievance hearings and three appeals to address before the announcement. The current process for evaluating grievances is necessary for more complicated and serious cases but is a waste of time for lowly, poster-related offenses.
A.S. Council should seriously consider updating and streamlining the grievance process for future elections. Historically repeated violations and offenses should have specific consequences, instead of an awkward, unnecessary hearing to deliver simple slap-on-the-wrist punishments. This would ultimately benefit all those who care about the elections and those involved in student government, not to mention all those eagerly awaiting election results.
Because most hearings result in Council providing a simple warning or asking for a public apology, we think most people would agree with the Sweet Brown internet meme that "ain't nobody got time for that." Our paltry voter turnout shows that there are only a limited number of students who care about elections and what our student government does; long hours spent waiting on grievances on results night is no way to keep them interested.