Freshman Admission Rate Hits Record Low of 33.4%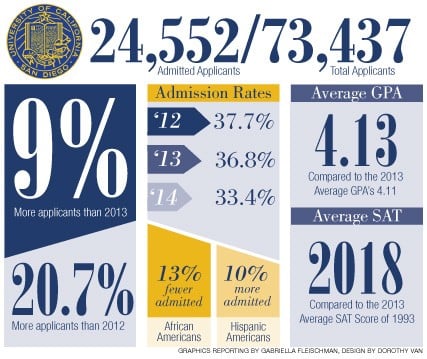 Newly released data shows UCSD received more applications this year but admitted fewer students as admissions become more compeitive across the UC System. 
UCSD admitted a record low 33.4 percent of freshmen applicants for Fall Quarter 2014, according to University of California Office of the President data released on Friday, April 18. Additionally, more traditionally underrepresented students are being admitted as a bigger percentage of the total number of admitted students.
The data indicates that an increasing number of students are applying to UCSD while the university has begun admitting a fewer number of students. The university admitted a total of 24,528 out of 73,454 applicants and expects approximately 4,900 of them to attend as freshmen in Fall Quarter 2014.
The University of California as a whole admitted 58.4 percent of applicants, down 0.8 percent from last year. The only two UC campuses with lower admissions rates than UCSD were UC Berkeley and UCLA, which admitted 17 and 18 percent of applicants, respectively.
UCSD notably increased its admittances of underrepresented groups by 4.1 percent, largely due to an 8.1-percent increase in admitted Latino applicants, totaling 20.4 percent of all admitted students. Meanwhile, African-Americans represented only 2.3 percent of admitted students, a decrease from last year in which they represented 2.5 percent. Additionally, the figure of admitted students from families of low incomes increased by 2.7 percent, the number who will be first-generation college students increased by 9.3 percent and the number of students from fourth and fifth quintile (lower ranking) high schools increased by 15.1 percent.
The average high school grade point average of UCSD admitted students was 4.13, an increase of 0.2 from last year. UCSD's average SAT score increased to 2018 from last year's score of 1993. Comparatively, the average SAT score of students admitted to UC Berkeley was 2071.
"We are proud to welcome this bright and dynamic group of students to UC San Diego," Chancellor Pradeep K. Khosla said in a press release. "As a student-centered public university, it is our goal to provide opportunities and a world-class education to these amazingly accomplished and talented students from diverse backgrounds."