Autism is an increasingly common disorder, identified in one out of every 68 children, according to the U.S. Centers for Disease Control and Prevention. Because April is National Autism Awareness Month, researchers and community members in the San Diego area are stepping up efforts to promote awareness about the condition. UCSD researchers at the Autism Center of Excellence, Dlush founder Jeffery Adler and Autism Society San Diego share what they are doing to promote awareness this April.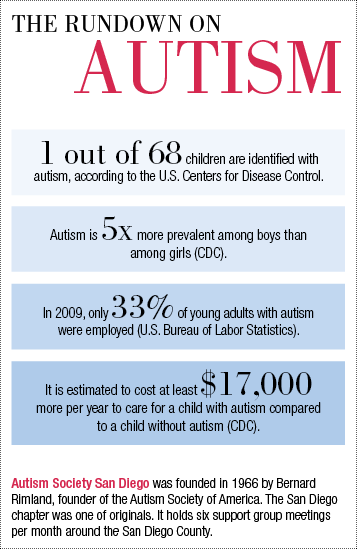 Autism in Business: Jeffery Adler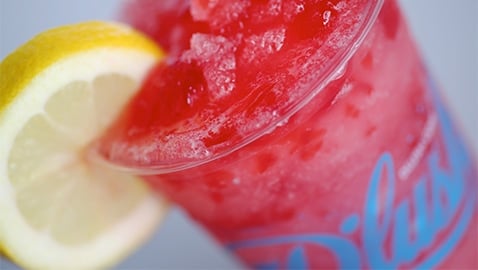 Jeffery Adler, founder of the Dlush beverage lounge in UCSD's Price Center, has become an important fundraiser for the autism cause on campus as a result of his personal resonance with the condition — two of his close friends have children who are autistic.
"It created an emotional accord for us," Adler said. "Stepping back a bit, it became part of our shared vision to find ways to intersect commercial enterprise with community."
As a result, Dlush has partnered this month with Autism Society San Diego in a 30 Days of Happy campaign to raise funds for camps for autistic children. Dlush created a new drink called the "Happy Camper" to commemorate the partnership.
"We wanted [a drink] that was colorful, fresh, optimistic and happy," Adler said.
The Happy Camper is a drink made of hand-squeezed lemons, fresh strawberries and strawberry jello. For each purchase of the $4.50 drink, Dlush donates a dollar to programs held by the Autism Society San Diego for autistic children. Customers are also invited to round up their change to contribute to the cause. Student organizations on campus are also holding happy hours at Dlush, with a portion of the proceeds going towards fundraising.
"The other time I was [at Dlush], there was a mother and a child chatting," Adler said. "They had bought that drink, and the mother was explaining her story about a personal experience with autism. […] I thought there was some hidden power in that. That gal might not have even known about autism or heard about it if it were not for the drink."
Dlush hopes to raise $5,000 by the end of the month to fund Camp I CAN, which stands for Including Children with Autism Now, and Surf Camp, which is held at La Jolla Shores each summer. Fett explains that events such as these are meant to include children with autism who are often excluded from other camps and daycare services because they require more supervision.
Autism in Research: Richard Stoner
Autism research expert Richard Stoner, a Project Scientist in Neurosciences, is working together with neuroscience professor and director of the UCSD Autism Center of Excellence Eric Courchesne in order to identify early biomarkers of autism.
"The earlier we can detect it, the earlier we can start treatments that will improve the overall prognosis," Stoner said.
Having been involved with the Autism Center of Excellence since late 2009, Stoner used postmortem brain tissue in a study to compare patterns of gene expression in normal and autistic cortexes. He took samples of three different regions of the brain and, upon examination, found distinct patches of abnormal expression in the majority of autism samples.
Ever-advancing technology, Stoner says, has allowed him to approach research on the disorder in new and possibly significant ways.
"Most autism research to date has relied on behavioral imaging or genetic analyses," Stoner said. "While these studies all point to a brain-based origin for the disorder, no clear pathology had been found. Thanks to recent advances in technology and key collaborations, we were able to look for signs of the disorder at the tissue level in a way that couldn't be done before."
Stoner believes Autism Awareness Month is essential to the cause, both in raising awareness and in raising funds for further research that could have a significant impact on individuals and families affected by autism.
"I think it's an important topic to raise awareness for, and the fundraising helps support a lot of what we do," Stoner said. "As a researcher, autism awareness for us is year-round — talking with parents, working with students and communicating new findings to a broader community."
Autism in Families: Shirley Fett
As the former President of Autism Society San Diego and as a mother of two children — aged 21 and 23 — who have moderate to severe autism, Shirley Fett feels that many people still do not understand autism as a condition.
"People need to understand autism is not about bad parenting and need to be understanding and supportive," Fett said. "People with autism are very loving and sweet little people. In the past, people thought autistic people did not have emotions or friends, which is not true. Autistic people just are not always able to express emotions in the same way other people might."
Fett also acknowledges that a portion of public knowledge about autism comes from the movie "Rain Man," which is not at all typical of most cases of autism, though many autistic children have skills that aren't immediately apparent. For one of her sons, that skill was speed-reading: Fett and her husband noted that he seemed to be reading actively at age two, even though he couldn't talk.
"People with autism are very diverse," Fett said. "Autism is not the whole person; they are just impacted by it. Just as diabetes doesn't define a person in their whole being, neither does autism. Every person with autism has their own sense of humor and things they like to do."
Fett has had the unique experience of being a mother of two that contributes to her passion for providing services for families like hers.
"No matter how old or young your child is, you feel lonely in the journey because your kid isn't like other kids," Fett said. "When you go to birthday parties or try to enroll your kids in camp, you feel very different and isolated. There is still a huge need for parents to have a group of other families and parents [in similar situations] that they feel they can turn to."
According to Fett, the Autism Society San Diego has come a long way since she started going to support group meetings in 2000. Today, the Society has over 500 paying members. There are six support group meetings per month, along with meetings tailored for Spanish speakers and free, monthly pool parties for families to get together with the rest of the autistic community. The Society also held its Splash for Cash fundraiser pool party on Sunday, April 13, during which Dlush provided free drinks to families.
Autism Society San Diego hopes to focus more on aiding adults with autism with finding employment, as according to the U.S. Bureau of Labor Statistics, only 33 percent of young adults with autism in 2009 were employed. Fett also identifies swim lessons for autistic children as another priority for the Society, as autistic people are drawn to water because it makes them feel at peace but also presents a threat of drowning.
Though Fett has stepped down from her position as president, she remains active in the Society's executive board and continues to promote awareness and support for families with autistic children through her personal experiences. She notes that her experiences as a mother have changed her outlook on her and her sons' lives.
"There's times when you think, 'I'm going to be the one whose kid will become 'normal,''" Fett said. "For the majority of us, that's not a reality. Most kids with autism still have challenges as they become older. But my kids have some of the happiest lives I know. I don't have the same experiences as other parents. My kids will not go to college and get married, but that doesn't mean that can't be a great life. It's definitely a different journey for sure."
For more information, readers can contact Sydney Reck and Soumya Kurnool at [email protected] and [email protected]