The Sudbury Valley School and the related 'unschooling' education movement promote a free-form learning environment in which there are no classes, and students choose what to do with their time.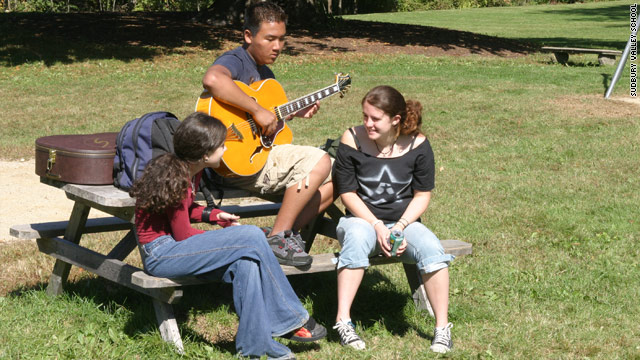 Unschooling Allows Students to Engage in Natural Learning
In an education system driven by hard-and-fast curricula and high-stakes testing, students are suffering mentally and psychologically. In an online survey conducted by the American Psychological Association, Millennials rated themselves more stressed and had more cases of anxiety and depression than any other age group. With an internalized need to achieve, children have learned to equate education with compulsion. However, expatriates from mainstream schooling, or "unschoolers," recognize that learning is inseparable from living.
The unschooling movement (modeled after the Sudbury Valley School in Framingham, Mass.) rightfully rejects the notion that children must be coerced into learning. Rather, the process allows them to engage in "natural learning." Unschoolers might learn fractions by baking or learn to read by deciphering video game cheat-books. This mode of learning is no less effective than traditional schooling, and it doesn't require kids to fork over 12 years of their childhood to the rigid 8 a.m. to 3 p.m. classroom scheme.
Furthermore, because unschooled children are trusted to learn at their own pace, they are less likely to emerge from adolescence with the typical anxious or insecure mindset. The Canadian Centre for Home Education's study, using Huebner's Student Life Satisfaction Scale, reported that home-educated students scored 4.94 (out of a possible 6), relative to public-schooled students' average of 4.21. When allowed their freedom, unschooled children are able to pursue their passions in a way that traditional schooling simply does not facilitate.
For those who don't wish to subject their children to a slow-to-reform education system that demands constant performance and brands individuals as having intelligence between 0-2400 SAT scores, unschooling is a positive alternative.
— Hailey Sanden
Contributing Writer
Diverse Philosophies of Learning Can Reform Education System
Mark Twain famously said he never let his schooling interfere with his education. Sadly, many of today's youth differ in this respect. Though the Pew Research Center suggests Millennials will be the most educated generation in American history, 63 percent believe their schooling left them unprepared for adult life. 90 percent of students attend public schools, yet a majority  feel that their education has been inadequate; as a nation, such inefficiency calls for re-evaluation of education standards.
"Taking tests" is not a particularly a marketable or rewarding skill, but public schools seem to emphasize it above all else. Kids spend 13 years motivated by fear and stress to outscore their peers, with unimpressive results. The National Math and Science Initiative reports that only 36 and 44 percent of high school graduates are ready for higher science and math, respectively. 38 percent of students who start college with a science, technology, engineering or math major do not graduate with one, suggesting inadequate time in high school to explore their real interests, strengths and weaknesses.
"Unschools" like Sudbury Valley offer an alternative, freeform "learning by living" approach to education. Though not necessarily the solution for every child, unschools remind us that there is more than one way to educate. Traditional schooling should not monopolize the definition of education.
By exploring new philosophies, like the Sudbury model, America can develop education alternatives and eventually incorporate them into public systems. By conducting studies to determine which methods work and teaching critical thought without indoctrination, we can fix public education.  Using different modes of education for different children will ensure that successive generations will be both more educated and better prepared for the world beyond graduation.
—  Thomas Finn
Staff Writer
Sudbury System's Anarchical Nature Prevents Real-World Success
Although proponents of the Sudbury system find that the classes of traditional schools do not help students develop self-motivation to learn and explore, Sudbury school methods in turn seem to deprive students of the conventional English, math and science courses that are required to succeed in the real world.
The Sudbury School emphasizes a counter-culture where school is about exposing its students to whatever they please. According to Alfie Kohn, the author of several books critical of the current education system, this anarchical model allows far too much freedom. Ultimately, this laissez-faire strategy may lead to unintended results and abuse where students mismanage their time and waste it playing games instead of learning at the level of their peers in conventional schools.
Moreover, since there are no classes and no grades, universities will have a hard time judging the strength of applicants in the Sudbury system. According to the Seattle Times, only five students, or 20 percent of the class, have graduated from the Clearwater School in Seattle (based on the Sudbury philosophy), which demonstrates the appallingly low matriculation rate.
Kids who do want to move on to universities and ambitious careers will face a difficult time since the performance standard of this school is so different from that of other schools. Universities predominantly consider GPA and SAT scores to filter the best applicants. Unfortunately, students of the Sudbury system are not presented with the tools that they need to meet these requirements. While this education system may help a niche few, it simply does not make sense for those seeking a comprehensive education for the real world.
—Hugo Wong
Contributing Writer