UCSD alumna Katherine Hang shares about her experiences working with Procurement & Contracts and her goal to encourage consumers to become environmentally friendly.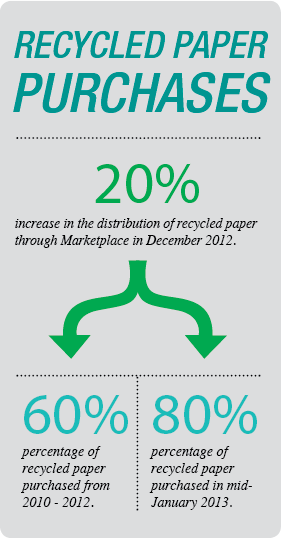 Recent UCSD graduate Katherine Hang, class of 2013, can proudly claim that she has first-hand experience working in a field that deals with sustainability and consumerism. As a double major in economics and environment policy, Hang was enthusiastic about maintaining the integrity of efficiency and sustainability while incorporating her interest in consumer behavior. As a result, she got involved in an internship in the spring of her junior year with UCSD's Procurement & Contracts, a division of Business and Financial Services that facilitates the purchasing of goods and services for the entire university. Hang's involvement with Procurement & Contracts gradually landed her a job with the department after graduation. She is currently working as the sustainability project coordinator for the department, a position in which she integrates environmental sustainability into Procurement.
"Procurement & Contracts was actually a good way for me to combine my two interests because I was a double major, and I don't feel like sustainability is very often associated with consumerism and economics," Hang said. "Being able to combine knowledge from both fields and use that knowledge is very helpful for my professional development."
In 2008, Procurements & Contracts launched a website called Marketplace, which aims to meet the needs of buyers and streamline the purchase order process for UCSD staff and faculty. Through Marketplace, buyers can search for and order their desired goods from hosted catalogues of outside suppliers.
For Hang's senior environmental policy project, she worked with the Procurement & Contracts Climate Action Plan team to create and maintain sustainability projects. One project that they spearheaded was encouraging the use of recycled paper.
With this project, Marketplace "hides" virgin paper (paper that is not recycled) and encourages the buyer to purchase recycled paper. However, if the buyer still wanted to purchase virgin paper, he or she would still be able to go to a "punchout" in Marketplace, which links the buyer to the version of the supplier's site with UCSD-specific pricing — a process that is only two extra clicks, explains Hang.
The relocation of virgin paper in December 2012 was followed by a 20-percent increase in the distribution of recycled paper through the Marketplace website. The percentage of recycled paper purchases hovered around 60 percent for a consistent three years until this number skyrocketed to about 80 percent in mid-January of 2013.
"My project actually made an impact," Hang said. "I didn't really expect that. Doing this project was one of the times when I felt like school and work were really similar; I felt like I was working on the same thing for my student-worker role. For once, it felt like I didn't have to do homework and then do something else for my job — I was doing one thing, killing two birds with one stone."
Hang has also started a new project with Procurement & Contracts and is working through TerraCycle, an organization that focuses on upcycling (reusing discarded material and waste into innovative products), to create the Writing Instrument Brigade. In partnership with TerraCycle and OfficeMax, Procurement & Contacts has launched this Brigade which collects writing instruments across the campus, consolidates them through UCSD Mail Services and ultimately sends the instruments to TerraCycle, where they are recycled into new products. Additionally, two cents are donated to UCSD's Sustainability Resource Center for every writing instrument that is sent into TerraCycle.
Students can contribute to the effort by dropping off unwanted writing instruments into the Writing Brigade's collection bins located in Geisel Library and in the Sustainability Resource Center. Likewise, staff and faculty members can participate by placing writing instruments into an intercampus mail envelope labeled "used pens" and dropping it off at Mail Services, where all writing instruments will be consolidated into one large shipment to TerraCycle.
As a student, Hang learned about economics and the environment and how those two fields can sometimes overlap and soon realized that sustainability is always relevant, no matter what field.
"People need to buy things, people need to do research, people need to make a living somehow," Hang said. "Why not help them make the right decisions for the benefit of the environment, and hopefully for themselves?"
Although Hang feels she is in a comfortable place in her career now, she had to really work towards finding her niche. Hang feels that her experience as an intern for Procurement & Contracts was very beneficial for her professional development and wishes that opportunities like hers are made more accessible to students.
"Something I would like to see in the future are programs that would allow students to have internships or real life experience and engage with the staff at UCSD," Hang said. "Building a bridge between students and staff would be something I'd like to see in the future. I know it's happening; I'd just like to be a part of it if I can."