For the past week, candidates from Let's Act! and Tritons Forward slates have had a constant presence on Library Walk while campaigning for the upcoming elections. In case you haven't had a chance to stop and talk to those campaigning, here's a look behind the presidential candidates of each slate. Voting begins on TritonLink April 7.
KYLE HEISKALA – Serving and Preserving
Eleanor Roosevelt College junior and Associated Students presidential candidate Kyle Heiskala initially tried to stay out of politics. More focused on getting involved with the issues directly rather than with the student government surrounding them, the environmental systems major started his freshman year working with the Student Organized Voter Access Committee to organize the mayoral forum and increase the percentage of student voters on campus.
"[Working with SOVAC] was where I first saw the light in people's eyes when they could interact in civic engagement," Heiskala said. "I tried not to push myself into elected positions because I really liked working on the 'issues' [pertaining to UCSD students] … To this point, I've been focused on improving the campus on an issue-based approach, and I wanted to lend my experience further to the presidency."
Heiskala's political slate, Let's Act!, focuses on preserving campus traditions and reversing the negative trend that he believes has been building with events such as the removal of Graffiti Hall, the increase in student surveillance and the lack of financial support at the statewide level.
"There are a lot of things that built this trend, that UCSD's traditions and aspects that make us unique and stand apart from the other UC schools have been coming into danger, so we are going to reverse that trend by using our experience … so that we can make positive, permanent change," he said.
A San Diego native, Heiskala was the kid in high school that had a lot of widespread interests and no fixed group of friends.
"I was the person who probably knew everyone but didn't have a set social group," Heiskala said. "I floated around, hung out with different groups of people depending on how I was feeling. I knew the guys on the football team but I also was very involved in the AP classes."
He was captain of his golf team, enjoyed roller hockey and helped install a five-panel senior mural which featured students' silhouettes at various times of day.
Heiskala has worked on several projects to improve the campus as a whole, both through its students and its facilities. For example, in his work with SOVAC, Heiskala helped establish OVAL, or the Online Voter Access Link, which allows undergraduates to provide their feedback on relevant issues on campus. Heiskala has also helped to improve alternative transportation through the Student Sustainability Collective, which has recently convinced the university to commit to construction of over $1 million worth of bike improvements and infrastructure.
When asked what his first act as president would be if elected, Heiskala responded with one word: education.
"I think that there's a lot of education that needs to happen this quarter because there are two very important things that will happen by the end of the quarter –– we'll know if we have an extended bus program, and we'll know if we have a Sun God Festival [next year]," Heiskala said. "So I see it as my job and the entire A.S. to educate the student body as much as possible."
Tristan Britt, Let's Act! VP Finance candidate, believes Heiskala would be an effective A.S. president because of his well-rounded experience in handling student issues.
"We have such a diverse campus and in order to accomplish tasks and goals as A.S. president, you need to be able to reach out to other leaders on campus and work with them to achieve those goals, and he's definitely shown that in his work [with the transportation referendum and SOVAC]," Britt said.
As his major might suggest, Heiskala is also interested in improving life beyond UCSD, particularly in modern society's ecological footprint.
"I'm really passionate about sustainability," he said. "There's been talk of ecological disaster on the horizon in 30 years, and my major focus is on public policy. I want to really get into the field as quickly as possible and make a really huge impact to ensure that the way that we're using the planet's resources [is such that we] leave things for future generations.
Using his passion for ecological sustainability, Heiskala was one of two students that helped initiate the Climate Action Plan Task Force charged by the Chancellor to re-evaluate UCSD's Climate Action Plan, which was written in 2008 and had not been updated since. The Climate Action Plan details an initiative to achieve climate neutrality in the face of global climate crisis in seven categories: academics, energy, operations, procurement, recycling, transportation and water.
Like many of UCSD's undergraduates, Heiskala doesn't have a clear career path, but he has a larger goal that he hopes to achieve after college.
"I don't have a set career in mind," Heiskala said. "I just know that I want to change the world as much as possible, as much as one person can, and I want to inspire others to do the same. Whatever career path I have, I know that I'll continue to strive to make as much change as possible and hopefully save the world in the way that we won't be exploiting our natural resources as much."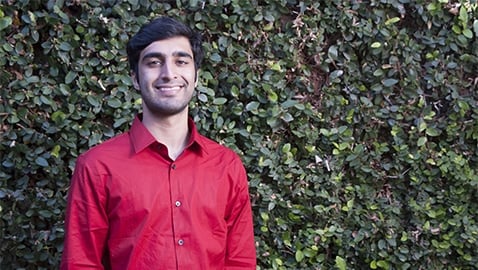 ROBBY BOPARAI – The Spirit of Engagement
For Earl Warren College junior Robby Boparai, medicine was a career choice that simply made sense. Boparai, who hails from Bakersfield, was routinely exposed to underserved populations that faced problems such as obesity and diabetes, inspiring him to provide services to the underprivileged as a doctor. He actively researches emergency medicine, volunteers at the emergency department of the UCSD Medical Center and has worked at a free clinic in Tijuana. Yet outside of the clinic, Boparai is not only dedicated to medicine; he is running for A.S. president on the Tritons Forward slate.
Though the choice to run for president may seem out of line with his career goals, Boparai makes it clear that politics and medicine are very much connected.
"Being A.S. president is a leadership position, and so is being a physician," Boparai said.
Before he came to college, Boparai was involved in leadership in high school student organizations and his school's Associated Student Body. In particular, he was an active member of his high school's speech and debate team, in which he participated in Parliamentary and Congressional Debate. He also participated in competitions with his local chapter of Health Occupations Students of America and his school's Science Bowl team, campaigned with his youth religious group to educate the community about Sikhism and participated in Bollywood dance and "Bhangra," a traditional Punjabi Indian dance.
"In high school, I was relatively outgoing," Boparai said. "I always wanted to get involved, but I also always focused on academics and intellectual development."
Boparai says he could not have imagined himself running for A.S. president in college, as his high school's ASB was nowhere near as political as A.S. Council is.
The change came when he chose to attend UCSD as a human biology major. He chose to come to the school because he considered UCSD strong in its premedical program and wanted to take advantage of its research opportunities. Living right next to the beach was an added bonus, as he found his passion of surfing.
"When I got admitted to UCSD, my friends told me, 'You're going to the ocean. You need to know how to surf,'" Boparai said.
At the time, Boparai didn't know how to swim very well. Before his freshman year at UCSD, he prepared by swimming and watching surf videos. A few months into his first quarter, he bought a used board and took a rec class on surfing, and his hobby took off. Despite his busy schedule, Boparai still makes it a point to surf around once a week. Surfing has become an outlet for Boparai and a way to bond with people fellow surfers in his fraternity, Phi Delta Epsilon, his college and A.S Council.
"When you're on the ocean, waiting for a wave, that's the one place where I'm relaxed," Boparai said. "I'm one of those people who is always thinking about the changes I want to make and about the future. [The ocean] is the only place where I'm in the now."
Boparai has used the freedom that college offers to also pursue leadership development and networking. As a freshman, he became involved in Phi Delta Epsilon, a premedical professional society. As a sophomore, he joined the Warren College Council. As a junior, he became a part of A.S. Council. Boparai is currently A.S. associate vice president of Academic Affairs and is in his second term as director of Academic Affairs on Warren College Council.
"Warren College Council taught me that I can change things [at UCSD]," Boparai said. "A.S. taught me that there is a reason to change things and a reason to engage others to change things, too."
Suffice to say, Boparai embraced involvement in his passions at UCSD and wants other students to do the same. If elected, his slate hopes to increase student involvement in organizations and to make the university more accessible to students who are looking for resources, whether it is research funding or funding for student organizations. Boparai specifically hopes to get students to involve themselves in at least one student organization, which is the first step in dispelling the stereotype that UCSD is "socially dead."
Slate members, such as Revelle College freshman Angela Aguilar, consider Boparai very approachable.
"I think he'd be a great president because he is approachable and friendly, and he'd be willing to answer anything," Aguilar said. "So I think he's the sort of guy you can have as a friend."
Boparai also considers himself to be a people's person at the end of the day.
"I love helping people," Boparai said. "I'm very extroverted, and I love being around people. I hate being by myself. On any given day I want to be with others."
Boparai also refuses to let politics change him as a person.
"I'm not a very political person, but I just want to make change that helps the students," Boparai said. "I want to stay true to what I believe in without compromising what I want to do to play the political game."