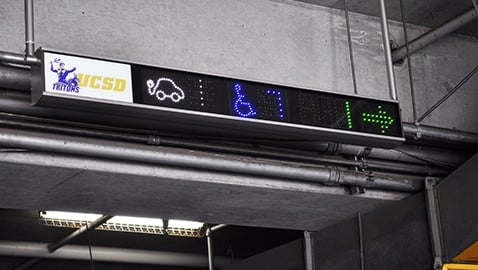 TPS inaugurated new parking availability displays in Gilman Parking Structure and will consider implementing the technology in other campus structures in the future, Above, a board shows the number of open spots in the lot.
UCSD Transportation and Parking Services will soon finish evaluating the effectiveness of Gilman Parking Structure's electronic parking displays in preparation for possible expansion to other parking areas across campus.
The current system, which involves placing sensors on each parking spot and relaying their availability to signs outside the building, is one of several pilot programs designed to make transportation more efficient and environmentally friendly at UCSD.
According to ASUCSD MOVES Executive Director Kyle Heiskala, the displays were implemented earlier last quarter through a partnership with an outside company specializing in parking space monitoring, provided at no cost to the university.
"It's an attempt to make our parking system more technologically innovative," Heiskala said. "The hope is that it will reduce frustration and greenhouse gas emissions from people circling the parking structure looking for parking if you can see that there is no parking before you even go inside."
Heiskala will coordinate with Director of Auxiliary Business Services Robert Holden and student engineers to establish and promote this new technology across UCSD.
For now, TPS is working to complete its collection and analysis of data from the tentative Gilman prototypes in order to evaluate their exact value to the school. If approved, these display signs will likely be installed in other university parking structures in the future. TPS also plans to integrate the information into websites and smartphone apps so people can locate available spots before even arriving on campus.
"After testing, Transportation and Parking Services will look for opportunities to request funding for further deployment based on climate emission impacts and enhanced customer parking services," Director of Marketing and Communications for University Communications and Public Affairs Laura Margoni said.
The parking displays, along with other long-term environmental projects, should near completion throughout Spring and Fall Quarters 2014.