On Thursday, March 5, the UCSD women's basketball team will begin postseason play, competing in the annual California Collegiate Athletic Association tournament in Ontario, Calif. This season, the conference adjusted its playoff format from previous years, altering the eight-team qualifying bracket to a more competitive six-team setup, with the top two seeds now earning a first-round bye. The Tritons enter the tournament in the fourth seed, and will face off against fifth-seeded Cal State Los Angeles in the first round at 5:30 p.m. Here is a look at the six squads that will vie for the CCAA title this year.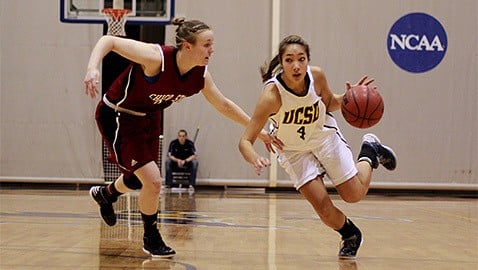 No. 1 seed: Cal Poly Pomona
CCAA Record: 18–4
Unlike in years past, this season's CCAA tournament has a clear frontrunner. Four games ahead of second place, No. 1 seed Cal Poly Pomona leads the conference in field goal percentage, three-point percentage, assists and points per game. Their majority threats come in the big man, little combination of 6'1" junior center Jada Blackwell and redshirt junior guard Ariel Marsh. Blackwell and Marsh led the league in points per game, with Blackwell averaging 17.7 and Marsh 16.7.
In Pomona's last meeting with UCSD, UCSD head coach Heidi VanDerveer said it was Cal Poly's size, and specifically Blackwell's presence on the post, that disrupted defenses and left opportunities for perimeter shooters like Marsh.
The Broncos were eliminated in the first round of the CCAA Tournament last season, but with Cal Poly Pomona fronting free transportation and tickets for its students, any post-season jitters the Broncos may have should be allayed with the support of their fans.
No. 2 seed: Chico State
CCAA Record: 14–8
This Chico State squad has the benefit of being one of the most seasoned in the field, returning four of its five starters from last season. Like UCSD, the Wildcats rely on no one standout player but rather on a strong ensemble performance fronted by guards senior Jazmine Miller (averaging 13.1 points per game), sophomore Hannah Womack (10.5 points per game) and senior Courtney Hamilton, who in 2013 led the CCAA in assists. Down low, the Wildcats look to senior forward McKenzie Dalthorp, averaging 10.3 points per game.
Still, with the benefit of all their experience, the Wildcats have not been the most consistent team. In its final games of the regular season, Chico lost to seventh place Humboldt State before beating first place Pomona 63–61 for the second time this season. But if any team can unseat the regular season champions it may be the Wildcats.
No. 3. seed: Cal State Dominguez Hills
CCAA Record: 13–9
After a poor 2013 season when Cal State Dominguez Hills went 9–17 and 8–14 in conference, the Toros came out on top of a four-way tie which included Cal State Los Angeles, Cal State East Bay, Humboldt State and UCSD to land the third seed in the six-team tournament.
This season a young squad — featuring an unheard of 10 transfers — Dominguez Hills has remade itself, led in the attack by sophomore guard Monay Lee (averaging 14.7 points per game) and new addition Tayler Champion, a sophomore transfer from UC Irvine.
The Toros have bested the Tritons on two occasions this season, once in a 68–67 overtime win and again in their last game of the season.           
No. 4 seed: UCSD
CCAA Record: 13–9
This year's Triton squad will look to defend their CCAA crown as they return to the conference tournament as last season's defending champions. After suffering a four-game losing slide in the crucial, latter portion of their season — partially attributed to the temporary loss of leading scorer and junior guard Miranda Seto — UCSD has turned things around, rebounding with a five-game winning streak and finishing the regular season 5–1 in their final six games.
When speaking of the strength of this UCSD team, head coach Heidi VanDerveer said that the Tritons' best ally is simply the team itself. Though the Tritons have strong players in Seto (averaging 14.2 points per game) and senior forward Erin Dautremont (10.7 points per game, 6.7 rebounds per game), they truly are a team reliant on each other. As evidenced in recent games, UCSD has consistently had different Tritons step up in each contest.
However, if the Tritons are to be successful in this year's postseason, they will have to be in top form in their shooting game. Making up for their lack of size, UCSD is a unit heavy on perimeter-shooting, trailing on Humboldt State this season in three-point attempts (522).
No. 5 seed: Cal State Los Angeles
CCAA Record: 13–9
Serving as the Tritons' first-round opponent, Cal State Los Angeles has had a rough end to the season, closing out its final five games with a four-game losing streak and just one victory.
However, the Golden Eagles remain a force to be reckoned with, trailing only Cal Poly Pomona and Cal State East Bay in field-goal percentage (42.1 percent). Moreover, Los Angeles has the size to dominate the glass with 6'2" senior center Destinee La Fountain who leads all of the CCAA in rebounds per game with an average of 10.2. The Golden Eagles are led in scoring by junior guard Paige Melville, who averages 14.5 points per game.
If Golden Eagles are to last in the tournament, they will have to find a way to finally get past the Tritons, who have bested Cal State Los Angeles so far in the past two meetings this regular season.
No. 6 seed: Cal State East Bay
CCAA Record: 13–9
While the East Bay Pioneers are the final seed in this season's CCAA tournament bracket, they are no less threatening than the rest of the squads. Holding an identical record with the next three higher seeded teams, Cal State East Bay immediately followed a six-game losing slide with a four-game winning streak to finish the regular season and claw its way into the final postseason spot.
East Bay has two skilled scorers in junior forward Brianna Terrance, who is fourth in the league in points per game (15.4), and junior forward Danielle Peacon, who is second in the league in field-goal percentage (51.9 percent). Overall, the Pioneers as a whole are skilled shooters as well, trailing only No. 1 seed Cal Poly Pomona in team field-goal percentage, sinking 42.4 percent of their shots on the season. If East Bay can shoot as well as it has throughout the season or better, its will certainly be a serious foe in the postseason.