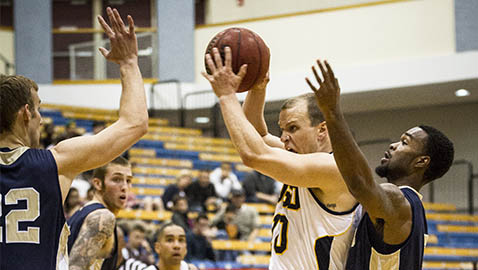 Tritons improve to 3-5 in CCAA, beating Cal State East Bay and Cal State Monterey Bay
The UCSD men's basketball team was victorious in its weekend home stand, defeating Cal State East Bay 80–70 on Friday and blowing out Cal State Monterey Bay 93–70 on Saturday after dropping two in a row the week before.
The Tritons move up three spots in the California Collegiate Athletic Association standings, placing them back in the hunt for the CCAA playoffs.
The student fans were in full support at the Tritons' first game of the academic quarter against Cal State East Bay. The game was close throughout until freshman guard Adam Klie hit back-to-back three-pointers to give the Tritons an eight-point lead. The Alaska native ended the game with 11 points and four rebounds. Sophomore center Zach McMillan also provided a solid contribution off the bench, scoring 10 points and eight rebounds.
"Zach's improving every day," first year head coach Eric Olen said. "He works hard every day in practice. He does a great job on the defensive end and on the glass. He was able to give us some offense tonight, which was a huge boost for us."
However, the Tritons only led by three points at halftime, and the game remained tight until the final minute.
The home court advantage proved to be helpful late in the game as the Tritons' energized defense was able to hold the Pioneers scoreless in the final five minutes.
The Tritons took advantage of their defensive stops, aggressively attacking the basket to create free throw opportunities, which gave them the lead. Up by three points with 55 seconds left, senior guard James McCann drained a tough turnaround jumper to seal the win. He finished just shy of a triple-double, scoring 23 points, a career-high 10 rebounds and seven assists.
"They were huge for us," McCann said when asked about the fan support. "This is our first game back with our students on campus, so we got a nice crowd, and we just fed off their energy."
The Tritons were back in action the following day to take on Cal State Monterey Bay. With a career high effort from sophomore guard Hunter Walker — 25 points and six rebounds — the Tritons were able to take a 12-point lead at the first half. McCann also contributed his usual numbers, scoring 22 points and dishing out seven assists.
"As a shooter, you need to have that confidence," Walker said when asked about his performance. "Today, I just felt good. Once you start making shots, you bring more energy to the table."
The Tritons didn't look back after the half, continuing to play at their own tempo, which eventually led to the blowout win.
Olen credited the team's resiliency and persistence for its two victories.
"After coming off of last weekend's results, we had a really good week of practice," Olen said. "We didn't feel sorry for ourselves, we came out, played good basketball, and we got the results we were looking for."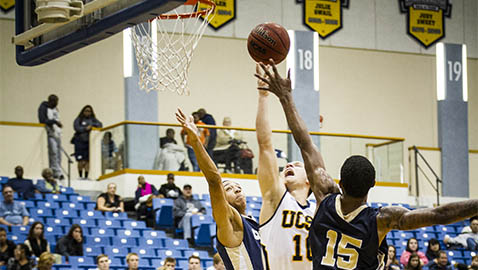 The Tritons will play their next two games in enemy territory, as they travel to face Sonoma State and San Francisco State.
"This weekend was big for us," Walker, who made three baskets from beyond the arc, said after the game. "We let a couple [games] go that I think we should have got. This is going to be good for our confidence moving on to two good teams where we have to take care of business again."