Former Gatorade Alaska Player of the Year Adam Klie is a dynamic addition to the 2014 roster
Just over 4 percent of UCSD freshmen are student athletes, and only 7 percent of the total freshmen on campus come from out of state. A true outlier, Adam Klie, the 6-foot-4-inch freshman guard from Anchorage, Alaska, fulfills both these traits.
Influenced by his father, a former academic All-American athlete from the Missouri University of Science and Technology, Klie always had an affinity for sports of all kinds. Basketball, however, always stood out from the rest.
"I played all the sports in kindergarten and throughout elementary school, playing in boys and girls clubs," Klie told the Guardian. "But basketball was always the one I had my mind on and enjoyed playing the most."
Soon after his introduction to the sport, Klie's desire to play basketball transformed from a pastime into a lifelong passion.
"Basketball was always an aspiration of mine in middle school and the start of high school. I started on my varsity team when I was a freshman, and at that point, I was thinking if I could get a lot better every year, I would have a really good chance of playing college basketball."
As the captain of his high school basketball team, Klie led Service High School to win its conference championship, averaging an outstanding 19.5 points, 10.2 rebounds, 3.9 assists and 2.8 steals per game. His performance was well-recognized, and he took home the MVP award of the Cook Inlet Conference in both his junior and senior years.
A self-acclaimed "big nerd," Klie's focus on education and his desire to become a bioengineer drove him to maintain a 4.2 GPA in high school.
The standout soon earned statewide recognition when he was named 2013 Gatorade Boys Basketball Player of the Year in Alaska — a prestigious award shared by the likes of NBA All-Stars such as Dwight Howard, Jason Kidd, Paul Pierce and Chris Bosh.
"A lot of people think [of] this award as performance on the court, but it also factors other things, such as community service and academics," Klie said. "Getting that award, I had to play well. I had a good senior year, but I was also involved off the court through volunteering, which helped. It's really cool to be one of the fifty kids who win it, but I have to keep in perspective that even though my basketball is good, I still have a long way to go if I want to compete on the next level. It's a great feeling; I was really happy that I won. It definitely was not easy."
After receiving many scholarship offers from other academically distinguished schools, Klie eventually decided to join the Tritons.
"In terms of academics, the bioengineering program here really set it apart since that was what I wanted to study since my freshman year," Klie said. "As soon as I found out about that, UCSD was the place I wanted to come. The basketball team is great, the coaches are great and it was just a great match for me and a great place to be for me."
As a freshman in Revelle, Klie's daily life is not much different from other UCSD students. He enjoys spending time in his dorm with his two roommates who "make it feel like home when you're not really home." He enjoys the nearly perfect seventy-five-degree weather, which stands in stark contrast to Alaska's "rainy and unpleasant" summers.
Starting a new life in college also meant becoming a newcomer on an already established team. After being the definitive leader on his high school basketball team, Klie starts fresh as he begins to work his way up the roster.
"It's just the way it works," Klie said when asked about his transition to a college team. "I had to get myself acclimated. There [are] already guys having leadership positions, so right now, I just have to find my role, bring energy to the team and then from then on out, work on becoming a leader in the future. But right now we have a couple seniors who are the defining leaders. I just try to come in and do whatever I can to help us win and help the team"
One of these leading seniors is point guard James McCann, who Klie said he looks up to and strives to emulate.
"There's a lot of guys that are great, but the one in particular I look up to is James," Klie said. "Watching not only how he plays, but just [how he] sees the game and scenarios before they happen. His natural ability on the court is something I have to learn and get better at to play on the college level. He is graduating this year, so hopefully one day I can be that guy and be the player that he is. He is the guy I look up to the most."
Although Klie is only a freshman, he has had an immediate impact.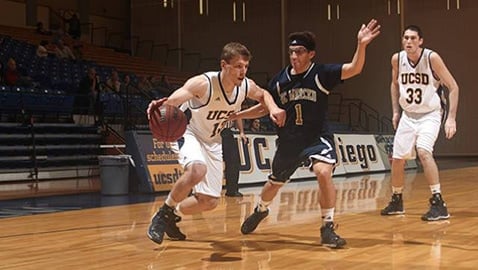 Klie brings an energy to the floor, has an ability to attack the rim and can finish in the paint. But he admits that there is room for improvement.
"I have a giant list of things I have to improve on," Klie said. "Defensively being in the right position, being able to guard all positions, quicker guys. Decision making and getting better at reading situations before they happen like James does. Knowing where I can get the ball, reading what my defender is doing are the biggest points but also the little things such as fundamental things that I have to keep working on as well."
Klie and the rest of his teammates have their mind set on making the California Collegiate Athletic Association playoffs this year and to hopefully win the tournament for a bid in the NCAA tournament.
"Anything can happen during March Madness, so first of all we want to get in that position," Klie said. "Just to come out and play hard every night and giving the best every night is the most important thing and to give our best effort on the floor. Who knows what can happen after that."
As a freshman, Adam Klie is already solidly contributing to the team, averaging 9.7 points, 3.8 rebounds and 1.6 assists, while shooting an efficient 49 percent from the field.
It should only be a matter of time until he steps up to become one of the team's go-to-players in years to come.