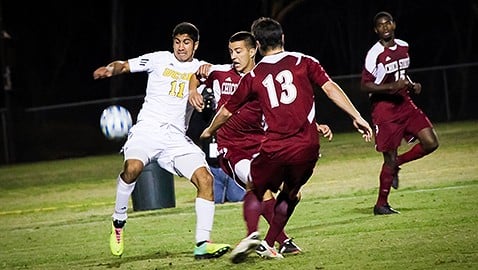 UCSD's historic season came to a close last Friday in the third round of the NCAA Tournament last week against Simon Fraser.
Playing to a 1–1 draw after two overtime periods, the Tritons fell 4–3 in its second penalty kick shootout of the postseason.
"I thought our guys were tremendous in the game, I couldn't have asked for anything more," UCSD head coach Jon Pascale said to the UCSD Athletics Department.
The Tritons took the early lead on a goal by junior forward Alessandro Canale. In the 26th minute, senior midfielder Cory Wolfrom sent a cross into the 16-yard box to find Canale, who buried the ball in the back of the net.
"I thought our guys, especially in the middle of the field were fantastic — Bagheri, Bauman, Wolfrom and Canale were able to move the ball really well today, and I think it caught Simon Fraser a little by surprise."
After five yellow cards, and one red card issued to the Clan's Lucas Ferritto, the Tritons looked to be the side heading to the Elite Eight, although Simon Fraser outshot UCSD 12–6. But with less than four minutes remaining in regulation time, Simon Fraser's Jovan Blagojevich got on the end of a Clan throw-in to tie the score and record his ninth goal of the season.
Through two overtime periods, neither side could break the tie. For the second time in seven days — having beaten Chico State 5–4 in penalty kicks, Nov. 16 — the Tritons would head into a penalty kick shootout.
Last time, UCSD goalkeeper Josh Cohen made an unheard of three stops to lead the Tritons into the next round of the playoffs. This time, Cohen came up big again, stopping Simon Fraser's third and fourth attempts. But an unlucky miss by UCSD's go-to free kick specialist Andisheh Bagheri — shooting in the one spot — as well as near-misses from junior midfielders Brandon Bauman and Will Pleskow would mark the end of the Tritons' season.
This season was the first time in a decade that the Tritons had advanced to the NCAA Tournament and the first time since 2005 that UCSD went to the conference tournament — narrowly missing a CCAA berth in 2011 and 2012.
"We went through a lot of close seasons, and watching them put it together this season has been a lot of fun," Pascale said. "I'm excited about the future of this program, but the seniors have elevated it to a whole new level and for that, I will be forever grateful to them."