San Diego is a place of iconic landmarks, historic monuments and signature eateries, but there is so much left to uncover. From hidden enclaves unknown to even the oldest of natives to sequestered vista points, follow the UCSD Guardian as we uncover the secrets to San Diego's backyard.
Secret Swings
Think back to humble, innocent days of youth. Let your thoughts simmer on the sunny, stress-free days when chocolate milk was a staple, nap time was socially acceptable and the playground was squad's homebase. Yes, the slide and monkey bars were fun, but the swing-set was the optimal location for budding friendships through good conversation (as good as conversations among five-year-olds can get), vibrant laughter, and the joy of mindlessly swinging. Adulthood might legally begin at 18, but that doesn't mean you need to allow your inner child to pathetically die away. Relive and revive the bright memories of elementary school and make the trek to the Secret Swings. Just as the name implies, the mystical swing set is quietly nestled somewhere in the La Jolla backyard. The search for the hidden swings is in itself a thrilling escapade to ignite and satiate your inner drive for adventure. It makes for an interesting option to spice up your weekend plans with friends, or makes for a conveniently close and exceptional date option when paired with a picnic during sunset. The swings are situated against the always-breathtaking backdrop of the Pacific Ocean, adding to their allure.There are no written directions for this local gem. Instead, those searching for the Secret Swings have but longitudinal and latitudinal coordinates (the first swing approximately at 32.867478, -117.248968 while the second at 32.864321, -117.247991). This makes the voyage that much more exciting than simply driving to your local park and playing with individuals half your size. Since not too many venture to these swings, you won't need to wait your turn. But remember, sharing is caring — so bring a friend and share the experience that is this hidden La Jolla jewel.
— Maria Manalang (Lifestyle Staff Writer)
Caves by Cabrillo National Monument
If the five-hour wait to take a selfie on top of Potato Chip Rock to Snapchat just how adventurous life in San Diego can be isn't cutting it anymore, Cabrillo National Monument in the San Diego County offers a much more provocative and enticing adventure for the inner adrenaline junkie. Situated in a Bermuda Triangle of uncharted territory, high tides and fragile sedimentary cliffs, the secret caves located down an unmapped trail toward the tidepools at the bottom of the cliffs are worth the rather treacherous, daunting trek. Not only is the technical footwork of a pointe ballerina needed to maneuver the rocky path — or lack thereof — but the mathematical precision and professional lunar skill of a navigator is highly recommended to reach this secret treasure of the Pacific at a safe and accessible sea level. Past venturers recommend careful planning to discern high versus low tide times, caution even when taking the tried-and-tested path toward the no man's land, as well as constant awareness of the surroundings — not only to preserve your own life, but the lives of all of the sea creatures and foliage occupying the cave. While the entirety of the journey is a mere mile, the expedition is much more similar to sprinting down Snake Path blindfolded than taking a quick jaunt down Library Walk, sans tablers and hoverboards. Nevertheless, if timing, technique and lack of timidity are your specialty, this hidden gem is worth the risk.
— Brittney Lu (Lifestyle Co-Editor)
Banker's Hill Suspension Bridge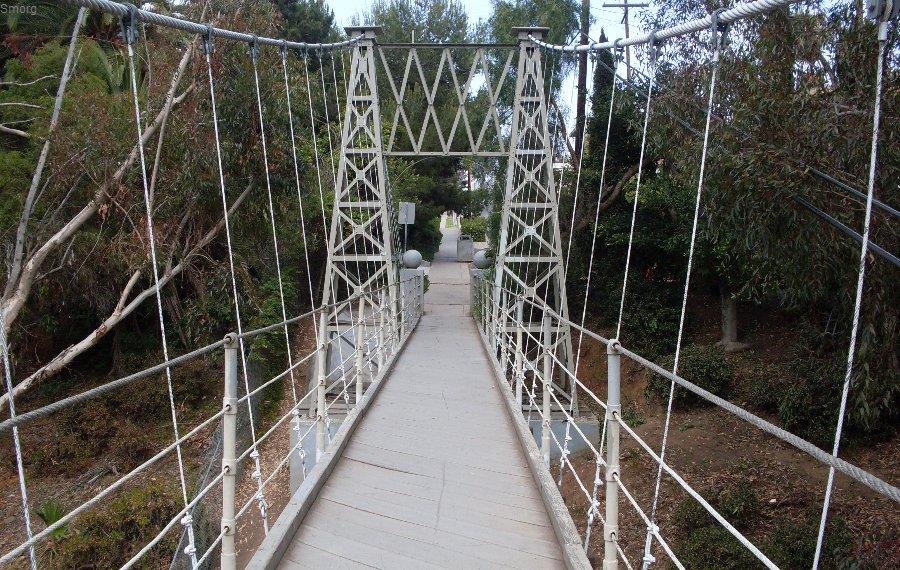 Mostly known for its hipster cafes serving five-dollar, organic, fair-trade drip honey lattes, thrift stores selling everything from grandma carpet bags to faux-leather fringe vests and breweries featuring local beers, artisan hors d'oeuvres and underground musicians, Hillcrest County of San Diego is the last place one would consider to be home to a suspension bridge overlooking a canyon. The Spruce Street Suspension Bridge, towering over a mountainous divide that geographically bars the growing neighborhoods from the newly-constructed public transit lines in the heart of Hillcrest, is an urban piece that literally bridges the gap between the underdeveloped and the development in-progress. While being a well-known icon for the true natives of Hillcrest, this bridge has been a playground for a handful of Hillcrest inhabitants, but for others it appears to be a displaced, unheard-of urban phenomenon. Those familiar to this bridge warn that it's not for the faint of heart, especially for those fearful of heights, bridges or, really, anything with a pendulum-like motion — although many also argue that the company kept in this adventure determines the fear factor. In other words, go with a crew that is supportive and will cheer you across the bridge, not one that will jump wildly on opposite sides of the bridge, intentionally trying to sway you. Originally designed to be a pedestrian haven and mode of walkability, the bridge is now a hidden secret of San Diego's architectural landscape. So the next time you're heading to Hillcrest to pick up $50 worth of stationery from Pigment or a $15 croissant and macchiato combo, stop by the Spruce Street Suspension Bridge to get a taste of adventure above the metropolis.
— Brittney Lu (Lifestyle Co-Editor)