N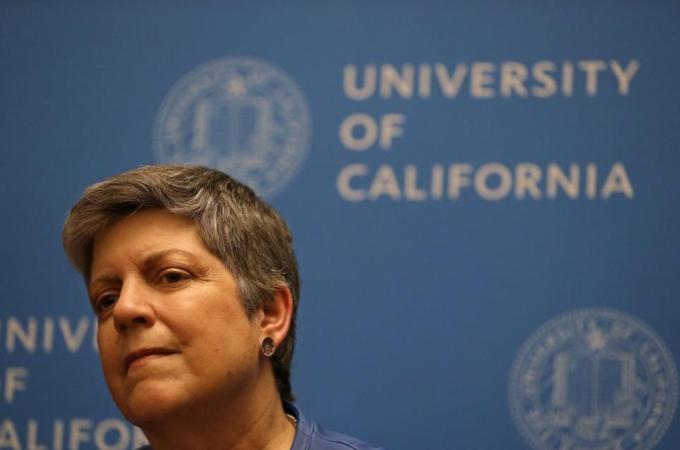 ext week, Janet Napolitano will wrap up her first year of University of California instruction as the nine-campus system's 21st president.
Back in Fall Quarter, we urged readers not to condemn Napolitano's leadership until she had definitively worsened the state of the UC system. At the same time, we hoped Napolitano would rise to the occasion and help move our university forward.
As we look back on year one, we are fairly certain that Napolitano has neither moved us forward nor backwards. To date, Napolitano hasn't made any inherently disastrous policy decisions.
But a year of cautious action (or more often, inaction) has left us wondering when change will come to UC campuses and if Napolitano has a long-term agenda she hopes to roll out in the near future.
Aside from an early-term increase in scholarship funding for DREAM Act students, Napolitano hasn't dramatically changed UC student life. Many of the problems our system faced over the past 10 months were student focused (UC Student Association membership wars), campus-specific (Sun God Task Force Affairs) or pre-existing (balancing budgets).
The only definitive statement we can make regarding Napolitano is that she is not being accessible to students, hearing our grievances or working with us to fix them.
More specifically, she seems unavailable and distant to students who want to correspond. Uproar broke out at the UC Washington Center in the nation's capital last week after Napolitano refused to meet with several dozen UCSD Washington Program students — even briefly — after she gave a talk nearby.
Napolitano is so far removed from the student awareness that a UCSD Guardian roving reporter last quarter had a hard time finding a UCSD student on Library Walk who knew the UC president's name; "Neeopolotahni" was the closest anyone one got.
To contrast, Napolitano's predecessor Mark Yudof was so well known on our campus — albeit because of student disdain for his policies — that "Layoff 'Poo-dof'" signs and banners frequented campus protests and demonstrations. Though Yudof was a familiar name on UC campuses for his oft-ill-advised policies, our new UC head will need to reach out to students in stronger and more visibly positive ways to earn student support.
Napolitano's relationship with students will only need to get stronger since the UC system has potential issues on the horizon. Though UC tuition hasn't gone up in several years, a $142 million gap between the governor's proposed budget and the UC system's requested allocation could mean bad news for student piggy banks.
UC affiliates and supporters must keep their eyes on looming budget woes into the summer while Napolitano must seek out student allies for the next year and beyond.
With accessibility and affordability of the UC System continuously at risk, we need a Napolitano who bats for Team UC Students.