Concert Review: Runnner
The end of February was gloomy, but the bands LANNDS and Runnner brought some joy and warmth back to a little venue in Downtown San Diego.
Runnner, an LA-based indie rock band with a uniquely raw and powerful sound, has been on my radar for about a year now. There are a lot of reasons to follow this group, but the biggest draw is their lyrical style. Frontman Noah Weinman has an innate ability to capture any emotion without being too flowery in his writing. It's easy to grant him the label of a storyteller; his narratives are extremely personal, yet relatable enough to be emotionally evocative. Runnner's first album "Always Repeating" is archival — a collection of songs rather than a project written altogether. The song "Ur Name on a Grain of Rice" from this album was my first introduction to the band. From there, the fall into Runnner's discography was natural. Exactly a week before the show on Feb. 17, Runnner released their debut full-length project. Titled "like dying stars, we're reaching out," this album expands on Weiman's sound and shows immense growth without losing the endearing qualities of their older music.
Walking into the House of Blues' Voodoo Room, an ease settled over my body. The lighting in the venue is warm and dim, and the walls are covered in art. People weren't cramming to the front as with many other concerts I've attended. Folks congregated in small groups, chatting with a buzz of anticipation. 
When the opening band, LANNDS, walked out onto the stage, a hush fell over the crowd. LANNDS is an electro-pop band from Florida that prides itself on playing progressive music. The best way I can describe their set is in a single word: dreamy. Vocalist and guitarist Rania Woodard has an ethereal quality in both her vocal style — gorgeous and silky with an impressive upper range — and stage presence. The other member of the band, Brian Squillac, manned a synth and played percussion almost effortlessly. I was stunned by the talent radiating from the duo. They often exchanged knowing looks and sly smiles, suggesting they know something the audience doesn't. One can only imagine the hours of hard work they devoted to writing, arranging, and producing together to warrant these glances of camaraderie. There is a clear love and passion for their craft present in their work; every part of their performance felt intentional and well-thought-out. The song that stood out the most during their set was "Blueprint," a single off their album "Music For The Future" which came out on March 3, 2023. The lyrics have an emotional weight that's amplified even further through the context of queerness: "Darling, we built this house / We built this house / Where we lay down."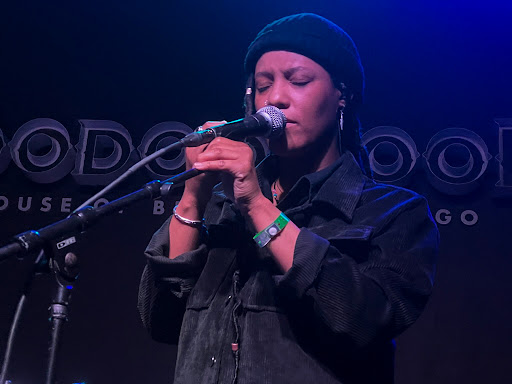 Between sets, the crowd marveled at what they had just experienced while Runnner's crew transitioned the stage for their performance. I watched as several people spoiled the setlist for themselves — leaning over the stage to see the paper it was printed on — and waited in anticipation for their favorite songs. Runnner walked onto the stage and opened with "Monochrome," the opening track of "Always Repeating."  It's the perfect opening track; it's high energy while still being demonstrative of Weinman's melancholic lyricism. He is clearly in tune with the realities of young adulthood — growing apart from friends and tumultuous relationships are common themes in Runnner's discography. In the last verse of "Monochrome," Weinman belts: "I wish I was drunk enough to call you / Cause I've run out of things to sing about / I've been trying to draw you with my eyes closed / And you're not gonna like how it turned out." The band played a solid mix of new and old material with contagious energy the entire time. I found myself unable to hold a smile back throughout the set. Before a new song titled "scabpicker," Weinman told the audience, "This song sounds sad and angry, but I consider it a love song." He paused to process and laughed — "I shouldn't have said that." Moments like these were my favorite part of the entire performance, the little intimacies.

The set was closed with "Ur Name on a Grain of Rice," the song everyone was looking forward to hearing. Weinman made sure to tell the crowd, "This one is more fun if everyone sings along." So, they did. There was a sense of unity in the audience that was fostered through this song. I've found that concerts are made so much better when the crowd becomes a collective whole, rather than a group of strangers. This would've been a perfect ending if not for the encore. Weinman emphasized that most of his shows wouldn't end with one because he's mostly against encores. "Sorry, Phoenix," said Weinman, referencing the next tour date. But when he shared that he would be covering the song that made him want to learn guitar in fourth grade, I couldn't help but feel bad for all the people who wouldn't get to experience it. They launched into a cover of "Mexican Wine" by Fountains of Wayne. People sang along and joy rippled through the crowd.  
Despite the pouring rain, I made my way home after the show with a warmth lingering in my chest.
All images courtesy of Sofia Shaw and Helix Creative Solutions