UCSD Students to Brew Beer on the Moon After Getting Second Chance in Google Contest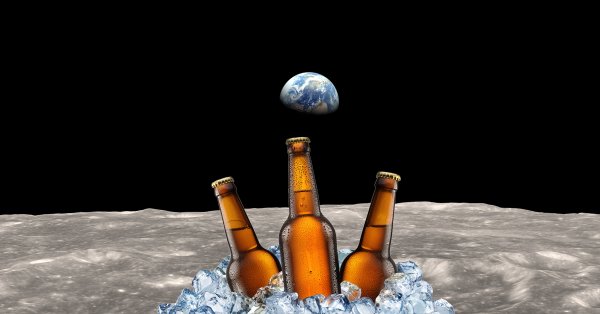 A team of 11 UC San Diego students who lost after competing in Google's Lunar XPRIZE competition as finalists have been given a second chance to take their project to the moon after teaming up with Synergy Moon, a fellow competitor in Google's contest.
The student team, known as Original Gravity, commenced the experiment back in August 2016 after being involved in another student competition introduced to them by Dr. Ramesh Rao, a professor at the Jacobs School of Engineering.
"The objective of that competition was to come up with an experiment that can sustain life on the moon, and whomever can come up with the best experiment, won a spot on a rocket that was involved in the Google Lunar XPrize Competition," Neeki Ashari said, a fifth-year Bioengineering major in Revelle College and one of Original Gravity's three team leaders.
Google's Lunar XPrize consists of teams who are privately funded to be the first to land their spacecrafts on the moon. After landing, the spacecrafts are to travel 500 meters and then transmit back high definition images and videos of the travel.
After hearing about the competition, the team got together to come up with possible projects that would secure them a place on the rocket.
"As we were discussing possibilities for a concept, a home brewer on our team threw in the idea of brewing beer on the moon," Ashari said. "We were all fans of the idea, especially because we all enjoyed the craft and science behind it. We had a few laughs, but then slowly we began to realize that it would also serve a scientific purpose: understanding yeast in a lunar gravity environment."
Aside from understanding the viability of yeast on the moon as well as in low Earth orbit (LEO), the project would play a crucial role in determining the possibility of a lunar colony ever being established on the moon as humans are very dependent on yeast in their daily food intake.
"Yeast is one of the most prevalent microorganisms around," Ashari said. "It is a major component in all of our everyday necessities. Such as foods (bread), beverages and pharmaceuticals (insulin). It is a necessity for which the majority of humans have become dependent on. This experiment would far exceed brewing applications and would actually serve as a vital purpose. If we can understand this, it can play a role in consumptive and clinical applications for the future of colonization in space exploration."
The projects consist of a small canister that upon moon landing, will mix yeast and wort, which will then start the fermentation process to produce the alcohol.
Original Gravity's beer-brewing experiment landed them in the finals, however, the team faced a devastating loss.
"It was very disheartening to hear, however, we were not going to quit," Ashari said.
After the loss, Ashari reached out to team Synergy Moon, another finalist in the competition.
"I chose them in particular because they emphasized the same ideals and principles as we did," Ashari said. "I then wrote up a short, sweet, yet concise email stating who we were and if our small canister can have a spot on their rocket to the moon in 2017. The CEO of the international space company [Synergy Moon] then responded back to me accepting my offer. I was ecstatic."
After much more talk, the two teams signed contracts giving Original Gravity a space for their canister on Synergy Moon's lunar landing campaign. In addition, Original Gravity was also offered seven LEO flights, allowing them to brew beer not only on the moon but also while in orbit around Earth.
Original Gravity's partnership with Synergy Moon allows for more freedom and opportunities to conduct multiple experiments while in space. The team has already made plans to produce wine and bread as well.
As for the now, the team is working on its canister to ensure positive results for the lunar project.