UC San Diego announced Monday that it plans to open a $42 million, 66,000-square-foot campus extension in the East Village neighborhood of downtown on the corner of Park Boulevard and Market Street. Construction of the "Innovative Cultural and Education Hub" will be part of a larger development project on the block and is expected to begin next year. The hub will be completed by late 2020 or early 2021.
The four-story building will be a center for hands-on learning and community outreach, featuring offices where young entrepreneurs can gain experience in modern business practices, venues where artists can display their work and classrooms that encourage applied research and civic engagement. Around 92 underground parking spaces will be allotted for campus use.
While it's too early to know which classes will be offered at the new campus, Keith Pezzoli, director of the Urban Studies and Planning program, said it's very likely USP courses will be taught there because of the natural link between course material and setting.
Victoria Ortiz, an Eleanor Roosevelt College senior double majoring in Urban Studies and Planning and Political Science, told the UCSD Guardian she believes that taking USP courses downtown could make the student experience more immersive.
"Learning in downtown would be extremely beneficial for understanding the history of the development of San Diego," she said. "It's such an important part of our program, especially in understanding USP 1 and many of our San Diego-specific upper divs."
Ortiz also highlighted the downtown hub as an academic attraction that will motivate students to branch out from the main campus region.
"Having a downtown campus will help break the bubble that UCSD has," said Ortiz. "It gives students both an opportunity and a reason to explore our downtown and connects us to the greater San Diego community."
State funds will not be used to finance the project. Instead, the university will employ a combination of  contracts and grants, fees for services and fundraising to cover the real estate and construction costs, which will be managed by UC San Diego Extension. The university expects to buy the building from Holland Partner Group for $36.2 million and will spend about $6 million on improvements.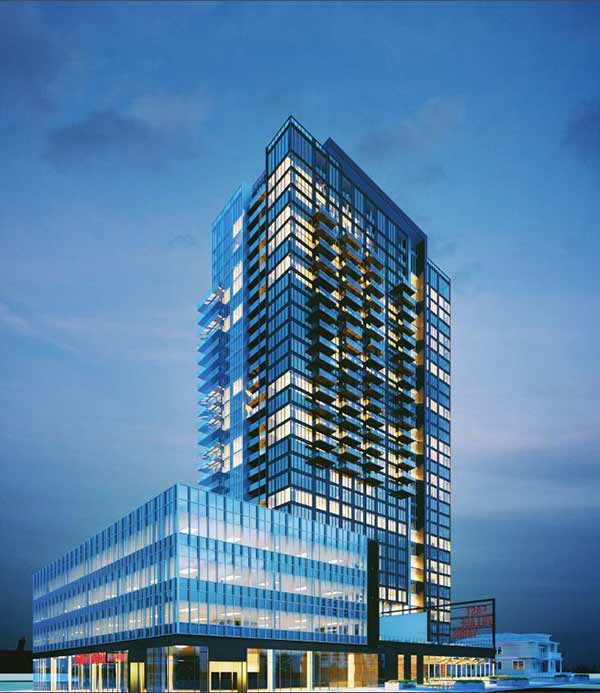 The university selected the space because of its proximity to the UC San Diego Blue Line, which, when completed, will connect UC San Diego's main La Jolla campus to the greater San Diego area.
San Diego leaders are praising the move as an essential step in bringing the city up to speed with 21st-century technology standards and believe the downtown outpost will stimulate both the economy and the neighborhoods in the region.
"Landing a university presence in downtown San Diego is a game changer and the result of years of hard work to make it reality," Mayor Kevin Faulconer said. "This new project will continue the revitalization of the East Village neighborhood and, with UCSD's top-notch reputation, provide countless opportunities for collaboration as we prepare students for the jobs of tomorrow."
Community outreach will be a facet of the "Innovative Cultural and Education Hub" that Mary Walshok, UC San Diego's associate vice chancellor for public programs and dean of Extension, will be largely invested in. Walshok has been an influential proponent of the move to downtown, and plans to invite both middle school and high school students from the area to hub where they will have the opportunity to take college readiness classes and practice coding.
"With the diverse neighborhoods surrounding the urban core, including Barrio Logan, the Diamond District and Golden Hill, this project reinforces UC San Diego's role as a key partner in spurring economic prosperity and inclusion through engaging events and educational offerings," Walshok said.
Campus leaders hope the downtown hub will encourage more students, especially those in lower-income neighborhoods, to apply at UC San Diego, and, for students who are unwilling to brave the commute and often overcrowded parking situation at UC San Diego's main campus, the hub is intended to offer a more convenient learning environment for students.  
In a recent interview, Chancellor Pradeep Khosla expressed his belief that the extension of UC San Diego into downtown will open opportunities for students and faculty, and would subsequently benefit members of the San Diego community.
"This new hub will support economic development downtown while delivering new educational opportunities for our students, faculty and staff and provide a greater connection to the communities throughout San Diego," he said.
As part of Holland Partner Group's $275 million proposed Park and Market project, the building will be situated on the same block as a 34-story, 426-unit apartment tower, an outdoor amphitheater venue and the historic Remmen House. The apartment building will include 341 market-rate apartments and 85 low income spaces that graduate students and San Diego residents making less than $31,500 could qualify to rent.
With the construction of the "Innovative Cultural and Education Hub," UC San Diego will have established four campuses in the San Diego region: Main Campus, The Campus on Villa La Jolla, University City Center and the downtown hub.