As the reality set in on Tuesday night that Donald J. Trump would be named president-elect of the United States, thousands of students at UCSD and around the country mobilized to express their discontent with the anti-establishment businessman, gathering to declare the unofficial chant of the never Trump resistance, "Not my president."
Student media reported protests at nearly all of the UC campuses on election night, including UCSD, UCLA, UC Berkeley, UC Riverside, UC Davis, UC Santa Barbara and UC Santa Cruz, with little to no coverage of the reactions of Trump voters, who are a minority at these left-leaning universities.
At UCSD, students from all six colleges filed out of their dorm rooms and onto Library Walk in the early morning hours of Wednesday. They marched while chanting epithets against Trump's new political order, gaining momentum as angered students inflated their ranks.
The march, which started on Library Walk and passed through Ridge Walk, Earl Warren College and the Village, continued off campus and onto the Interstate 5 South highway, where a female protester was hit by a car. Paramedics were called to the scene at approximately 1:45 a.m.
Valerie Garcia, a witness, said the woman was conscious when first responders arrived and that she "hopes she recovers soon."
A Revelle college freshman who livestreamed the election-night march on Facebook, Garcia told the UCSD Guardian about the mood of the protesters.
"Every student was in a mood of disapproval," she said. "They were worried about the social environment that will be created with this new presidency."
Garcia also gave her interpretation on why the backlash to Trump's election was so swift, citing the way the president-elect has singled out minority groups as harmful and dangerous to the well-being of the United States.  
"We are angry because Trump won," she said. "Because despite Hillary winning the popular vote, [Trump] won because there are more than 59 million people who believe in his policies and ideologies. I am afraid. I am afraid for my family, friends and classmates."
On Wednesday after the election, many students didn't show up for class.
Matt Jennings, a Thurgood Marshall College senior, was one of them.
"The result of the presidential election really afflicted me personally," Jennings told the Guardian. "I felt that democracy failed me. Because of that feeling of having little to no say in the direction of our country, I questioned the legitimacy of my other endeavors, including my role as a student. I'm still having trouble picking my books back up."
Professors also felt pressure to address the outcome of the election in their classes.
Assistant professor of literature and creative writing Brandon Som restructured his lecture to address the mixed emotions of the student body, offering them a space to vent.
"This morning I received multiple messages from fellow teachers asking, 'What should we teach?' 'How should we respond?' 'What should we discuss?'" he said in class Wednesday.
That afternoon, another demonstration took place on campus after a Facebook event, titled "UCSD Protest: Movement of Solidarity," gained the support of hundreds of students.
The demonstration, organized by Warren College senior Clara Bird, took place in front of the Silent Tree at 2 p.m. Described as a "safe-space event and movement in regards to the results of the 2016 election," there was to be "no name calling, hateful language, foul language or any kind of violence or dangerous behavior," according to the event description.
Approximately 350 people attended the Movement of Solidarity.
"Everyone seemed really grateful for the opportunity to come together," Bird said. "A lot of people sunk into a depression of total hopelessness after the results came out. I think just seeing the amount of people that care inspired everyone and helped in restoring their faith in humanity."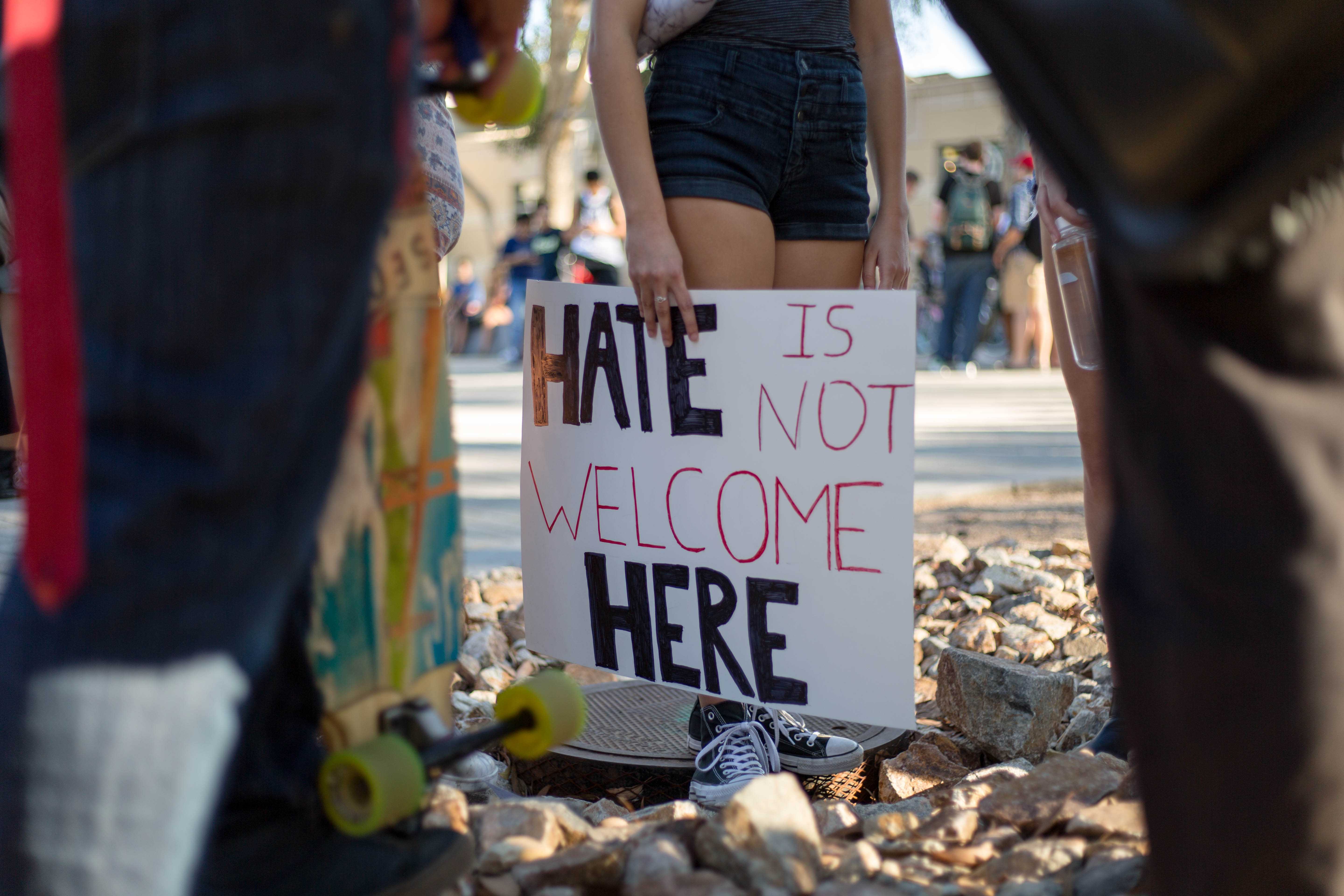 By Thursday, Nov. 10, two days after Trump was named president-elect of the United States, nationwide protesting hadn't ceased, and was gaining momentum in major cities like Oakland, Los Angeles and New York. Turning to Twitter, Trump blamed the media for inciting the protests.
"Just had a very open and successful presidential election," he tweeted. "Now professional protesters, incited by the media, are protesting. Very unfair!"
Hours after Trump's tweet, another Facebook event was scheduled to take place at UCSD. Named "Townhall: Emergency Meeting to Discuss Future Actions," the event was hosted by Groundwork Books in the Old Student Center, and quickly gained online RSVPs.
"As proven by the mass protests on campus last night and the march to I-5, we are all very distressed about the results of the current election," the event description read. "The presidency of Donald Trump is a nightmare come true for most of us."
"But don't feel powerless," the description continued. "We at UCSD can make a difference and make our university an active opposition to Trump's policies. Let's make our university a place about everything Trump doesn't want America to be."
At the townhall, students discussed topics such as UCSD becoming a sanctuary university and enacting policy that actively prohibits U.S. Immigrations and Customs Enforcement from entering campus property.
Groundwork Books will host another townhall next Thursday, Nov. 17. The meetings will be weekly going forward.
Quinton Grounds, an Eleanor Roosevelt College senior and chairman of UCSD College Republicans, offered his take on the passionate response to Trump's election, telling the Guardian that protesters' anger is "understandable, and [I'm] actually happy that they have chosen to make their grievances known."
Grounds, who described himself as "not a Trump supporter, but a supporter of the Republican party," believes protest is a fitting response to anything that causes public concern, including Trump's election.
"Free speech is a key aspect of our nation's fabric, so yes, responding with protest is not only justifiable, it is recommended in times of strife," he said.
When asked to comment on the mission of anti-Trump protesters, Grounds said it was to express "the will of the student populace, that they're angry with the result."
"They can't change the election results, probably never will, but they can change their response to the political process and the system we live in," he added.
The refusal to accept the president-elect of the United States is nothing new when looking back at previous elections. After President Barack Obama was elected in 2008, Republicans responded by refusing to accept him as their leader, again favoring the "not my president" theme. But to respond immediately with protest, as we've seen in the aftermath of the 2016 election, is unprecedented.
Taking note of this, Grounds advocates for level-headed approaches of expressing one's political views, calling for demonstrators to practice peaceful protest and discussion.
"Violence should never be acceptable and should never be encouraged," he told the Guardian. "We are all Americans, and all beliefs, especially under the first amendment, should be respected. This is a tough time for the nation and we should be figuring out what to do next in the healing process, not building more animosity or hurting our neighbors."
Zeroing in on students as an exceptionally tolerant community, Grounds believes both the never-Trump and the pro-Trump factions have an intellectual obligation to respect one another.
"As students, we should be breathing in diversity, approaching new avenues of knowledge and seeking to bring people together," he explained. "Not pushing away people we either don't know or don't want to care about. We're a community that cares. We should act like it."