Emilia Obarzanska: Tokyo, Japan
Interviewer: Dominic Spencer
We all know the shock of having new surroundings; this UCSD student experiences it on a grand scale. Emilia Obarzanska, a junior exchange student from Edogawa in Tokyo, Japan, is experiencing a culture clash yet enjoying it immensely.
Coming from the world's biggest city, with a population of 35 million, Emilia noticed a change in intimacy at the register.
"I was impressed that in the U.S., you have small talk at the cash desk when shopping," Obarzanska said. "That rarely happens in Japan, so I was surprised at first. I would think, in the fast-paced environment of the big city, San Diegans would seem more homely and likely to converse more."
She notes again the seemingly peaceful and slow nature of San Diegan culture relative to Tokyo.
"The biggest difference between here and my hometown is that you don't have to be rushed all the time," Obarzanska said. "The time seems to go by slower here."
Also, for many students from big cities, the available outdoor activities in San Diego are a big attraction: "I chose UCSD because of the diversity of people here. Also, the climate here was pretty nice, and I was excited to live close to the sea. … I want to go to the mountains for hiking."
Being used to a fast and intricate metro system, Emilia finds our public transportation lacking. "The access to any place takes much more time, [and] the campus itself is really huge and I get lost, which never happened back in my university."
Pedro Vieira Lomar: Rio de Janeiro, Brazil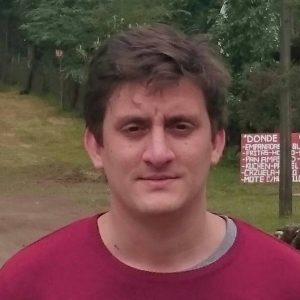 Interviewer: Alvin Chan
Q: Tell me about yourself.
A: My name is Pedro, and I'm a senior student studying management science. I was born and raised in Rio, Brazil. I'm actually a business major, but maybe management is better for me here because UCSD doesn't have a business major for an undergrad.
Q: What made you choose UCSD?

A: As a management major, one of my objectives when planning my exchange program was to take some time apart from business issues and office internships. A field of study that I'm very interested in and consider of great importance to my future life is political science, and as the UCSD has a good department in that, it was a natural choice. Also, I was also very curious about the city, the campus and its diversity.
Q: What surprised you most when you first came to America?

A: I have been to the USA other times, so the country per se wasn't different than expected. Talking specifically about California, what surprised me most was how people here are particularly open for conversations with unknown people. This is a major difference compared to others states that I had visited before.

Q: What is the one thing you want to see/do the most before you leave?

A: After exploring the most I can inside campus, I want to rent a car and travel around coastal California, maybe even trespassing on the border and going to Seattle and Vancouver. If I have the opportunity, I'd also like to have more contact with green/solar energy companies, as California is one of the leading places in world regarding these new technologies.

Q: What has been your favorite memory at UCSD so far?

A: I've only been here for two weeks, but I already can say that I'll take the mood of this campus in my own life. I haven't seen any colleague, professor or staff member stressed yet. My first impression is that people here just take life as it should be: a pleasure.
Elizabeth Hellier: Reims, France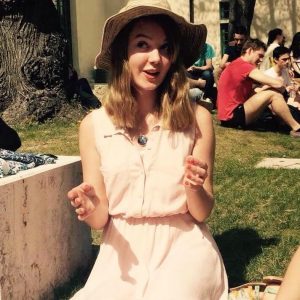 Interviewer: Harrison Lee
Elizabeth Hellier is a junior foreign exchange student from France. She's originally from a Northwestern region called Brittany, but she attended school in the city of Reims.
"I love my country," said Elizabeth, smiling to herself. But she doesn't entirely mind the picturesque San Diego weather, either.
"In Brittany it rains a lot and the winters can drag on … I really wanted to be next to the beach and have the sun … if you go to the beach and it's sunny, you can't be in a bad mood, it's impossible!"
Elizabeth studied social sciences at her previous school, with a special interest in transportation. Among the things she investigated was why Americans don't take the train anymore, a subject which she wrote a paper on.
"It's such a shame; in the past, trains used to be such a big thing in the U.S, but now most cities are structured around people owning cars," Hellier said. "Everything is so far away and spread out."
Elizabeth tells the Guardian that she misses the experience of riding the train, despite the fact that in France, most people who ride public transportation keep to themselves.
"People try and avoid eye contact … and are sort of scared to speak with strangers."
Because of this, she experienced some pleasant culture shock when she rode the California Zephyr train line from Chicago to San Francisco.
"I met so many people and became pretty good friends with them from just speaking to them … everybody is so open."
Currently, Elizabeth is studying urban planning, focusing on sustainability.
"It's about creating greener cities with less pollution," she explains.
She wants to visit our national parks someday and understands that to continue experiencing the natural beauty that she loves, we must all work actively to preserve it. Given her major, she is on track to do so.
Jane Gibson: Hamilton, New Zealand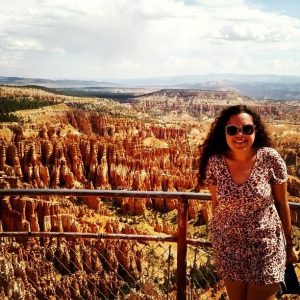 Interviewer: Susanti Sarkar
Jane Gibson, 19, is an exchange student from New Zealand who lives in Kathmandu in I-House. Initially, Jane was even interested in completing her bachelor's degree in America.
"I did the SAT, and I did look at coming to the U.S. for undergrad, but it's crazy expensive".
As an exchange student, however, Jane gets to pay the same amount of tuition as her home university, with an interest-free loan from the New Zealand government: enjoying the best of both worlds for a better deal. Deciding to choose University of California was an easy decision; Jane clearly states that it was the most prestigious choice of the exchange programs that her university offered.
As for the surprises America has to offer, Jane is struggling to get used to right-hand driving and tipping the service industry; in New Zealand, service tax is included. However, the biggest difference is definitely the culture.
"When I was younger, I lived in Massachusetts for a bit, and Californian culture is very different from New England's," she says, laughing. "The culture wasn't like the one we were warned about, because in New Zealand, what we mostly see in America is MTV, businessmen and crime."
She goes on to describe how New Zealanders are much more open to swearing and nudity. An issue Jane feels very strongly about is the political situation of the two countries, such as the "Black Lives Matter" movement in America compared to racism against the indigenous tribes in New Zealand. This type of discussion-based learning, especially during the exciting election time in America, in fact, is what endears her to the teaching style in UCSD's classrooms. As for her overall experience here since the first couple of weeks, Jane finds it interesting to meet other I-House residents from culture and perspectives she may have never gotten to know more about, such as Germany, Slovakia and Mexico. Finally, she hopes to enjoy much more of San Diego before she leaves, with many things to check off on her bucket list.
"On a completely selfish and casual level, I definitely want to go to Six Flags!" she says jokingly, as she and her suitemates excitedly prepare a potluck dinner for yet another party with the diverse residents of I-House.
Harrison Box: Glasgow, United Kingdom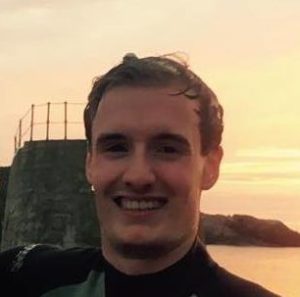 Interviewer: Matthew Zamudio
While admitting America's tea game is "very weak," Harrison Box has found a lot of things to be happy about here, simultaneously praising the country for its bang-for-your-buck food portions and its "dedication to fitness and exercise." Box based his choice to come to UCSD on academic excellence, explaining that our aerospace engineering department "supersedes that of UCLA." By far, Box opined, the features of American living that struck him the most were "the weather and the overwhelming friendliness of the people here in California." Reinforcing this flattering opinion, Box was underwhelmed by the amount of political vitriol on campus during one of the most contentious presidential elections in recent history.
"I have found that the effect of the presidential election on the student body currently at UCSD is far more dampened than in Glasgow — and the United Kingdom in general — regarding the Brexit situation," Box told the UCSD Guardian.
Before leaving the states, Box hopes to "explore Yosemite and specifically Lake Tahoe," locations that contrast sharply with the geography of the UK. Finding his footing as a typically active Californian, Box pointed to the rainy weather in his home country as a deterrent to outdoor activities and said "the California effect on [him] has meant [he's] been at the gym every day and surfing whenever [he] can." In that sense, Box feels at home.
"I'm starting to fit in nicely," he said.
Still, Box hasn't forgotten about the little things exclusive to the UK, which become magnified by their scarcity when living abroad. Even though he can legally drink in the states, he misses the lowered drinking age in the UK, telling the Guardian that "it makes it harder to party with others when they can't do what [he] can." Another cultural amenity Box misses is the ability to drink a cup of piping hot tea in peace.
"I would usually drink a cup of tea in the morning and after dinner in the evening, but that seems alien here!"