FILMS
The Light Between Oceans
Director: Derek Cianfrance
Starring: Michael Fassbender, Alicia Vikander, Rachel Weisz
Release date: Sept. 2, 2016
In the wake of World War I, a psychologically scarred lighthouse keeper and his barren wife find a baby in a rowboat that has washed up on shore. Is this a gift from God or mere happenstance? Would it be wrong to keep the baby rather than finding her parents?
This predicament is ripe for Derek Cianfrance, who has made a name for himself as a master of directing films about troubled relationships ("Blue Valentine"), which sometimes have a dose of moral quandary thrown in ("The Place Beyond The Pines").
With powerhouse thespian couple Michael Fassbender and Alicia Vikander at the helm, this could be an early Oscar contender.
— Dieter Joubert, Senior Staff Writer
Swiss Army Man
Director: Daniel Kwan and Daniel Scheinert
Starring: Danielle Radcliffe, Paul Dano
Release Date: June 24, 2016
"The best preparation for acting is life." How does this apply when one is playing the dead? Such is the case in "Swiss Army Man," in which Daniel Radcliffe is no longer "the boy who lived," but instead the man who died. When Hank — an island-stranded, suicidal loner played by Paul Dano — discovers the body on an abandoned island, he learns that there's more to this corpse than meets the eye (it farts). Honored by this year's Sundance Festival jury with the award for Best Directing, "Swiss Army Man" is sure to inspire half of its audience and madden the other.
— Jacky To, Senior Staff Writer
The Founder
Director: John Lee Hancock
Starring: Michael Keaton, Laura Dern, Nick Offerman, John Carroll Lynch, B.J. Novak.
Release Date: August 5, 2016
"Super size me" has been the American way for so long it's easy to take it for granted. But "The Founder," following the meteoric rise of the Golden Arches and its ruthless visionary Ray Kroc, promises to delve into the nitty gritty behind one of the great empires of the modern era. Michael Keaton is once again jostling nicely for the awards circuit following stellar performances in "Birdman" (2014) and "Spotlight" (2015). While capable behind the camera, director John Lee Hancock is more adept at helming feel-good dramas ("The Blindside" and "Saving Mr. Banks") than Oscar bait, although a more acerbic tone could prove expedient.  
— Tynan Yanaga, Senior Staff Writer
Genius
Director: Michael Grandage
Starring: Jude Law, Colin Firth, Nicole Kidman, Guy Pearce, Dominic West
Release Date: June 10, 2016
"Genius" portrays the relationship between American writer Thomas Wolfe (Jude Law) and his editor, Maxwell Perkins (Colin Firth), who also edited works by F. Scott Fitzgerald (Guy Pearce) and Ernest Hemingway (Dominic West). Perkins and Wolfe's relationship is widely suspected as romantic, even though Wolfe was also the lover of a married costume designer, Aline Bernstein (Nicole Kidman), who supported and funded him. The film aims at depicting both the complicated love affairs and the editing process of Wolfe's incredibly lengthy novels. Michael Grandage is an award-winning theater director who has demonstrated his artistic talent in stage productions. Whether his debut film is as skillfully crafted remains in doubt.
— Yidian Huang, Senior Staff Writer
The Conjuring 2
Director: James Wan
Starring: Vera Farmiga, Patrick Wilson, Frances O'Connor, Madison Wolfe
Release Date: June 10, 2016
After launching the "Saw" and "Insidious" franchises as well as taking on action blockbusters — "Furious 7" and the upcoming "Aquaman" — James Wan has quietly become one of the most successful directors in Hollywood. Knowing this, his decision to return to helm the sequel to his strongest project to date, "The Conjuring," is exciting to say the least. Promising both thrills and emotion, not to mention the ever-reliable Patrick Wilson, "The Conjuring 2" is set to be another hit to add to Wan's resume.
— Jacky To, Senior Staff Writer
Nine Lives
Director: Barry Sonnenfeld
Starring: Kevin Spacey, Jennifer Garner, Christopher Walken, Malina Weissman
Release Date: August 5, 2016
In the tradition of timeless classics such as "The Lobster" and "The Shaggy Dog," auteur Barry Sonnenfeld's "Nine Lives" intends to once again set a new standard for the body-horror genre. Academy Award-winner Kevin Spacey plays a detached business tycoon in the midst of an existential crisis — a wandering soul searching for a purpose. Then he gets turned into a cat. The feline Spacey embarks on a journey of introspection and cosmic self-actualization that will surely win over the hearts of all pet owners. Christopher Walken's in it too.
— Josh Lefler, Staff Writer
Finding Dory
Director: Andrew Stanton
Starring: Ellen DeGeneres, Albert Brooks, Diane Keaton, Ty Burrell
Release Date: June 17, 2016
Fans of the famous fish duo, Marlin and Dory, have been begging for a sequel to "Finding Nemo" for years. Thankfully, Pixar, the animation power-house that consistently melts our hearts, understands the virtue of patience. After 13 years, a new generation of kids will want a Blue Tang as their first pet, the species that Dory, the adorable and forgetful star of the film, belongs to.
— Naftali Burakovsky, A&E Editorial Assistant
Suicide Squad
Director: David Ayer
Starring: Will Smith, Margot Robbie, Jared Leto, Cara Delevingne
Release Date: Aug. 5, 2016
"Suicide Squad" is shaping up to be an off-kilter, high-octane summer action movie with a ridiculous Hot Topic aesthetic, featuring Margot Robbie as a baseball bat-wielding Harley Quinn for an additional dash of insanity. After March's disappointing "Batman v. Superman," this film will be the hero that Warner Bros. needs and hopefully deserves.
— Naftali Burakovsky, A&E Editorial Assistant
Jason Bourne
Director: Paul Greengrass
Starring: Matt Damon, Alicia Vikander, Julia Stiles, Tommy Lee Jones
Release Date: July 29, 2016
Matt Damon returns to the infamous role of Jason Bourne with the same car chases, intrigue and badass hand-to-hand combat of previous "Bourne Identity" films. After refusing to get involved with "The Bourne Legacy," Damon and director Paul Greengrass hope to bring to "Jason Bourne" the same intensity and intricacy that the original trilogy had. Julia Stiles will stand as the only other reminder of the past movies, as "Jason Bourne" adds a new cast of Tommy Lee Jones, Alicia Vikander and Ato Essandoh to the franchise. Now having fully recovered from his amnesia, Bourne seeks to learn more about his past and the history of the Black Ops. CIA kill squad that made him what he is today.
— Peter McInnis, Senior Staff Writer
Star Trek Beyond
Director: Justin Lin
Starring: Chris Pine, Zachary Quinto, Zoe Saldana, Karl Urban, Simon Pegg
Release Date: July 22, 2016
After a bumpy production period, "Star Trek Beyond" will finally be hitting the silver screen this summer, courtesy of "Fast and Furious" alumnus Justin Lin. With the director of the series' previous two installments, J.J. Abrams, having departed for greener and "Star Wars"-ier fields, it's a question of whether Lin can keep the Paramount-funded franchise afloat. The answer? Well, "Beyond's" first released trailer speaks eloquently for Lin with a smorgasbord of flashes, explosions and space battles, all set to the tune of the Beastie Boys' "Sabotage." A little closer to "Fast and Furious" than classic "Trek."
— Alicia Lepler, Contributing Writer
Now You See Me 2
Director: Jon M. Chu
Starring: Jesse Eisenberg, Lizzy Caplan, Daniel Radcliffe, Dave Franco
Release Date: June 10, 2016
"Now You See Me 2," the sequel to the surprise 2013 hit "Now You See Me," picks up a year after The Four Horsemen were tricked during one of their own shows and somehow ended up in China. Woody Harrelson, Jesse Eisenberg and Dave Franco all reprise their previous roles in the band of criminal magicians, with Lizzy Caplan taking the place of a pregnant Isla Fisher. Daniel Radcliffe is the biggest new name in this sequel, playing the tech prodigy behind the trickery of The Four Horseman. We'll have to wait until June 10 to see whether the magicians will be able to outwit the very magical Radcliffe.
— Megan Chang, Contributing Writer
ALBUMS
SremmLife 2 by Rae Sremmurd
Release Date: June 24, 2016
Rae Sremmurd has already proven that they're the wave of the future through their all-too-prophetic lyrics. The two brothers are more than just in touch with the youth — they're in touch with the sociopolitical climate of this very nation. While analysts continued to fumble and project Jeb Bush as the Republican front-runner last year, the Mississippi natives recorded "Up Like Trump" on their debut — an ode to the swagger of America's favorite technicolor businessman, with a beat that bangs harder than Ted Cruz on a bible. If that's what they came out of the gate with, we may not be ready for their follow-up.
— Sam Velazquez, Associate A&E Editor
The Glowing Man by Swans
Release Date: June 17, 2016
Michael Gira continues The Swan's self-established, perennial cycle of creation and destruction; with "The Glowing Man," the experimental rock group finds itself once again at the end of an age. This is the final album to be released using the band's current lineup. The released tracklist indicates "The Glowing Man" will at the least be another nearly two hour endurance test. But those who dare to take the journey are sure to be greeted by musical passages of biblical fury; it's music made for the storm, and it ain't ever sounded more breath-taking.
— Josh Lefler, Staff Writer
Fitz and the Tantrums by Fitz and the Tantrums
Release Date: June 10, 2016
Known for their hits, "The Walker" and "Out of my League," Fitz and the Tantrums revive their neo-retro sound with an upcoming self-titled album available June 10. Their latest single "Handclap" shows that they are no strangers to synths and electrifying energies. The band is known to perform in concerts with a captivating charisma, shouting lyrics to captivate the audience through their music. If "Handclap" is anything like the album in whole, then listeners will get to experience that same dynamic energy at home by listening to this album.
— Melissa Palafox, Staff Writer
The Magic by Deerhoof
Release Date: June 24, 2016
With two off-kilter singles, "Debut" and "Plastic Thrills," Deerhoof is poised to return with yet another alt-rock album. It's delivered consistently kooky fare for the last 20 years, and "The Magic" seems no different, filled with eclectic pop riffs and edged by Satomi Matsuzaki's distorted, girlish vocals. The laid-back beats and syncopated lyrics make for easy listening, even though Deerhoof is retreading old ground for its latest release.
— Alicia Lepler, Contributing Writer
Why Are You OK? by Band of Horses
Release Date: June 10, 2016
It's been four years since we last heard from Band of Horses, but with their latest single, "Casual Party," it will be like nothing changed. Many caught a glimpse of their soulful and folky style in their 2006 hit single, "The Funeral," but fast forward 10 years and their upcoming album titled, "Why Are You OK?" might just contain some of that same lovable sound. The band's melodious vocals can be heard in the upcoming album's preview tracks backed by a mix of electric guitar strokes and background vocals, giving the upcoming album a very beachy vibe that is perfect for the summer.
— Melissa Palafox, Staff Writer
Nothing's Real by Shura
Release Date: July 8, 2016
Has Shura finished her album yet? The answer is finally yes, it's titled "Nothing's Real" and is set to be released on July 8. Her debut album comes highly anticipated (and not to mention long-awaited) for those who have had her on their radar since her first breakout single "Touch" in 2014. Given the hype surrounding her debut EP "White Light" in 2015 and the recent single "What's It Gonna Be?" the album is sure(a) to be a collection of beautifully produced synth-pop records. Needless to say, expectations are at an all-time high.
— Joselynn Ordaz, Staff Writer
Ninth Studio Album by Britney Spears
Release Date: Summer 2016
Britney Spears has defined and embodied 21st-century popular music and American pop culture since 1997. Spears' manufactured and highly packaged, but undeniably effervescent, sound has been emulated again and again since the turn of the century. In the aftermath of her superstardom, countless Spears wannabes have tried to match her power with cheap imitations of her music and contrived spins on her brand. Store-brand Britneys like Katy Perry and Taylor Swift have tried to steal her ingenious unoriginality and sex appeal. Come this summer, she is sure to reassert her title as the princess of pop.
— Susie Davidson, Staff Writer
Last Year Was Complicated by Nick Jonas
Release Date: June 10, 2016
Bring on the screaming teenage girls. After the success of his previous album, "Nick Jonas X2," Jonas decides to slow down and sensualize his style. Definitely drifting from the pop sound of the Jonas Brothers, Jonas experiments with R&B and electronic sounds in his preview tracks for his June 10 release, "Last Year Was Complicated." Singles like "Close" and "Chainsaw" contain lyrics from passion and hurt that will show listeners how he has matured as an artist. Oh, and don't get me started on the music videos.
— Melissa Palafox, Staff Writer
Puberty 2 by Mitski
Release Date: June 17, 2016
With only two released singles, Mitski's new album "Puberty 2" is already proving to be the older, more mature sibling of its 2014 predecessor "Bury Me at Makeout Creek." In what is to be her fourth full-length studio release, the 25-year-old singer-songwriter basks in newfound confidence as she tackles the personal issues of identity, happiness and sadness that come with growing older. The record maintains the same raw intensity and bittersweet honesty in music and lyrics that has come to be expected of Mitski, only this time there's a bright light at the end of the tunnel.
— Joselynn Ordaz, Staff Writer
Digital Distortion by Iggy Azalea
Release Date: June 24, 2016
I-g-g-why does Iggy Azalea keep coming out with music? Whether you consider her music a guilty pleasure or just plain guilty, it is undeniable that the Australian Azalean has done more damage to hip-hop than any songs promoting violence or drug usage ever could. The singles off her upcoming project "Digital Distortion" have exhibited all the irritating rambunctiousness of her previous work minus the radio catchiness that made them bearable. With her stardom already in freefall, look out for this album to finally put her in the ground.
— Jacky To, Senior Staff Writer
TELEVISION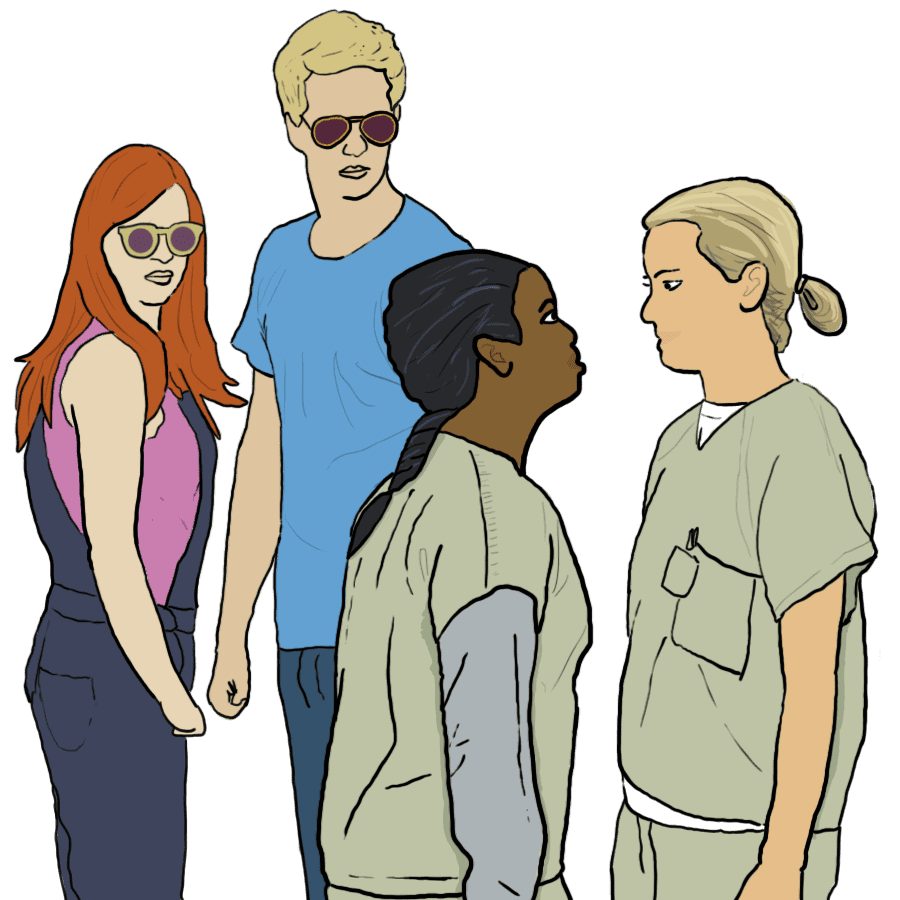 You're the Worst (Season 3)
Premiere: August 31, 2016 on FXX
By all counts, Jimmy (Chris Geere) and Gretchen (Aya Cash) are terrible people. Callous to a fault and inconsiderate of the very world that surrounds them, they have found a twisted (if not benign) love between themselves. Their vitriolic relationship has anchored the show as one of the outright funniest and most real shows on television, never trading in authenticity for the sake of a few cheap laughs. Last season's depiction of depression on screen may be the most honest to have aired on television, toeing the line between comedy and drama with aplomb. "You're the Worst" may be focused on some terrible people, but television has rarely been this great.
— Sam Velazquez, Associate A&E Editor
Mr. Robot (Season 2)
Premiere: July 13, 2016 on USA
USA Network's cyber thriller, "Mr. Robot," returns for what looks to be a hectic second season this July. Following Season 1's frenzied revelations, Season 2 looks to drill deeper into Elliot Alderson's (Rami Malek) broken psyche and fevered hallucinations. And as Mr. Robot tells Elliot in the trailer, it's going to be their "infinite loop of insanity."
— Derek Deng, Staff Writer
Orange Is the New Black (Season 4)
Release Date: June 17, 2016 on Netflix
With a release date set a week after finals, Season 4 of the Netflix original series "Orange Is the New Black" makes its return at a binge-friendly time. Trailers tease a suspenseful return to Litchfield with all new inmates and guards, and the promise of more insight into all of what Season 3 left open-ended. Expect to see Piper (Taylor Schilling) get herself into deep trouble and remain among the least liked characters of the show, while series regulars Flaca (Jackie Cruz), Taystee (Danielle Brooks), Big Boo (Lea DeLaria) and company continue to reign as fan favorites.
— Joselynn Ordaz, Staff Writer
CONCERTS & FESTIVALS
FYF Fest
Location: Exposition Park, Los Angeles
Date: August 27–28, 2016
Planning to travel to sunny Los Angeles this summer? If so, don't miss out on one of the city's popular annual summer fests, the Fuck Yeah Fest. Ranging from indie rock, hip-hop and EDM, FYF is a two-day festival known to host a diverse mix of genres. Past notable headliners like the Yeah Yeah Yeahs and Phoenix give the festival its "coming-of-age" vibes. Up until just last year, concertgoers complained of lack of crowd control and far gaps between stages and audiences. However, an improved location at the Exposition Park along with their own food market give concertgoers a stress-free and enjoyable experience.
— Melissa Palafox, Staff Writer
Bob Dylan
Location: Humphrey's Concerts By The Bay
Dates: June 13–14, 2016
What better way to spend a Monday than with Bob Dylan? On June 13–14 the "voice of a generation" will be performing at Humphrey's Concerts By The Bay in what could be the 75-year-old musician's last U.S. tour. Tickets aren't cheap, and it's likely that most of the songs he'll play will be from his latest LP, "Fallen Star," an American standards cover album. But fear not: Dylan is known to squeeze crowd favorites into the nooks and crannies of his set lists. He isn't same Dylan we know and love — he's old, feeble and vocally squeaky. But music lovers everywhere are obliged to witness the rock legend onstage one last time.
— Matthew Zamudio, Contributing Writer
Savages
Location: The Observatory North Park
Date: July 29, 2016
Since the release of their sophomore album, "Adore Life," earlier this year, Savages have maintained a booked schedule — headlining shows, TV appearances and festival performances all over the world. Sure to delight local fans, the post-punk four-piece recently added some U.S. dates to their "Adore Life" tour, including a stop at The Observatory North Park in late July. If their recent Coachella performance is any indication of what their live show is like, expect both a dark, cathartic show that oozes sex appeal and a mosh pit that is sure to ensue.
— Joselynn Ordaz, Staff Writer
Savages
Location: The Observatory North Park
Date: July 29, 2016
Since the release of their sophomore album, "Adore Life," earlier this year, Savages have maintained a booked schedule — headlining shows, TV appearances and festival performances all over the world. Sure to delight local fans, the post-punk four-piece recently added some U.S. dates to their "Adore Life" tour, including a stop at The Observatory North Park in late July. If their recent Coachella performance is any indication of what their live show is like, expect both a dark, cathartic show that oozes sex appeal and a mosh pit that is sure to ensue.
— Joselynn Ordaz, Staff Writer
Switchfoot
Location: Del Mar Fairground
Date: June 3, 2016
Led by charismatic lead Jon Foreman, Switchfoot has carved out a niche for themselves with the alternative crowd. But beyond that, as San Diego locals, the band still maintains close ties with the community. In preparation for their 10th album, "Where the Light Shines Through," set to be released on July 8th, the group plans to kick things off by serenading the hometown crowd at the Del Mar Fairgrounds — an admittedly quaint venue to launch a tour. However, their sets are always oriented towards the audience, welcoming them into the experience as equal partners in a communal sing-a-long, no matter the size of the stadium. Look for it to be laid-back but still unpredictably entertaining.
— Tynan Yanaga, Senior Staff Writer