We live in a rapidly changing and exciting time, on the forefront of a movement toward vast interconnection through social media — an entire generation communicating with each other with unprecedented ease. The children of Facebook, Reddit, Snapchat, Tumblr and a million other media outlets are coming into their adulthood and into the political sphere, leaving the fate of the country to a culture dominated by social media.
To begin the investigation on social media's impact, if any, over the youth, the UCSD Guardian released a poll asking students where their political information comes from. Half of the 366 responses listed "Social Media" as one of their primary news source. There is obviously an impact, the effects of which are bound to be unique.
Out With the Old, In With the New
According to political science and communication professor Daniel Hallin, social media is not new to the political stage. Hallin, who has a Ph.D in political science from UC Berkeley and specializes in journalism and political communication, told the Guardian that social media first started to appear in politics with President Barack Obama's youth-oriented campaign in 2008. Since then, the presence of social media in our lives has only grown.
"The mainstream media are not really gatekeepers like they used to be," Hallin observed. "They've lost influence, not only to social media, but to daytime television and other communicators."
Nationally, commercial journalism has been struggling to stay afloat in a new mediascape defined by free-flowing information. Enter Donald Trump and Bernie Sanders — two personalities Hallin says are notorious for their outsider politics and refusal to play by the rules — and mainstream media is facing a crisis.
Hallin describes old media as a system in which politicians had to play by the rules of the party in order to win precious air time for their campaigns. Today, media outlets such as the New York Times and CNN are no longer the only opportunities for politicians to make their voices heard. With the rise of social media as an alternative channel of information, mainstream journalism has lost its grip on the American people. According to Hallin, Trump's viral tweets represent a revolution in media, in which outsider politicians can gain a large following by communicating more directly with voters through social media.
Yet with great power comes great responsibility, and social media, as an influential source of news, has not been immune from professional criticism. Gizmodo.com, a popular tech blog, broke a story earlier this month stating that Facebook employees had consistently suppressed conservative news stories from reaching the presumably unbiased "Trending" sidebar located to the right of users' Facebook pages.
According to a Facebook post by founder and CEO of the platform, Mark Zuckerberg, Trending Topics is "designed to surface the most newsworthy and popular conversations on Facebook." However, an internal investigation revealed that some employees acted on personal judgment to remove conservative stories from appearing as Trending Topics.
Hallin states that stories such as these reveal the truth of new media platforms.
"A lot of these tech companies are in the media content business now, and they don't like to think of themselves that way," the professor explains, "The truth is that they are producing media content. They are making journalistic choices, and I suspect that more of that is going to become explicit."
New media platforms, while flashier and more exciting, are not free from the issue of bias present in traditional newsrooms. Nationally viewable Snapchat stories depicting caucuses or candidate debates may increase the amount of youth engaged in politics, but one must keep in mind the person sitting behind a computer at Snapchat's headquarters, deciding what stories will be viewed by potentially millions of voters. Editorial choices such as these are being made across a variety of social media platforms by non-professional journalists.
The Battleground
Perhaps the most difficult product of social media to avoid is the internet meme. Memes have permeated our culture, impacting nearly every aspect of our social lives and giving birth to an entirely new slang and sense of humor. And now, as youth are entering the world of politics, they are bringing memes with them, with sites like Facebook and Reddit that are riddled with political memes like the "Bernie Sanders Dank Memes," or the "Ted Cruz Zodiac Killer" memes. Could this seemingly lighthearted tactic of promoting a candidate actually have a great deal of influence over our political stances?
Eleanor Roosevelt College senior Armand Shahidi has some ideas. Wrapped in an American flag blowing in the wind, Shahidi manned a Trump campaign table on Library Walk. When asked how he thought that Facebook has affected the current election, he answered without hesitation: "It's the primary battleground in this election."
"Today in the digital age, we have a lot of people producing memes, a lot of them are totally inaccurate, but they are very influential," Shahidi said.
He views the process as an example of memetic warfare — the practice of bombarding the opponent with symbols and sound bites.
"If you see it long enough on your newsfeed, if you see it often, you may end up thinking it's true even if you don't believe in it," Shahidi theorized.
The Filter
Facebook is famous for its capacity to spread information like wildfire, helping people mobilize on a vast scale. In presidential races, where youth engagement can help a candidate get nominated and elected, Facebook is an indispensable tool for reaching the new generation — here, the UCSD College Democrats use Facebook to mobilize and inform students.
"Social media has been a great tool for us in attracting students to campaign events, getting them registered to vote and providing information about local candidates," Sixth College sophomore Mary Latibashvili, a UCSD College Democrat, said. "We recently uploaded a voter guide on all the local Democratic candidates and ballot propositions, and it's already been seen by over a thousand students…"
Although not many people would deny the advantages of social media in being able to mobilize people and spread information, social media is not flawless. Marshall senior Graham Richardson, a member of Tritons for Bernie, spoke to the Guardian about his views on social media, emphasizing that he was speaking not for Tritons for Bernie but for himself. He worries about the efficacy of using sites like Facebook to get political information.
"People need to basically beware the filter," Richardson warned. "Facebook shows you the things that it thinks you want to see."
Richardson isn't alone in this opinion. A recent New York Times article titled "The Way Facebook Warps Our World," by Frank Bruni, explores the algorithms of Facebook and the way we may doom ourselves when we look to Facebook for unbiased information. Responding to a recent story that revealed Facebook employees had suppressed conservative news from appearing on the Trending Topics sidebar, Bruni argues that our own selectivity is much worse than the actions taken by a few employees.
"More prevalent for many users are the posts we see from friends and from other people and groups we follow on the network, and this information is utterly contingent on choices we ourselves make," Bruni writes.
The issues, as Bruni sees them, are that our time online is spent "thumbing through favorite websites and scrolling through personalized feeds … We're pointed toward foregone conclusions," warns Bruni. "We're pressured to conform."  
He theorizes that people have a greater distrust of large institutions, no longer relying on the big news industries as a source of information.
"We question their wisdom and substitute it with the groupthink of micro-communities, many of which we've formed online, and their sensibilities can be more peculiar and unforgiving," Bruni wrote.
Navigating Through New Media
As social media begins to take on a more journalistic role in our lives, many student activists are cautiously optimistic about its ability to engage youth in politics. Eleanor Roosevelt College senior Codi Vierra, an executive director of the nonpartisan Student Organized Voter Access Committee, believes social media is a convenient starting point for students looking to get informed.
She suggests reading longform articles shared by friends, but says to ditch the memes. "I've seen a lot of memes that are blatantly false," Vierra explained, "When people put small bits of information out there, it can be very misleading."
Sixth College junior Felipe Cataquiz of College Republicans at UCSD advises that students keep an open mind while reading news from social media. Cataquiz says he has been frustrated by situations in which political differences have hindered open communication between students.
"The only thing I advocate for is people being informed," Cataquiz stated.
Richardson's final words of advice point out the nature of social media as a magnifier rather than a filter of information.
"I think overall the internet has led to more information, but not necessarily better information. What's more important than ever is being able to evaluate your sources," Richardson said.
Participating in the New Era of Politics
Finding credible sources isn't always easy, but Hallin and Richardson have a few recommendations. Hallin prefers "top legacy media orgs" with a history of quality content, such as the New York Times and NPR, while Richardson embraces bias and suggests seeking out a variety of sources from across the political spectrum. Most importantly, Richardson encourages students to read with an open mind.
"Really, the biggest enemy in new media and the new ways we're accessing media is our desire to be right all the time," Richardson reflects. "If we can fight that desire and be OK with being wrong and changing our opinions, we'll stop seeking news that confirms our pre-existing biases and seek news that challenges them instead." 
Written by Harrison Lee and Tia Ikemoto
*Correction: An earlier version of this article identified Graham Richardson by his middle name, Elliot. The article has been updated to reflect this correction.*
---
The UCSD Guardian ran a survey to see how students are voting and why. Here are the results:
Question 1: Of the remaining candidates, who would you vote for in the upcoming presidential election?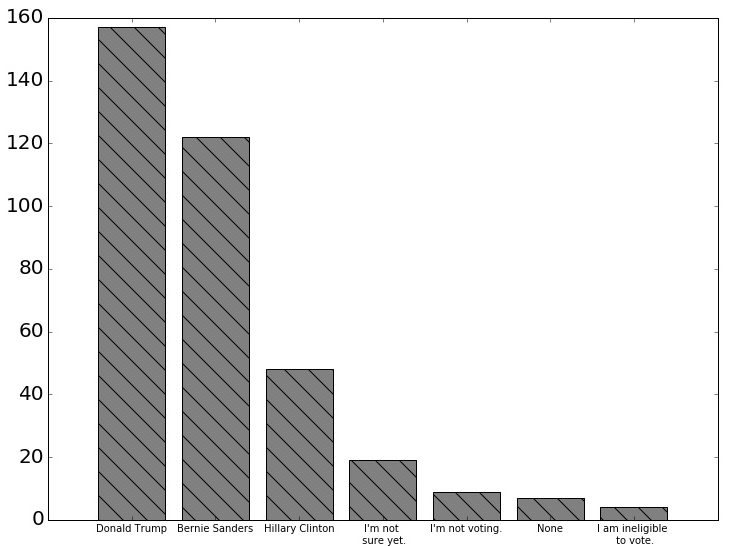 Question 2: Why?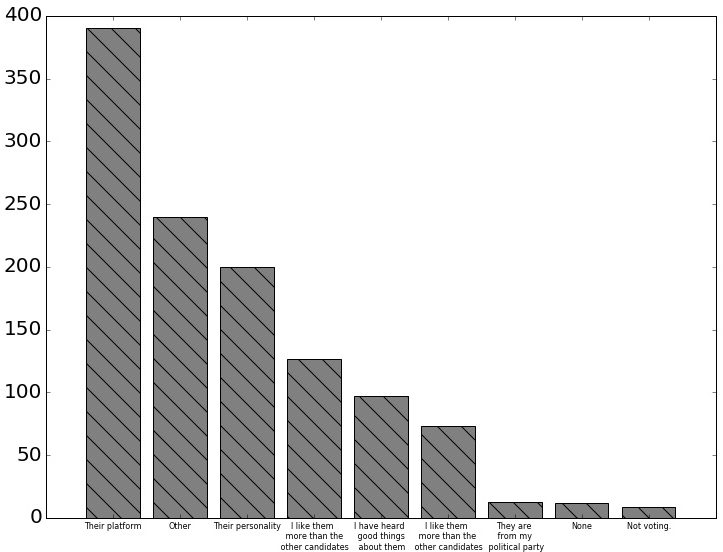 Question 3: Where do you primarily obtain your political information from?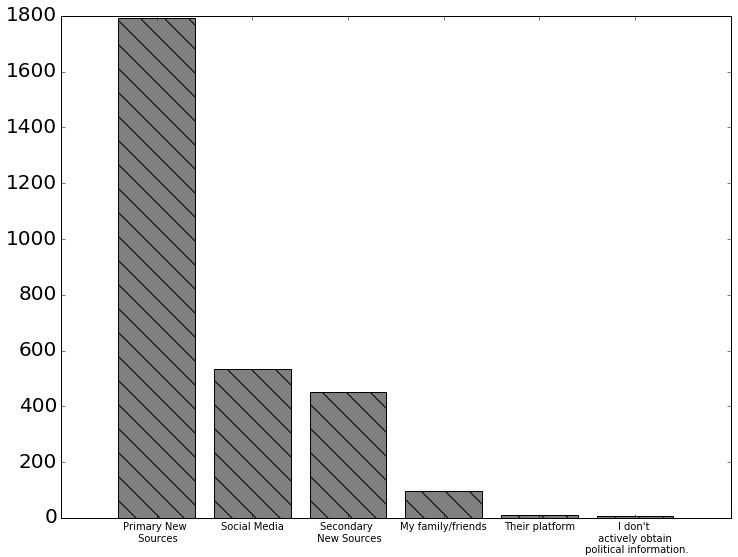 All graphs and word clouds by Ayat Amin