UCSD administration ordered the removal of a display from the Silent Tree area in front of Geisel Library last Wednesday, citing concerns regarding pedestrian safety. A.S. Vice President of External Affairs Krystl Fabella, whose office was responsible for putting up the display, aimed to use the display to engage students and promote "critical, necessary dialogue about race, oppression, and inequality."
UCSD Communications Manager Christine Clark explained to the UCSD Guardian that was not safe for enough to be placed in such a populated area.
"The Silent Tree location where the display was installed is not a reservable space for free-standing displays, stages and events," Clark said in an email. "More importantly, this display, which consisted of 7 large boards, was not affixed to a stable supporting structure and were susceptible to being blown over.  Measuring over 6 feet tall, the boards posed a safety hazard in an area used heavily by pedestrians, skateboarders and cyclists. Had the display been reserved through the proper channels, then measures could have been taken in advance to ensure they were safely installed."
After being alerted that the display threatened student safety, Fabella and her office immediately took the display down. However, though she admitted she did not complete the full procedure required to reserve the space, she disclosed to the Guardian that a university official inappropriately shouted at her in public for the incident.
"There was nuanced protocol that I was made aware of that I missed, to which I took responsibility for immediately, but I was proceeded to be verbally attacked, yelled at, and patronized by an admin figure in public, accused of being disruptive and defiant," Fabella said. "I walked him through the good-faith effort of procedure I did, describing where I might have missed authority to pass through to use the free speech zone (which is in itself so ambiguously defined) … [but] it's frustrating, the undermining that admin takes to students in our good faith efforts of activism, the bad intentions assumed in what should be a learning grounds and a learning institution where marginalized community issues continue to be stifled."
Furthermore, Fabella revealed that the university official who ordered the removal of the display told her that the images on her office's display were "abrasive" and "offensive," which she found ironic considering the administration's response to other demonstrations that have happened on Library Walk and around campus recently.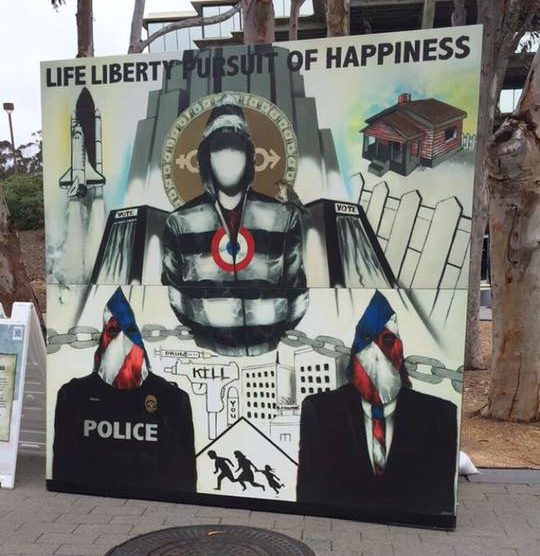 Incoming A.S. Off-campus Senator Azze Ngo, who was present during the incident, told the Guardian that students were disappointed they were prevented from engaging with the exhibit. She also criticized university administration for their reaction to the display erected by the Center for Bio-Ethical Reform erected in January, which juxtaposed images of genocide victims and the lynching of African-Americans with those of dismembered fetuses.
"Students were very upset that they weren't able to participate in dialogue surrounding the murals, but this didn't seem to be of any concern for administration," Ngo said. "I can't help but notice the discrepancy between how quickly administration removed murals in our free speech zone that critique American politics and how hands-off they were with graphic images of aborted fetuses on Library Walk that disturbed and upset many students. Policies and procedures aside, allowing one event to happen over the other further stifles activism on our campus when our campus climate needs it most."
Clark, however, clarified that the organization responsible for the anti-abortion display put up in January went through the proper channels and procedure to reserve their space on Library Walk and that the university does not look at the content of a display when deciding whether or not to allow it to be placed on-campus.
"The sponsor of the display in January did make a reservation," Clark told the Guardian. "Reservations are made on a content-neutral basis. That means the content of a display is not a factor in deciding whether a sponsor of a display gets a reservable space."
The day after the display was erected and removed, Christian evangelists appeared on Library Walk to preach their faith. One of the preachers, Brother Aden, who was holding a nearly 10-feet tall sign that said "MUHAMMAD IS A LIAR, FALSE PROPHET, CHILD RAPING PERVERT!" and "HOMO SEX IS A SIN," told the Guardian that he did not contact any university officials before coming to UCSD and faced no opposition from administration.