Communication Department Displays Exhibit on Racism Near Library Walk
The UCSD communication department opened its "Tell us howUCit" exhibition on Tuesday, which aims to serve as a forum for discussion about institutional racism. Organizers of the installation, which is located southwest of Geisel Library, encourage the campus community to post written messages as a way to join the larger conversation about racism on campus.
According to UCSD assistant professor of communication Fernando Dominguez Rubio, the exhibition was organized by students and faculty from the communication department with the intent of creating a space for the UCSD community to openly discuss discrimination.
"[Tell us howUCit] is a response initiated by the  communication department [between] graduate students, undergraduates and faculty," Dominguez Rubio told the UCSD Guardian. "We wanted to bring the [racial] discussion out into the open so people can share their experiences of racism at UCSD."
Event organizer and Sixth College senior Nick Lopez emphasized that the event was not a direct response to recent chalking incidents, but rather to passive forms of racism that occur on a daily basis.
"This isn't about the chalking," Lopez told the Guardian. "This is about the institutional and structural racism that persists in our everyday lives that goes unnoticed and unchallenged."
The event featured ropes tied along the trees southwest of the Geisel Library entrance. Attached to the ropes were papers with messages written by students and faculty describing instances and thoughts relating to racial intolerance.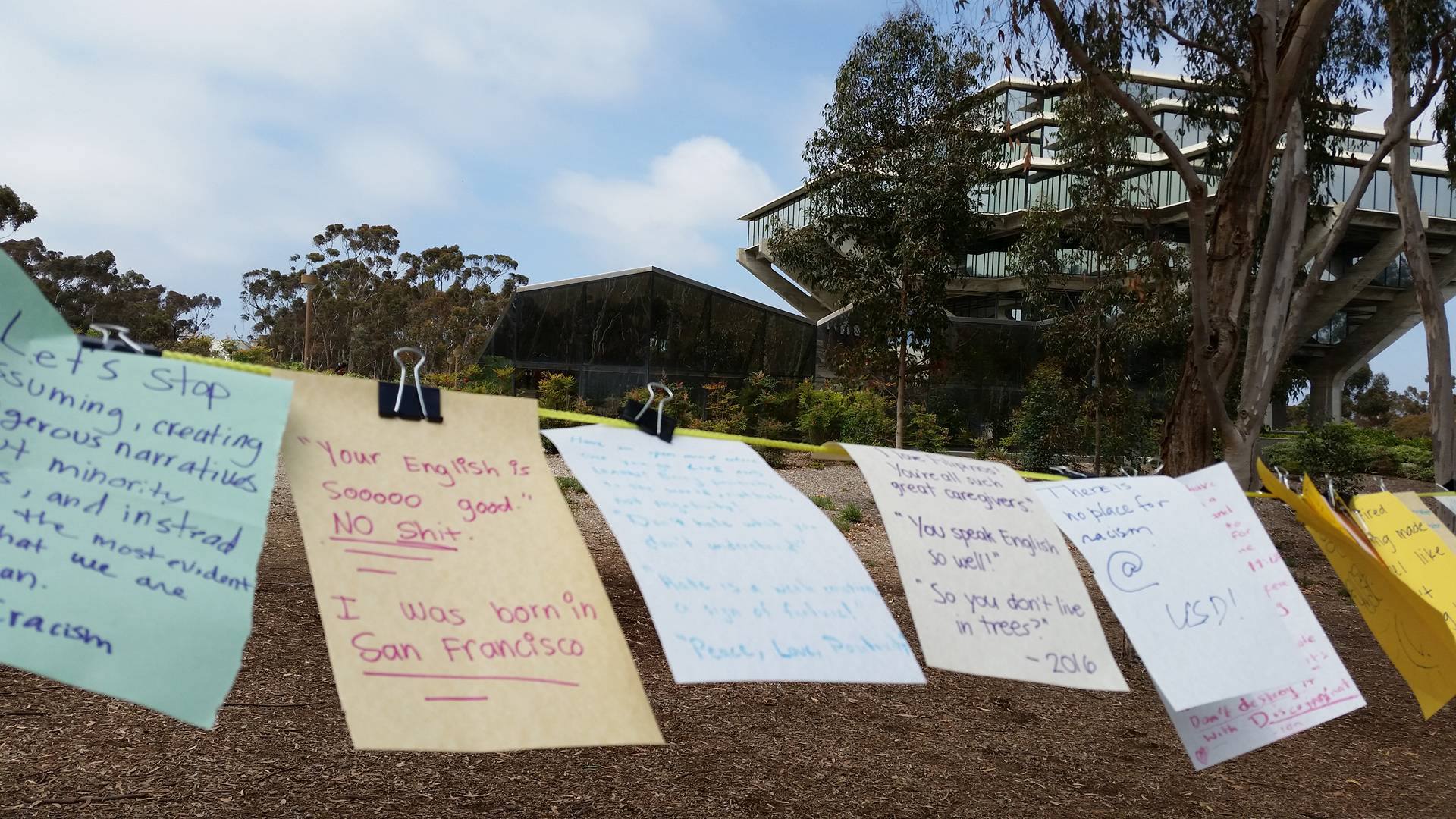 Event organizer and Muir College junior Hamoun Dolatshahi described the exhibit as a means of combatting policies rooted in structural injustice.
"We are hoping that this event will encourage people to call for a change in policies that are holding others down," Dolatshahi said. "In order to create a more equal and unified society, we need to help those who have been structurally held back."
Eleanor Roosevelt College and event organizer junior Joel Goldsmith stated that there is a possibility that the coalition will use postings shared during the event as a list of formal requests to send to the administration.
"A lot of the writings are changes that students want to see, and one of the ideas is that we will aggregate them into a list of demands and forward them to the university," Goldsmith elaborated.
Professors and TAs were invited to use the event as a learning opportunity for their students.
Sixth College freshman Jeremy Borja applauded the event and recognized it as a safe space for people to speak against recent cultural hostilities.
"I think it's a good place for people to say what they're feeling about racism and how it's present," Borja said. "Especially within the last quarter, since there have been a lot of racist acts on campus, it's good for people to have a place [to voice their concerns]."
Dominguez Rubio added that the display will be up indefinitely; there are currently no plans to take down the installation.
"We are going to keep [the exhibition] up for the next few days, and the plan is to just keep it up," Dominguez Rubio said. "When it goes away, it goes away."