Tritons Split Two Games Against Cal State East Bay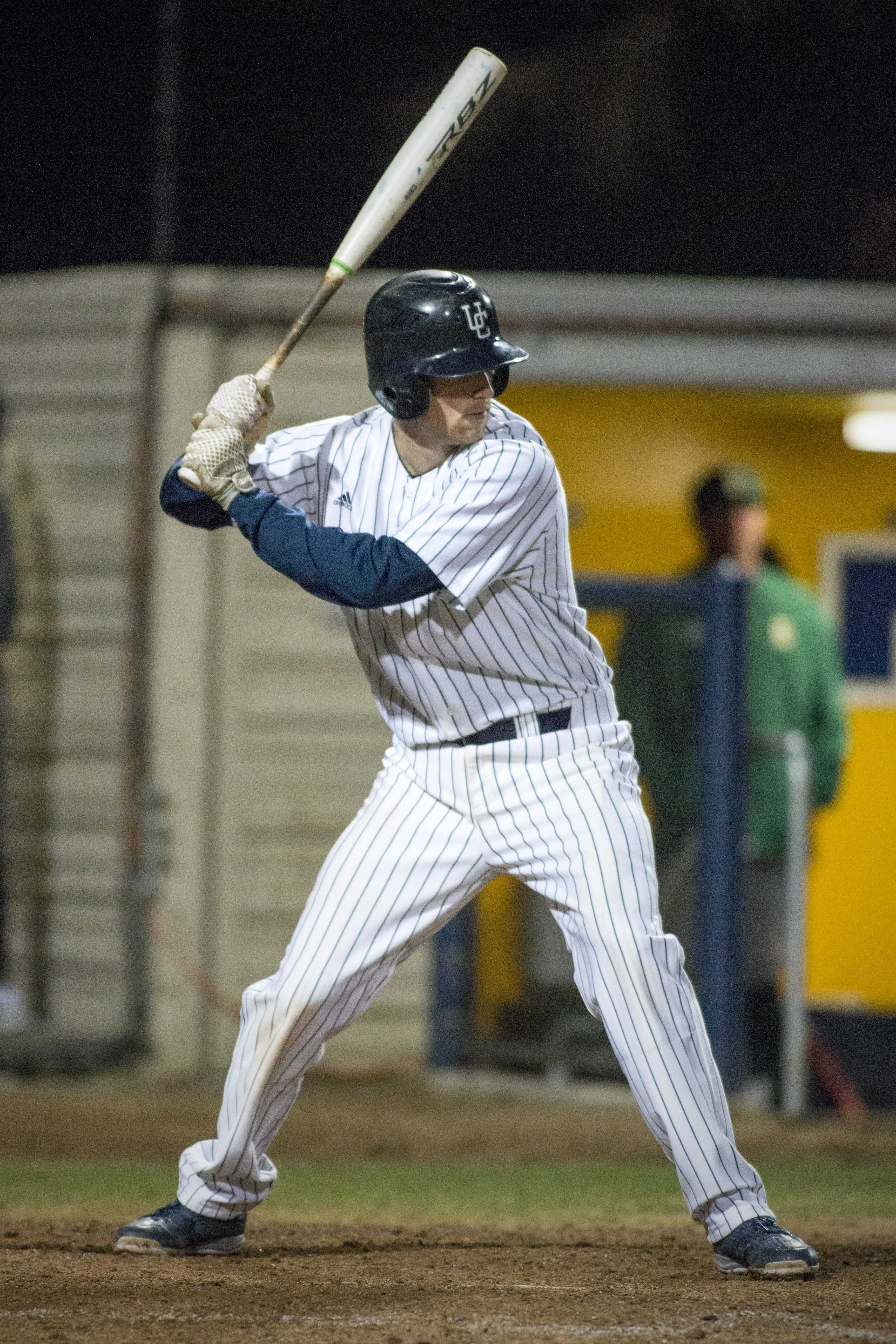 UCSD baseball battled Cal State East Bay in a doubleheader Saturday afternoon and evening as part of a four-game series. The Tritons, now 28–16 overall and 18–14 in California Collegiate Athletic Association, will finish their run in CCAA North Division after this series. UCSD currently sits in second place in the Southern Division whereas the Pioneers, 26–16 overall and 17–14 in CCAA, are third in the North. The tough matchup concluded in the Tritons losing game one 2–5 and rallying to win game two 7–6.
Game One — Cal State East Bay 5, UCSD 2
UCSD was unable to hold Cal State East Bay back after reaching a 2–0 lead. Tritons' rising star freshman pitcher Kyle Mora, however, exhibited solid pitching for 5.1 innings, only allowing one run on one hit while striking out four batters. Nonetheless, it was the relieving pitchers that faulted and gave Cal State East Bay a comeback win.
The Tritons' two runs came during the fourth inning when redshirt sophomore second baseman Tim White tripled to right center, bringing in junior shortstop Tyler Howsley and redshirt sophomore first baseman Justin Flatt. From then on, UCSD's offense fell silent and was shut down by Cal State East Bay's sophomore pitcher Alex Vesia.
The Pioneers were able to capitalize on an error committed in the fifth inning. Mora attempted to pick off a runner at first base, but instead threw the ball away, bringing home senior outfielder Myles Babitt from third and making the score 2–1 Tritons.
UCSD relieving pitchers combined to give up four runs in the ninth inning and helped Cal State East Bay take game one 5–2. Redshirt senior pitcher Alon Leichman took the loss by allowing two runs on four hits; Vesia managed to get the win through eight frames, two earned runs on seven hits.
"The game came down to three errors on our part and leaving a guy on third base three times with less than two outs," UCSD head coach Eric Newman told UCSD Athletics. "We had a chance to push the lead out of them but we never did. Give [East Bay] credit. They want to win and they're trying to… get into the post-season. I expect every game to be well played and hard fought."
Game Two — UCSD 7, Cal State East Bay 6
However, the Tritons' offense bounced back and was able to get into an early lead in game two. The team fought especially hard as it tried to maintain its one-run lead over the Pioneers the majority of the game.
"To start off, we were pretty fired up to bounce back from that last game," White commented. "And then we died off a little bit. Then [junior outfielder] Jack Larsen came in and he was like 'Listen guys, this is our season. We need to battle. Let's bounce back.' Everyone responded really well and looked ahead from there."
Game two started with the Pioneers scoring twice in the top of the first, UCSD responded with three runs in the bottom of the first. Larsen started the rally with a two-out double and was subsequently brought home by junior outfielder Christian Leung's single. UCSD rotated through its lineup as it continued to provide hits, singling four times to plate Leung and Flatt.
The Tritons scored another run in the bottom of the second when Larsen doubled again to score senior outfielder Gradeigh Sanchez. However, Cal State East Bay countered with a run of its own in the third inning to keep it a one-run game.
The Pioneers got ahead of the Tritons in the critical sixth and seventh innings; with runners on first and third in the sixth, junior outfielder Kris Bartlett grounded into a double play and brought Chris Porter home to tie the game. During the seventh inning, Cal State East Bay took a 6–4 lead following another ground out and a single, which went right through junior third baseman JD Hearn's glove.
UCSD's offense resurfaced in the eighth inning to close the gap, with Hearn singling on a 1–2 count and plating Howsley.
Through patience and a sacrifice bunt, the Tritons loaded the bases with one out and literally walked away with the win, despite being down by a run in the ninth. The Pioneers proceeded to walk senior first baseman Zack Friedman and White, bringing home the tying runner, redshirt junior outfielder Brandon Shirley, and the winning runner, sophomore infielder Tyler Plantier, respectively.
"Tim is a tough kid. He understands what we do offensively, really digs in and buys into the approach," Newman said. "We even felt comfortable putting him in the suicide squeeze right there at the end. He just stuck with his working. Gave us another good at bat and was able to walk to win the game.
Freshman relieving pitcher Erik Amundson got the win and moved to 2–1 after not allowing a single hit. In the eighth and ninth, Pioneers junior pitcher Joshua Kubiske got the loss after giving up a pair of hits, walks and runs.
However, UCSD's offense was unable to capitalize on having runners in scoring position in several instances. Even with the win, the team pulled together sixteen hits and left ten runners on base.
The Tritons will look to steal the series and maintain their second-place ranking in CCAA Sunday afternoon in another doubleheader against Cal State East Bay. Cal State San Bernardino follows closely at third place in the southern division with 15–18 in CCAA after losing a doubleheader against Cal Poly Pomona.