UCSD Students Protest Anti-Abortion Advocates
UCSD students protested the Center for Bio-Ethical Reform's anti-abortion display at Library Walk on Tuesday and Wednesday this week. The exhibit juxtaposed images of genocide victims and the lynching of African-Americans with those of dismembered fetuses.
Eleanor Roosevelt College junior and A.S. campuswide senator Lauren Roberts told the UCSD Guardian that the display incited a response from students not because of its message but its crude and disruptive tactics.
"When you start marginalizing, racializing and fear-mongering — when you start marginalizing the black community, sexual assault, rape victims and LGBT community with your message — that's when I started taking offense," Roberts said. "If it was just a pro-life demonstration going on, I probably wouldn't care. Everyone has the freedom to their opinion, but when you start marginalizing communities inside the greater UCSD community, that's why I stood up to it."
Members of the panhellenic sorority Kappa Kappa Gamma collaborated with the Associated Students Women's Commission and the UCSD Women's Center to organize the protest on Tuesday. Roberts later created a Facebook event for Wednesday's demonstration.
CBR Director of Operations Kevin Olivier told the Guardian that the Genocide Awareness Project's uncensored images aim to educate people about the unknown consequences of aborting a fetus.
"Our message is that abortion is an act of violence that decapitates, dismembers and disembowels pre-born human beings," Olivier said. "This is a human rights issue. We're here to make people aware of what abortion is … Given the facts, we believe the right position is that abortion is immoral and ought to be illegal. Anyone who doesn't believe that, we want them to believe that. We don't want them to be wrong."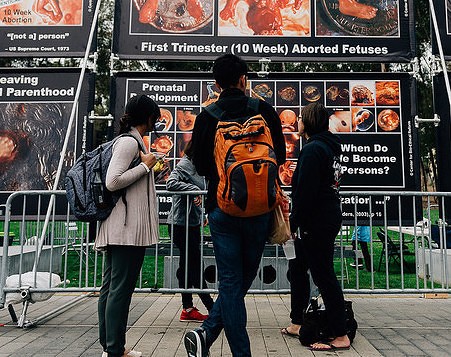 Thurgood Marshall College junior and KKG member Manoli Dawson argued that terminating a pregnancy is a woman's personal choice, noting that abortion rates could decrease with increased access to contraception.
"What we really want to push is that it's the woman's right to choose what she does with her body — whether you decide to have an abortion or not, that's up to you," Dawson told the  Guardian. "We're [also] trying to make abortions safe and legal, so that we can provide more education on being healthy and having access to contraceptives when needed and overall reducing the rate of abortion over time."
According to a report published by the National Right to Life Committee on Jan. 14, abortion rates in the United States decreased by 4.2 percent from 2011 to 2012 and continue to decline. Abortion rates for teenage females dropped 12.3 percent in the same year and 40.4 percent from 2003 to 2012.
Some protesters deemed the comparisons of abortion to genocide inappropriate and hyperbolic. However, Olivier justified the analogy, stating that abortion is another form of killing innocent human beings.
"I think the Holocaust was an extreme injustice, I think the lynching of black people in this country was an extreme injustice and I think abortion is an extreme injustice," Olivier said. "I don't think the comparisons are extreme at all. I think they're quite compelling."
Sixth College sophomore Mary Latibashvili commented that she stood for female choice and hoped the content presented by GAP would not provoke those who previously had abortions.
"We're just making sure that the people that are passing by know that this is not real, and that we stand for women's rights and that it's their choice to do what they want to do with their bodies," Latibashvili told the Guardian at Tuesday's protest. "We also want the people who are walking by who might have had an abortion in the past to not be triggered by this."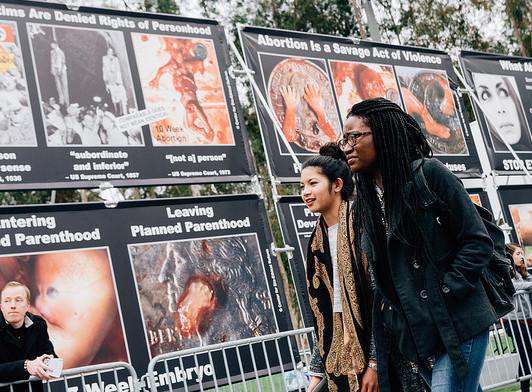 Marty Young, who serves as assistant to CBR Executive Director Gregg Cunningham, told the Guardian that the exhibit's size and graphic content are meant to elicit a reaction from the public.
"People don't listen if you do it another way," Young said. "You throw a stone into a pack of dogs, and the dog that gets hit barks the loudest. That's what's happened over here. All these people have gotten hit."
Roberts added that she was planning to organize a campaign in solidarity with survivors of rape and sexual assault in February, which is Sexual Assault Awareness month.
Additional reporting by Quinn Pieper, Jacky To and Julie Yip.