Cal State L.A. ends UCSD's season via penalty kicks in the first round of the NCAA Championships.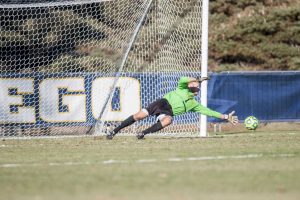 D
espite finding new life after earning an unexpected bid for nationals, the UCSD's men's soccer team was eliminated in the first round of the NCAA Division-II Championships on Thursday evening after being defeated by Cal State Los Angeles at the Cougar Soccer Complex. For the second straight match, the Tritons fell to opposition in a penalty shootout, as the final score was 1–1, before the Golden Eagles won 5–4 on penalty kicks. 
UCSD nevertheless put up a valiant effort in the disappointing loss, forcing the match to go into extra play on a clutch-tying goal with only minutes left in play. 
"This was a hard-fought game where both teams played really hard," UCSD head coach Jon Pascale told the UCSD Athletics Department. "The game had its ebbs and flows."
The Tritons made their second consecutive NCAA appearance as the sixth seed, while CSULA qualified as third seed. The difference in ranking failed to show on the field, as both teams created chances early in what would be an even tilt throughout. 
Three minutes in, senior Golden Eagle midfielder Abel Teferi forced a diving save from UCSD's junior keeper Cameron McElfresh with a long distance curling shot. Sophomore striker Sam Palano came closest for the Tritons in the first half, as he had two scoring opportunities. In the ninth minute, Palano picked up a loose ball just outside of the box, his right-footed shot was saved by CSULA senior keeper Mike Beigarten. With ten minutes left in the half, Palano was once again denied when he broke free on the right hand side but failed to finish.
In the 43rd minute, the Golden Eagles came closest when junior forward Andre Bissmark's low, right-footed shot was tipped on to the post by McElfresh to keep the half-time score level.
Both sides continued to see chances in the second period, but it was not until the 75th minute that either team found the net. Senior midfielder Shane Panther tucked away a smart finish from inside the penalty box to put CSULA ahead 1–0 and claim his second goal of 2014.
Despite the late deficit, UCSD's captain, senior midfielder Brandon Bauman, capitalized in the clutch. With less than four minutes left in play, the Tritons managed to level the score thanks to Bauman's coolly converted penalty kick after CSULA committed a handball penalty inside their penalty area.
Overtime could not produce a winner, forcing the Tritons to again decide the fate of their season through penalties. Seniors Jacob Valedez, Bauman and Palano all converted their kicks in the shootout. With the season on the line, McElresh, who made a career-high six saves all game, did manage to rescue UCSD's chances with a diving save when the Tritons were down 4–3. 
"He was great all night made a couple of big saves and two penalties I believe," Pascale told the UCSD Guardian. "He did everything you could ask for with a keeper." 
Ultimately, however, it was CSULA's Beigarten who stole the win for the Golden Eagles as he made the winning save from sophomore midfielder Riley Harbor's penalty shot to officially send UCSD home. 
"I couldn't be more proud to be part of this team to be honest," Bauman said. "Overall, we played with a lot of heart; everyone worked their butt off. It was a team effort and a great last game."
UCSD finishes the season with a 10–4–6 record and impressively progressed to yet another NCAA championship despite losing 10 senior players to graduation a year ago and five players to season-ending injuries.
"It doesn't surprise me that it ended in a tie and went to a shootout," Pascale said. "Credit to Cal State L.A. You never want to end a season, but we can walk off the field knowing we gave everything we had."