In light of pending changes to the MCAT, scheduled to begin in 2015, students who plan to apply to medical school next year must decide between the current, shorter exam and the new seven-hour test.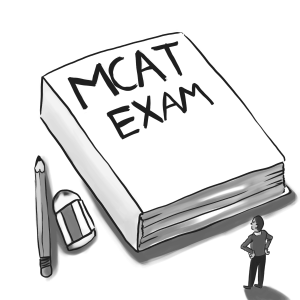 The four-letter word that has haunted pre-medical students for ages is about to get even more frightening. All students with ambitions to enroll in medical school must sit for the Association of American Medical Colleges' Medical College Admission Test exam. AAMC recently announced an overhaul to the exam, adding nearly 100 questions and doubling the test length, expanding the testing materials to include three new disciplines and instilling more stress and panic in prospective medical students.
Until now, the exam had 144 questions covering general chemistry, biology, physics and organic chemistry. The new test, dubbed "MCAT 2015," won't begin until April of next year but will have 230 questions and will cover the current exam's material as well as biochemistry, psychology and sociology.
"The MCAT's change is aligned with a broad change in medical education," Eric Chiu, executive director of pre-medical programs at Kaplan Test Prep, said. "Medical schools are looking to bring in well-rounded, successful students and not just strong science students."
AAMC's current MCAT, which lasts roughly three-and-a-half hours, will continue to be offered until January 2015. The new exam, which will take over seven hours, including a 30-minute lunch break, leaves students hoping to apply to medical school next summer with a conundrum: Which test is best?
Chiu explained how in a recent Kaplan-administered survey of 78 medical schools, 44 percent say they have no preference for which test students take. Twenty-eight percent of medical schools surveyed said they recommended current juniors take the current exam, and 27 percent advised that students hold out for MCAT 2015.
All surveyed schools said they will still give equal weight to both exams and will assess applicants' scores against other takers of the same exam — forcing students to return to the same dilemma of which exam to take.
"There's no bias favoring a particular test," Bill Wingard, UCSD's lead advisor for professional and graduate school advising at the Career Services Center, said. "It's really a decision that's up to the individual."
UCSD School of Medicine Director of Admissions Brian Zeglen said that the campus' admissions policy would not change at all in response to the MCAT changes.
"Our policy is, and will always be, to accept MCAT scores within the previous three years," Zeglen said. "We have no preference to the new exam versus the old one."
Zeglen added that UCSD School of Medicine would evaluate applicant performance on the exam based on percentiles provided by AAMC and not by which exam a student sat for.
 Chiu said Kaplan Test Prep recommends students who can still qualify to take the current exam should do so — only if they are ready to sit for the exam.
"Regardless of which exam students choose to take, it is most important that students are well-prepared for the exam they ultimately choose," Chiu said.
One factor that may impact a student's readiness for the test, or tests, is the amount of coursework completed before the test date. Introductory exposure to all of the current MCAT testing materials can be covered in eight semesters of chemistry, biology and physics. The new test will require an additional three semester courses in the new behavioral sciences categories for students to prepare to take the exam.
Wingard told the UCSD Guardian that 632 students applied to medical school in the last application cycle but that even more will sit for the MCAT exam this year; some students take the test for other purposes, and some will ultimately not apply to medical school.
To help students learn the specialized new materials, UCSD's sociology department will begin offering a new course, SOCI 70, which will cover introductory sociology materials on the new MCAT exam. The course is slated to be offered beginning in Winter Quarter 2015.
"We see this [class] as an opportunity to cover the basic sociological concepts that will be important to med-school-bound students in their future career paths, while at the same time giving them the information needed to help them on the MCAT," Sociology Department Undergraduate Advisor Shannon Goodison said.
The lecture will have 120 seats available in its inaugural year — far short of the total number of UCSD students slated to take the MCAT this year.
"We won't be ready to offer this class to 600 students just yet," Goodison said, adding that the class will be offered yearly in Winter Quarter.
Wingard said the Career Services Center will begin advising students to take SOCI 70 before sitting for the new MCAT.
"We're adding this course to our guidebook for pre-med students, but it won't be a requirement for any medical school," Wingard said.
Wingard added that while the psychology department won't be adding any new courses to help students prepare for the relevant sections on the new MCAT, he still recommends that all pre-med students take an introductory psychology course, such as PSYC 1 or PSYC 2.
Kaplan Test Prep, which has a facility on UCSD's campus in Price Center, will begin offering newly designed preparatory courses this fall that specifically aim to improve students' understanding of the behavioral sciences sections of the new MCAT exam.
As for the new biochemistry exam materials, Wingard suggests students take two courses in structural and metabolic biochemistry. Many medical schools, such as UC Irvine School of Medicine, already have biochemistry courses as prerequisites for admission.
"Students who study for the behavioral science materials for the new exam might be more prepared for medical ethics courses in medical school," Wingard said. "But for admissions, it really won't make any difference."