University Centers promotes today's grand opening of the Graffiti Art Park, a new maintained space on campus for students to freely express public displays of art.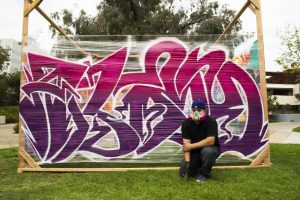 For the wandering artists left discouraged after last year's shutdown of the campus' beloved Graffiti Hall, a new sanctuary for street art will be making its grand debut today. Graffiti will finally have a university-approved, long-term home on campus in the form of several wooden canvases standing proudly within the Old Student Center's eucalyptus grove, what University Centers is dubbing UCSD's own Graffiti Art Park.
It took the unification of two separate efforts searching to create a permanent space on campus for graffiti that managed to bring the Art Park onto its feet. University Centers, on one hand, at the desire of many students, pulled together two consecutive street art events called "Graffiti Hill" last Winter and Spring Quarter. At these events, students were welcome to decorate multiple structures covered with cellophane and were given a mountain of spray cans and markers with which to paint them. University Centers senior marketing assistant Pooja Vig and Art Director Armando Abundis say that the events served as a precursor for the Art Park by confirming that the student body still holds a steady interest in graffiti.
"[During the event], we did a spray-paint [unofficial survey asking] 'Do you want this to be permanent?' and it was totally yes; people wanted it," Vig said. "We had people taking up a huge space on the cellophane and people weren't even touching it because their art was there. People were respectful and people wanted to see other people's work."
Meanwhile, environmental systems senior and self-proclaimed art appreciator Kyle Heiskala was in the process of working with Gary Matthews, Vice Chancellor of Resource Management and Planning, to find a workable site on campus that could foster a space for students to exhibit their art freely and publicly. Heiskala functioned as a mediator between the students and the planning committee, actively working a feedback loop of ideas between the two until the most viable concept could be decided upon.
"My main motivation to work on this project was that I felt that Graffiti Hall was a very special, unique place that UCSD was proud of, added a lot of character to the campus and it was a place that made a lot of memories for people," Heiskala said. "Then when it was taken away, there were a lot of students that were upset by that and wanted a place to express themselves through community art."
The area selected to host the Graffiti Art Park is nestled between Porter's Pub and the path to Student Center B. A runner-up was the grassy hill outside of Main Gym (where the previous Graffiti Hill events took place), but the location was rejected due to various landscaping concerns, including grass growing over the structures and possible coverage from the sprinkler system. Heiskala explained that the space next to Porter's Pub was the better choice.
"It's a visible space," Heiskala said. "Since it's in a park area, it only needed a special okay from the campus for a temporary set-up approval. It was chosen because of its availability, because it's in a high-traffic area and it would fit into the character of the space."
Now anyone taking a leisurely walk past the Art of Espresso coffee stand by Mandeville will be able to easily spot eight bright, sturdy structures with sheets of plywood boarded to them and painted white for canvas space. On opening day, free spray paint and markers will be provided to encourage students to "make their mark." 
The structures — as well as the art upon them — will remain standing indefinitely; however, at the beginning of each quarter, the plywood will be painted over in order to start off with a fresh canvas. Different student graffiti artists each quarter will then be invited to be the first to paint on the structures in order to start off the spray painting process.
"After that, it's a free space," Abundis said. "It's not going to be policed; there are no cameras. The only thing we ask is to respect those guidelines [listed on the park's website] so this can really become a permanent space."
While Abundis stressed that the permanence of the space hinges on the community artists' ability to keep the art positive and avoid depictions that would offend other members of the community, the producers of the Art Park seemed confident that the space won't be abused.
"It will be up to the community to do the self-policing," Heiskala said. "If anyone is walking by and it's offensive, then I would like to think that the university has very thoughtful-minded students that are aware of certain things that can be offensive and step up to paint over it or address that."
"I think the students here are mature enough to know that this is something for their benefit and for the benefit of the campus and makes our campus different, and I think the self-policing is going to work," Abundis added.
For Heiskala, the Graffiti Art Park is only the beginning.
"Maybe we can take the concept and expand it out to have more community art spaces across campus," Heiskala said. "I always envision that. When I walk across campus I think, 'We could put some art there, make that more colorful.' It's always needed in my opinion […] you can't have too much art."