UCAB Postpones Vote On Che Cafe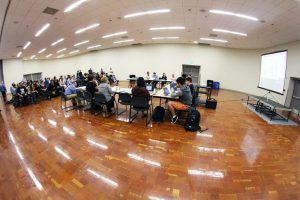 University Centers Advisory Board postponed an impending decision regarding whether or not to close down the Che Cafe facility next year during its meeting with Che Cafe representatives on Tuesday, May 20.
Che Cafe Co-operative principal member Davide Carpano thinks that UCAB decided to postpone the vote because it noticed discrepancies in the information presented. UCAB Chair Sammy Chang agreed that the board tabled the vote in order to hear more information and to ensure that no rash decisions would be made.
There are many points of contention and confusion between the disputing parties. Carpano argued that University Centers is legally obligated to maintain the Che Cafe building under the Master Space Agreement. He further stated that although University Centers Director Sharon Van Bruggen had said that UCEN is not obligated to maintain the facility, she has yet to provide legal documentation as proof.
"Their job is to maintain our centers; those are standard landlord/tenant things," Carpano said. "From our perspective, they have failed. It's fiscally irresponsible and unfair."
Chang said that it is unclear whether UCEN can complete its agreement when there is a dispute over what the Master Space Agreement means in regards to the Che's loss of non-profit status. According to Chang, they expect to gain non-profit status back in about a month.
Another point of contention is whether or not the safety concerns that the fire marshal addressed were recommendations or actual mandates.
"While we agree that [the repairs are] important, and while we want our patrons to be in a space that is safe, we see this as a way to close the Che," Carpano said. "We don't agree with the way this is being carried out; they're using the words of the fire marshal against us."
Additionally, UCAB contends that the Che Cafe is indebted to UCEN, while the Che argued that its debt should have been forgiven along with the other co-operatives' debt in their retroactive rent agreement.
Chang said that the meetings will continue and the decision can be tabled as long as UCAB would like to.
"UCAB is trying to represent the entire student body's opinions," Chang said. "We're working to ensure that every student has the greatest experience. If that means we have to divert resources somewhere else to make sure that things get funded, then UCAB will be taking that route."
UCAB will hold a special meeting to discuss the Che Cafe and the budget on Friday, May 23 from 1 p.m. to 3 p.m. at the Forum on the fourth floor of Price Center East.