Bestselling author and transgender activist Janet Mock spoke at UCSD last week about her experiences with gender and her latest book.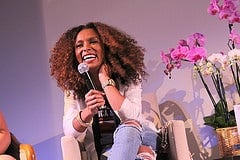 For those seeking a role model in what seems to be an endless struggle to find acceptance in an intolerant society, look no further than Janet Mock. A former staff editor of People online magazine and an established writer, Mock shocked peers when publicly disclosing — for the first time — her identity as a transgender woman in a 2011 Marie Clare article. The article revealed the details of her misgendered childhood, the ignorance from classmates and teachers manifesting in cruel insults to her identity, her eventual journey to Thailand for sexual-reassignment surgery at the age of 18 and her gradual victory in achieving the gender Mock has always taken to be her own. 
The reaction has been far from detrimental. Since the release of the Marie Clare article (titled "I Was Born a Boy"), Mock has become an active voice for the transgender community and has gained a huge following. Earlier this February, she released a book called "Redefining Realness: My Path to Womanhood, Identity, Love & So Much More," landing her a spot as a New York Times bestselling author. Her perspective offers a unique insight into a lifelong progress as a transgender woman of color.
Last Thursday, Mock spoke about her book at the UCSD LGBT Resource Center before holding a forum for UCSD students to ask for advice that might inspire their own paths as lesbian, gay, bisexual, transgender, queer, intersex and asexual students on campus. The discussion began with a reading from a chapter in her book, detailing the time from her birth to her re-introduction to her 10th grade classmates after beginning her medical transition, as well as how she rose to embody her namesake idol Janet Jackson.
"I loved her fiery curls and her equally vibrant smile, features that the older girls said I had in common with the singer," Mock recited. "There is power in naming yourself, in proclaiming to the world that this is who you are."
Affirming her new name was the first step, but Mock admits that the further trials and tribulations came with inducing others into accepting a person they suddenly found themselves unacquainted with. Name and gender changes on public records were only a few of the necessities for her transition that Mock, raised in an impoverished family, couldn't afford financially.
"So I postponed the legal process until I was 18 and wield[ed] the power of self-determination, announcing to my peers and my family that I would only answer to 'Janet' and 'she' and 'her' pronouns," Mock said. "After that class assembly, I continued to improvise, creating the space I needed for myself at school with a group of supportive friends, teachers and teammates. Instead of embarking on a series of conversations with my school staff, I let my denim capris, my brown, tribal pattern[ed] choker, my crown of curls and my growing bust do the talking." 
However, coming out about being transgender is not, by any means, a requirement for Mock, who sees her public declaration as a choice she made for herself. 
"What I've noticed in the recent online trans[gender] community is this judgment of women who live [with the concept of] 'self ' — this idea that you're not doing anything for the community if you're living [for yourself]; you're not choosing to be out as a trans woman," Mock said. "I find that kind of critique to be kind of ridiculous, knowing how unsafe it is to be a woman that is trans[gender], visibly and openly." 
Mock is proud to be a beacon of hope for other trans women of color, bringing them a sense of recognition through her own openness about herself and her story. She aspires to bring the transgender community together and convince everyone to listen to each other. 
"For me, I want to create a world where we don't judge each other's decisions on who we disclose to," she said. "I think that we should not be judging people who choose for survival purposes and for safety and access to not tell their entire life stories to every person that they know. Instead, we should be critiquing a society [in] which [it] is unsafe to be a woman that is trans." 
As the evening transitioned to the question-and-answer portion, Mock, an active Twitter user, took the confused presenter's iPad into her own hands and read aloud the questions addressed to her through the hashtag #ucsdjanet. 
"What can university staff do to support college students that are trans?" Mock read from the feed of questions. Mock admitted that she did not disclose that she was transgender during college, but when she attended high school, there was one social worker in particular to whom she looked for support during her transition period from 'Charles' to 'Janet.' 
"She always advocated for me," Mock said in response. "Instead of me having to go to every single teacher saying, 'Can you update the attendance sheet?,' she would go and do that because these were her colleagues and she could speak to them in a different way, coming from the same place of power … instead of me having to do that all on my own. I think having those kinds of advocates in school is so important, and all you need is one. One who is willing to be loud, willing to advocate for you." 
When asked how UCSD lesbian, gay, bisexual, transgender, queer, intersex and asexual students can deal with problems they face on campus, Mock says that "finding your people" is most important. Her closest friendships are with other queer women of color because of the similar challenges they endure. 
"Any time you are in these spaces that are not necessarily built for you — spaces in which people are saying you're not supposed to be here but not really saying that, but you can feel it — [you need] to have that space to go in and build your own little pocket of support," Mock said.