The Guardian features 10 popular off-campus housing options for students, highlighting prices, utilities and other considerations for those who may be apartment shopping.
Price Range Key
Pricing reflects the starting range of each complex.
$ = starting below $1000
$$ = starting between $1000 and $1400
$$$ = starting between $1500 and $1700
$$$$ = $1700 and above
Hillcrest
by Aleksandra Konstantinovic
Senior Staff Writer
Price: $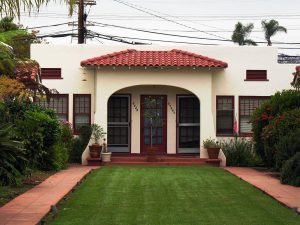 If you're over the crowds of undergrads at Costa Verde, you can head to Hillcrest, where you'll find a slightly older crowd composed of UCSD graduate students. Hillcrest is the center of San Diego's LGBT community and home to some of the best shopping and dining around, including Cafe Bleu, T-Deli and Kous Kous Moroccan Bistro. UCSD students benefit from the shuttle stop, located at the Hillcrest Medical Center, which gets to the La Jolla campus in about half an hour. With lower rents than Westfield Shoppingtown UTC, ranging from around $850 to $3000, Hillcrest is a great choice for students moving out on their own for the first time. The apartment buildings tend to be smaller and older than the ones in UTC, but you'll find more studio and one-bedroom options at affordable prices. One of the best parts about living in Hillcrest is being next-door neighbors with Balboa Park, which is home to the San Diego Zoo, the Old Globe Theatre and 16 museums. Student priced tickets at the Globe and free museum Tuesdays in the park mean you'll never run out of things to do in Hillcrest.
Eastgate Mall
by Kevin Chu
Staff Writer
Price: $
Tucked away on the cusp of a canyon, Eastgate's Playmor has stayed mostly hidden from undergrads. Regardless, Playmor is a great place for students to live. Composed primarily of two-story townhouses ranging from the $900s to the $1300s, you'll be surrounded by many families, but it also means you'll be hard-pressed to get noise complaints from your neighbors. Ample street parking on Easter Way, in addition to the numerous guest spots within the complex, means it's a prime location for kickbacks and parties. Playmor's seclusion does mean that getting around requires navigating, but the Superloop stop is a 15-minute walk away that takes you to and from a bevy of great eateries at UTC and Regents Plaza, as well as to and from campus. Additionally, the Regents lot is also close by, providing another option for those rushing to get to class on time only to see the Superloop turn into the street before they get there. Contacting the independent contractors for each townhouse is tricky, and it means you'll have to drive around the complex and look for lease signs around April and May. Once you snag a meeting, make sure you do your research beforehand so you don't end up having to break the bank. Each townhouse comes with attached laundry rooms, a dishwasher and two numbered parking spaces, but make sure to find out about things like specific pet policies and utilities from each contractor because each contractor's policy is different.
Mirada
by Lauren Koa
Senior Staff Writer
Price: $$
Mirada is nestled in arguably one of the most convenient neighborhoods off-campus. Located at less than a five-minute walking distance from the 201, 202 and Arriba/Nobel shuttles, Von's and Tapioca Express, Mirada is situated in the perfect location for the busy college student. The neighborhood community feels very safe and quiet on the weekends and is very pet friendly. Pricing is upwards of $1300 for one-bedroom, one bathroom apartments and upwards of $1700 for two-bedroom, two bathroom options. And for an additional $40 a month, students can bring their animal companions. Each apartment is complete with walk-in closets, a patio area and kitchen appliances in unit. The community offers gym and pool access, as well as multiple rental laundry units for its residents to use. While there is a registration fee for residents to park their vehicles, parking is never a problem. Spots are plentiful — with no assigned spaces — and located just under your apartment. Depending on the number of roommates in the situation, Mirada can be an affordable option for students who are ready to try off-campus living without giving up convenience.
La Scala
by Laira Martin
Senior Staff Writer
Price: $$
Just under one mile from campus lies an affordable ($1300 to $2100), safe apartment complex that is happy to rent to UCSD students. Its name is La Scala, which means "the staircase" in Spanish, but don't worry — there are elevators. With many one- and two-bedroom apartments available, a newly remodeled pool, gym and jacuzzi, La Scala is a no-brainer. Located next door to the sister apartment complex, International Gardens, you're sure to call more than one of your friends neighbors. Parking spaces are small but numerous, and if you don't have a car, the complex is right next to the Nobel shuttle stop and the 202 bus line. Also in the vicinity is La Jolla Village Square, which has stores such as Ralph's, CVS, Best Buy and Ulta. Ever wasted a good portion of your morning just trying to print out a homework assignment, and, of course, it jams? Good thing there's a "printing station" with several computers, an industrial printer and complimentary coffee to top it off. The hallways could use some new carpeting, but hanging out by the barbeques and pool on a summer day more than makes up for it.
Trieste
by Hilary Lee
Senior Staff Writer
Price: $$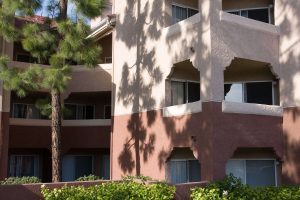 Navigating through the winding, somber gray corridors of Trieste Apartment Villas — nicknamed "Triste," which is Spanish for "sad" — feels oddly like fighting your way out of the Triwizard Tournament maze. Buildings are positioned such that natural sunlight hardly reaches windows, and impossibly shaped rooms make arranging furniture a game of real world Tetris. Poor architecture aside, Trieste is one of the few complexes in the UTC area that offers apartments with lofts, which run considerably cheaper than those of its neighbors, Costa Verde and La Jolla Palms, from about $1500 to $2100. This price reduction is partly offset by the fact that residents must cover all monthly utilities, including an overpriced water bill based off of an arcane formula involving square footage. Pets are generally welcome (with restrictions, of course), the apartments come with in-home washers and dryers and residents can use two hydrotherapy spas, as well as two resort-like pools. Aside from occasional motor theft, safety is generally not an issue, but each apartment only comes with two tiny parking spots, and guest parking is extremely difficult to find. Trieste's major saving point is its central location –– the average commute time to campus using public transit is under 15 minutes, while a 24-hour McDonald's exists right down the block to satisfy those pesky midnight munchies.
Mira Mesa
by Raquel Calderon
Staff Writer
Price: $$

Most residencies in the Mira Mesa are neat, conformist single family homes with an abundance of curbside parking. A car is a valuable asset here, as the hour ride on the 921 is the shortest public route to and from UCSD, and this bus only runs from 7 a.m. to 6:30 p.m. Mira Mesa is a safe, suburban area located near San Diego Miramar College. Living in a straight-laced suburb has its perks; appliances and utilities are almost guaranteed, prices range from the low to mid $1000s and even the pricier places can be affordable with enough roommates. The restaurant scene consists largely of family friendly chains with some fast food fare sprinkled in. Delicious treats, such as Rigoberto's Taco Shop and Punjabi Tandoor, are also in the area. Interesting local features include two highly rated climbing gyms, Vertical Hold and Mesa Rim. For those nights when the drive to Pacific Beach or Hillcrest seems too long, Mira Mesa has an array of classy breweries to visit.
Marbella
by Kyle Trujillo
Editorial Cartoonist
Price: $$$
The rate at Marbella depends on who you rent from, but I got a good rate of $650 a month for a single room, plus utilities split four ways. The double room has a rate of $450 a month for both people, and the rooms all have large closets. The general price ranges from $1600 to $2000, and the kitchens are small, but a stove, dishwasher, fridge and microwave are usually included.  Each apartment has a two-car garage with enough space for the included washer and dryer, as well as for bikes and boards. Guest parking spaces cost a little extra. A small patio outside the front door offers a nice, sunny spot to study, and Vons is right across the street. In the center of the complex is a pool and hot tub. It's also right between the Lebon and Arriba bus stops, so getting to campus is easy. Marbella is a safe, well-lit area, just a block from International Gardens.
Costa Verde
by Siddharth Atre
Contributing Writer
Price: $$$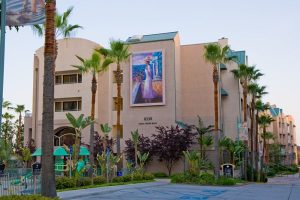 What distinguishes Costa Verde from the rest is primarily its sheer size; it is the largest apartment community in the immediate vicinity of the UCSD campus. The complex as a whole is divided into two main regions, North and South, both of which are located on the 41, 101 and 50 bus lines that run to UCSD. One- and two-bedroom apartments range from $1600 to $2500, and Bristol Farms is located less than a quarter of a mile away. In addition to students and young couples with one or two young children, there is a significant population of middle-aged people and retirees, particularly in the luxury apartments at Costa Verde Towers. Prospective tenants should be prepared to have to deal with old appliances (about 15 years), old elevators and old interiors. However, maintenance services are excellent; requests are promptly addressed, sometimes on the same day as the issue's filing. On the downside, many residents have reported safety problems within the last six months, regarding car theft in particular.
Regents Court
by Chanelle Wang
Staff Writer
Price: $$$
A hidden gem tucked in the intersection of Nobel Drive and Regents Road, Regents Court Apartment Homes is San Diego's luxurious apartment community. Equipped with a variety of award-winning bedroom floor plans, private balconies, gourmet kitchens and a fitness center, Regents Court offers a comfortable lifestyle that is easy to slip into for a price range of $1500 to about $1800. You won't have to worry about being late to class, as the Arriba shuttle stop and 201 bus stop are located across the street. When you feel like you need some fresh air, this gated community is minutes away from the Mission Bay beaches, the Pacific Ocean coastline and grocery stores, such as Vons and Bristol Farms, so you are guaranteed to have somewhere to go. Entertainment at Regents Courts is endless, as it offers two Jacuzzi spas, a movie theater, a heated swimming pool and a clubhouse. Regents Courts is an easy place to call home.
International Gardens
by Teiko Yakobson
Contributing Writer
Price: $$$$
Nestled in the middle of quiet Lebon Street and away from Nobel and La Jolla Village Drive's traffic-heavy rush hours, the safe and peaceful International Gardens apartment complex offers a less-populated location than the Regents-Nobel hotspot, while still maintaining a close walking distance to two Arriba stops and the Vons shopping center. Late night Tapioca Express runs without a car are definitely possible if you live here. Parking, on the other hand, is not ideal. Two spots are guaranteed, and guest parking on a typical evening results in an unsuccessful hunt for spots. Your friends will also have to keep their voices down if they visit because the walls are notoriously thin, and noise complaints are filed often. A washer and dryer don't come with the unit, but laundry is known to be cheap. Maintenance also has a positive reputation for being prompt and generous in upgrading broken appliances. Amenities include a (small) gym, a pool and sauna, volleyball courts and a cyber cafe. With two-bedroom apartments ranging from $1700 to $2000, living at International Gardens won't leave a huge dent in your bank account, especially if you don't mind squeezing in a few roommates.