Freshmen Lose Four-Year Campus Housing Guarantee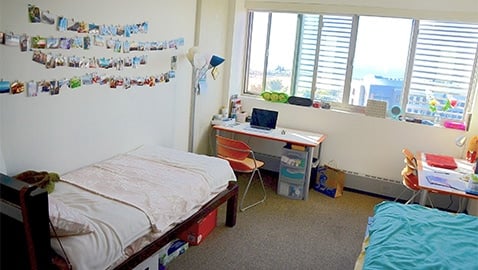 Incoming freshmen may accept a two-year guarantee and a new lower-cost "mini double" room option. Transfers are now only assured one year of housing.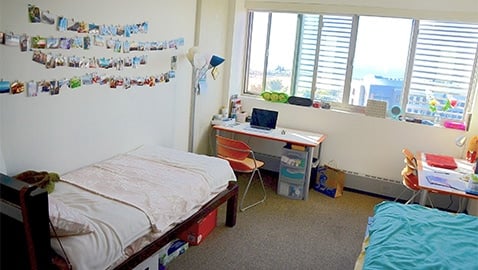 UCSD Housing, Dining and Hospitality Services announced several changes to on-campus housing for the 2014–15 school year, including a reduction in the housing guarantee for freshmen from four years to two years and new "mini double" room options for dorms and apartments , based on the temporary doubles created for overflow in 2013-14.
The changes were announced on the HDH website on April 14 and marked an end to the four-year guarantee given to the freshman classes that entered in Fall 2012 and Fall 2013. The freshman class that entered in Fall 2011 received a three-year housing guarantee.
According to a contractor at the HDH office, freshmen entering Fall Quarter 2014 will be given a two-year guarantee of on-campus housing, while transfer students will be given a one-year on-campus housing guarantee. However, class of 2018 Regents Scholars entering in Fall 2014 will still have a four-year guarantee of on-campus housing. HDH managers were not available to comment on the changes.
The changes are a reaction to an increased housing demand after a record-high 5,228 freshmen registered to attend UCSD in 2013–14, a 14-percent increase from the previous year. Transfer registration also rose 21 percent. All of these students were offered the same housing guarantee.
The changes reflect a reduction in what some have referred to as "all-campus housing," housing for students from all six colleges that is not reserved solely for freshmen, sophomores and transfers. This year, "all-campus housing" was available in apartments in Earl Warren College, Sixth College and the Village, but next year, all-campus housing will be limited to juniors and seniors eligible for a "Loyalty Program" that will allows them to be housed in the Village, according to the HDH website. Students will be allowed to participate in the Loyalty Program unless they have breached their housing contract, according to Revelle College Residential Life Administrative Assistant Amber Valdez. A "breach" in the contract can occur if a student moves off campus at any point during the years of the guarantee, summer sessions not included.
According to UCSD News Public Information Officer Christine Clark, UCSD does not yet have an estimate of how many freshmen and transfers will register to attend in 2014–15, as Statement of Intent to Register forms are not yet due until May 1.
"Housing-Dining-Hospitality expects continuing eligible students will not be tripled and will have standard room configurations available to them for room selection," Clark said.
On-campus housing will only be available to students who qualify for the housing guarantee during the next academic school year. Those who qualify for continued housing include students who were given the four-year guarantee and transfers who were given the two-year guarantee, according to Valdez.
According to Reslife staff, HDH informed returning students this week whether they qualified to live in on-campus housing in 2014–15.
"Students eligible for on-campus housing were given a postcard with their name, which tells them to check the HDH website [for their housing options]," Valdez said.
In 2013–14, 13,000 students lived in on-campus housing, and approximately 300 freshmen who entered in Fall Quarter 2013 were placed in "temporary" doubles — rooms designed as singles but converted to house two students. In Muir College, desks were installed in common areas to accommodate students because there was not enough space for two desks in the temporary doubles.
Other students were housed in storage rooms in Revelle and Muir that were converted into dorm rooms to house students. Muir freshman Bernabe Perez, who was placed in one of these converted doubles in Muir College this fall, said that his room was smaller than other rooms in Muir and had visible pipelines and as well as industrial material on the ceiling.
The "mini double," which will be offered to students entering Fall 2014, is identical to the temporary doubles that students were placed in this year due to overflow, according to Marshall College Lower Apartments Resident Adviser Carol Lunegas. However, the HDH website does not specify the size of the triples or the mini doubles, although it does list the size of both regular double and single rooms. It also does not specify whether the mini doubles and triples are equivalent to any other room size.
"I feel like they're going to try not to put students in [the temporary doubles if they don't request it]," Lunegas said. "But if there's overflow, I feel like they're going to have to put students in them."
Additional reporting by Gabriella Fleischman and Allie Kiekhofer.