Women's Basketball Sees Four Straight Wins
After a pair of road victories last week, the UCSD women's basketball returned to its home turf this weekend, winning against San Francisco State 74–69 on Friday and 62–47 against Sonoma State. With their four-game winning streak, the Tritons, now 12–8 in the California Collegiate Athletic Association, have freed themselves from a three-way tie for fifth and are now fighting for third place against Cal State Dominguez Hills and Cal State Los Angeles.
Only the top six teams will qualify for the postseason, but with only one game separating third place — UCSD, Cal State L.A. and Dominguez Hills — from sixth place Cal State East Bay, the Tritons will still need to finish out their regular season schedule strong.
On Friday evening, UCSD and San Francisco State — one of the teams previously tied with UCSD for fifth place — both shot well, going 46 percent (27–59) and 40 percent (24–60) from the field respectively. The Tritons also drained 10 of 23 attempts from beyond the arc.
During the first half, both the Tritons and the Gators traded leads throughout, but UCSD closed out the period on top with a 38–34 advantage.
In the second half, the Tritons expanded their lead. Though the Gators put up a strong fight, the Tritons held on to their lead for the entire second period to ultimately pick up the win.
"It was a huge win," UCSD head coach Heidi VanDerveer said. "I think our team battled. We came in very prepared, and we know that every game is really important. They stepped up to a challenge and got a great win for our team."
Senior forward Erin Dautremont was UCSD's leading scorer for the second consecutive weekend. Dautremont has been red-hot as of late as she recorded her fifth double-double of the season (22 points, 10 rebounds), her second in only three games.
"I think [Erin's] a winner," VanDerveer said. "[Erin] competes and battles, and she's capable. You should pencil in a double-double for [her] about every night, and I thought she really set the tone for our team tonight."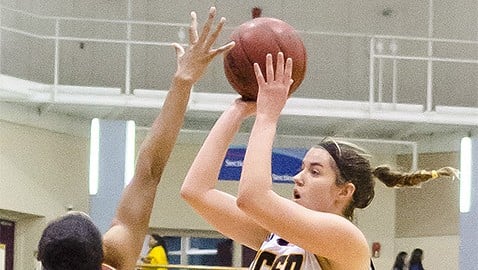 The Tritons also found significant help from the bench as freshman forward Cassie MacLeod continued to impress, racking up 16 points as second best for UCSD on Friday night.
UCSD played its final home game of the season against last-place Sonoma State the following day, defeating the Seawolves 62–47. A ceremony honoring the four senior Tritons (Erin Dautremont, Kim Manlangit, Rachel Marty and Megan Perry) preceded the contest, which had 11 different Tritons convert.
VanDerveer spoke highly of her senior group.
"They're the keepers of a championship culture," VanDerveer said. "Workers win and winners work, and I think this group specifically is a testament to that."
Every Triton got playing time on senior night and together, UCSD restricted Sonoma State to just 25 percent (8–32) shooting from the field in the second half and out-rebounded the Seawolves 46 to 21 for the game.
While Sonoma State led early in the game, the Tritons gradually began to pull away midway through the first half, closing out the period with a significant 38–22 edge. For the second straight night, UCSD refused to give up the advantage in the second half and at one point led the Seawolves by as much as 24 points.
After another successful weekend, UCSD hopes to build off its momentum to secure a spot in the postseason CCAA tournament in Ontario, Calif.
"I think we just take every possession, every game, at a time," VanDerveer said. "I think we're playing very well right now, and as long as we continue to improve every day, I like our chances."
The Tritons will finish off their season on the road, playing their final two games against Cal State Los Angeles on Friday, Feb. 28 and Cal State Dominguez Hills on Saturday, March 1. Both games will be crucial to their standing, as Cal State Los Angeles is third in the standings and the Tritons are tied with Dominguez Hills for fourth. Tip-off for the pair of games is slated for 5:30 p.m.