Tritons Improve to 7-3, Ranked Second in Conference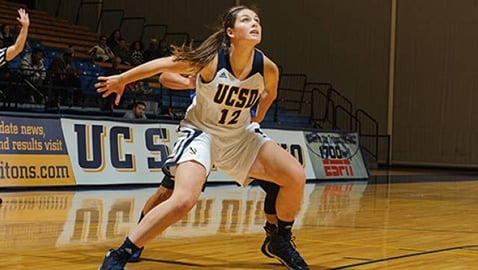 Women's basketball took two more wins on a weekend road trip
The UCSD women's basketball team took a pair of wins on Friday, Jan. 17, against Sonoma State and on Saturday, Jan. 18, against San Francisco State.
The Tritons improve to 10–4 overall and are now tied for second in the conference with a 7–3 record in California Collegiate Athletic Association play.
After poor shooting in the first half, in which UCSD shot only 23.5 percent (8–34) from the field, the Tritons came out firing in the final two quarters, scoring a total of 49 points in the second half.
"In the second half we were able to get in a much better offensive rhythm and really play some solid defense," UCSD head coach Heidi VanDerveer said. "I think our defense really got us some easy looks, got us in a rhythm and really helped us turn the corner in the game."
Senior guard Megan Perry led with 18 points, which came from six three-pointers.
Coupled with junior guard Miranda Seto and senior forward Erin Dautremont's 16 points each, the Tritons found a way to power through the Seawolves, who, with the loss, fell to 2–11 overall and 1–8 in the CCAA.
Coming off of the big win, the Tritons took down San Francisco State 62–54.
San Francisco State, now 9–7 overall and 5–5 in the CCAA, found themselves shut down on the attack, as the Tritons held the Gators to a mere 27.9 percent (19–68) shooting from the field.
VanDerveer said that the team's defense has been the key element for the Tritons' recent success.
"For our team to be successful, we need to really focus on getting back into defensive transition and not giving up easy baskets," VanDerveer said. "The way that you do that is eliminating transition baskets, which we were able to do, and really giving the people just one shot."
In the attack, Perry and junior forward McKennan Bertsch both led UCSD in scoring with 15 points.
Perry also dominated the board swith career-high 13 rebounds in her double-double effort.
Dautremont finished with 12 points along with 12 rebounds, while Seto sank 13 points. Junior guard Stephanie Yano also dished out a team-high seven assists.
"We're like a symphony orchestra; we play very well together," VanDerveer said. "Some nights we'll have some people step out and be soloists, but it's different people every game. I think that's the difference with our team."
After an effective weekend against conference opponents, the Tritons — now 10–4 overall and 7–3 in the CCAA — find themselves tied for second in the CCAA with Cal State Stanislaus. The Tritons will return to home turf looking to continue their climb in the standings as they take on against Cal State Dominguez Hills on Friday, Jan. 24, and Cal State Los Angeles on Saturday, Jan. 25. Both games will tip-off at 5:30 p.m. at RIMAC Arena.