Women's Basketball
The UCSD women's basketball team went 2–0, improving to 4–1 this season, at the fourth annual UCSD Thanksgiving Classic, Nov. 29 to Nov. 30.
Senior guard Megan Perry was named to the five-man all-tournament team, while senior forward Erin Dautremont earned the tournament's most valuable player award.
UCSD begins conference play this Thursday, Dec. 5, on the road against Humboldt State.
Nov. 29
UCSD 62, Metro State 61
The UCSD women's basketball team went into extra time for the second time in just four games in its 61–62 overtime win against Metro State Friday, Nov. 29.
Senior forward Erin Dautremont's play on the block propelled the Triton attack. Scoring a game-high 26 points, on 8-for-12 shooting, Dautremont — a four year starter, who had a couple of quiet games at the start of the season — was also perfect from three-point range, scoring four for four.
The Tritons trailed through most of the game but were able to push into overtime when, with six seconds on the clock, Dautremont sunk both of her free throws, tying the score at 54–54. UCSD controlled the game after the break, going up in the first minute off a jumper by junior guard Miranda Seto, followed by a three-pointer by Dautremont in the next possession.
"It takes a lot of character for our team to step up and to do what we did tonight. It takes defensive stops back-to-back. It takes working every possession," Dautremont said to the UCSD athletics department. "We've got a good lineup out there that's ready to go every night."
Nov. 30
UCSD 52, Azusa Pacific 50
The Tritons still managed to pull out the win in their last game of the tournament, even without the aid of junior starting guard Miranda Seto, which forced senior guard Megan Perry and junior guard Stephanie Yano to play the full 40 minutes, UCSD had contributions from around the roster.
"Everyone has to contribute every single play and every single possession, and I think we really did that tonight," Perry said to the UCSD Athletics Department.
Perry led the Tritons with her first double-double of the season (11 points on 12 rebounds). Junior forward McKennan Bertsch also had a good game, scoring eight points and nabbing eight rebounds, while Dautremont chipped in nine points.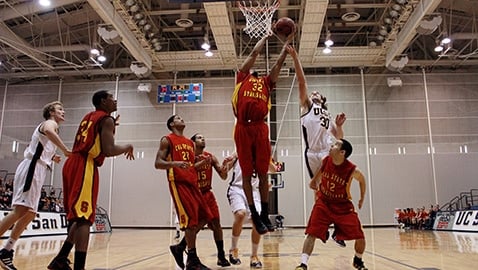 Men's Basketball
Nov. 30
UCSD 77, Academy of Art University 59
Freshman guard Adam Klie led the Tritons in scoring last week in UCSD's 77–59 win against the Academy of Art University.
Coming off the bench, Klie — of Anchorage, Alaska — racked up 19 points on 6-of-9 shooting, while grabbing eight rebounds. Senior starting point guard James McCann chipped in 14 points, while 6-foot-11-inch sophomore forward Drew Dyer picked up 15 points.
"Klie is a talented kid, a strong, athletic kid," UCSD head coach Eric Olen said to the UCSD Athletics Department. "He's done a great job of just coming in and working hard every day. He picks things up really quickly, he competes all the time and always works to get better."
The game was never close, as the Tritons went into the second half with a seven-point lead that they quickly extended into double digits.
With the win, the Tritons improve to 3–1 as they head into California Collegiate Athletics Association conference play this Thursday, Dec. 5, when they will face a tough Humboldt State squad who finished second in the CCAA with a 15–7 record.