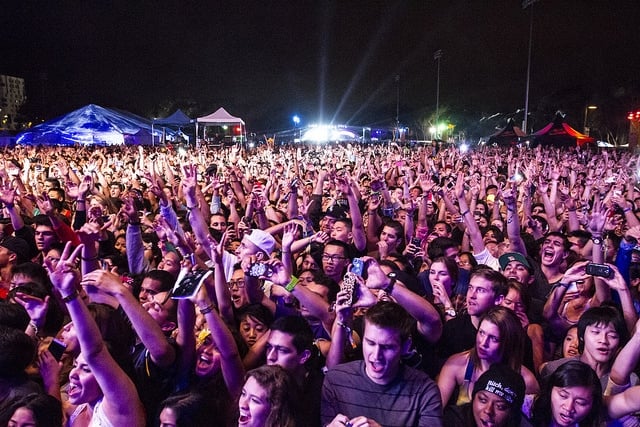 In a preliminary report of potential changes to the Sun God Festival, the Sun God Festival Task Force announced that guest tickets would be eliminated for the upcoming event in May 2014. There was no mention of eliminating alumni tickets.
The no-guest policy comes after the 2013 Sun God Festival saw a 46-percent rise in drug- and alcohol-related detox visits, a 129-percent rise in medical transports, a 55-percent rise in student conduct violations and a 54-percent rise in arrests compared to the 2012 festival.
"Sun God 2014 almost didn't happen, and Sun God 2015 is far, far from guaranteed," A.S. Concerts and Events Festivals Director Andrea Hsueh said.
According to the report, non-student guests account for over one third of those admitted to detox facilities. Guest tickets, which sold for $65, accounted for 3,000 of the roughly 20,000 people who attended Sun God in 2013.
"The 3,000 [non-student guests] at the festival last year represented a disproportionate amount of risks," A.S. Associate Vice President of Concerts and Events Sarah Harley said.  We believe the elimination [of guest tickets] will help to reduce these risks."
The Sun God Task Force was established in September to respond to the rises in health and safety problems in 2013. The task force's report offers ways to reduce heavy drinking and student detainments at the event.
"We find ourselves in a position where we have exhausted all of our resources in terms of police, staffing, security, and medical assistance, and we're at the point where we're reaching unsustainable," Hsueh said. "We're taking the first step so something doesn't happen, so that we have a Sun God."
Other suggestions included in the report are altering the wristbands to make them more difficult to remove and checking student IDs upon entry.
"All of our decisions were made with health and safety as the biggest concern," A.S. President Andy Buselt said. "It's going to enable us to have a festival that's more student-centered than ever before."
The task force also plans to make use of a campuswide survey, emailed out by ASCE, to gauge students' priorities with regard to the event.
 "We're going to rely a lot on student input," Hsueh said. "We want to be able to collaborate and work more closely with our peers […] to discuss the issues at hand and what we can do to solve them."