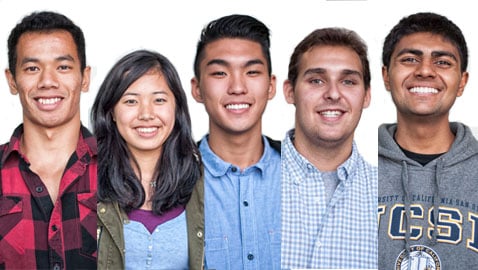 Last night's council meeting was surprisingly entertaining; unfortunately, my entertainment came at the expense of a few councilmembers' feelings. But I'm getting ahead of myself.
To start the night off, council appointed five new senators, three freshmen and two transfers. AVP Environmental and Social Justice Affairs Jillian Du then presented a dazzling Prezi to advocate her office and introduce campaigns. This included revamping reusable dishware for HDH dining halls (please, don't make me feel guilty for minimizing the weight of my salad by taking it to go), maintain UCSD's fair-trade standard, and work on a water bottle ban on campus.
Another ASESJA initiative that sufficiently impressed council was a solar charging station surrounded by hammocks, called Solar Chill. AVP Environmental and Social Justice Jillian Du said that the project is likely to become actualized this year, much to everyone's excitement — including my own.
I would love for people to talk to each other and be nice and be friends. – Jordan Coburn, Campuswide Senator
VP Finance & Resources Sean O'Neal then made a presentation for his budget proposal, made bearable to sit through because of its Zelda theme. The budget was then reviewed and approved in 36 minutes, a surprising and impressive model of efficiency. The night's first contention came when dispersing money owed to the six college councils.
"I just want to express my disappointment that lots of good A.S. programs were cut, and now — not to be offensive — it's going to be going to pizza for certain colleges," Social Sciences Senator Colin King said. "$5,000 worth of pizza."
Discussion ensued, ending with very wise words from AVP Diversity Affairs Oscar Gomez: "Please talk to me after the meeting — I really don't want to waste any more time."
Following the approval of the budget, Council opened a caucus to discuss expectations. The first issue to spur dissent was perhaps the most vitally important of the night: whether to continue showing support through hand "twinkling," or to revert to snapping. An unofficial vote showed snapping to be the more popular choice. I have to agree.
Councilmembers were encouraged to read bylaws in order to fulfill their job description, leading to heated reactions from those who clearly thought they were fulfilling their jobs and did not appreciate being accused otherwise.
This escalated into tension between college council representatives and A.S. Council, which was simply uncomfortable to witness (although at the same time amusing).
Perhaps A.S. Council should listen to Campuswide Senator Jordan Coburn: "I would love for people to talk to each other and be nice and be friends. I really think things will get better."
Don't worry, new appointees. It gets better from here.