Halloween Feature: Bare Bones Fun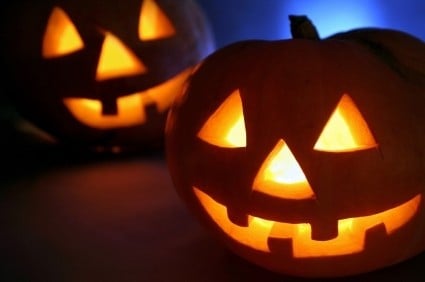 DIY Halloween Party
Costumes
Homemade Halloween costumes guaranteed to entertain more than a devil costume you pay $40 for online. There are so many inexpensive ways to dress up, whether by using clothes you already have or borrowing from a friend. For the guys: Luckily, the TV gods have blessed you this year with "Breaking Bad's" Walter White, which is bound to be a smash-hit costume. Re-create Walter's iconic look when he's stranded out in the desert in the series premiere — all you need is a green button-down shirt, some tighty-whities, glasses and brown shoes. If you don't have a green button-down, or don't feel comfortable enough to strut your stuff in only your briefs, channel Jim Halpert's costume on "The Office" as BookFace. Just write the word "book" across your face, and when people ask you who you are, tell them you're BookFace. It might take them a few minutes to get your costume, but it's a good way to assess their wit. Gals: Grab a few friends, and you can dress as minions from "Despicable Me." All you need is a yellow tank top, a stretchy black headband and two clear plastic cups. Glue white paper onto the bottom of the cups, draw a black dot in the middle and attach them to the headband — now you've got minion goggles. If you're in a pinch and need a last-minute costume, dress as feminist icon Rosie the Riveter. All you need is a red bandana, a blue button-down shirt, red lipstick and confidence, and you're all set.
Food & Drink
Fall is the perfect time of the year to take advantage of the seasonal produce and get creative in the kitchen. You can get as gourmet as pumpkin risotto or keep it simple with hot apple cider — either way, there are plenty of ways to capture the essence of fall flavors in your cooking. For an easy and festive Halloween drink, make "pumpkin" floats for guests by serving a scoop of orange sherbet in a clear plastic cup, decorated with a drawn-on Jack-o-Lantern face and pouring over cream soda (or any clear soda you'd like). For those of you who like to add an extra kick to your drink, pour champagne over the sherbet instead of soda.
No good Halloween party is complete without some treats. A quick, easy and popular treat idea is Halloween Rice Krispie Treats. Add orange food coloring and form them into balls to make them look like mini pumpkins, or just shape them into ghosts and draw faces on the front with black decorating frosting. Put a popsicle stick or skewer in the treats so your guests can eat them without getting their hands sticky.
Decor
When you buy them at a party supply store, decorations can get expensive. Since most of us don't have a Martha Stewart-sized decorations budget, making your own decor can help minimize costs. One of the easiest ways to spookify your walls is by adding bats. Trace bats onto black construction paper, cut them out and tape them to your walls so it looks like they're flying up the wall. Complete the spook effect by making glowing ghost balloons: Take white balloons, blow them and put a glowstick inside. Then, draw ghost faces on with a black marker. Party favors are always a cute way for your guests to remember the night. Create your own ghost lollipop party favors by taking a tissue and securing it to a lollipop (Tootsie Pops work best) with a piece of black string or ribbon, so that it looks like a ghost. Finish off your ghoulish gift by drawing on a ghost face, and hand them out to guests as they leave.
Dia De Los Muertos
The celebrations don't have to end at midnight on the 31st. Get your dose of art, history and culture at Old Town San Diego's Dia de los Muertos celebration on Nov. 1 and Nov. 2 from 1 p.m. to 9 p.m. Dia de los Muertos, also known as All Saints' Day in Western Europe, is a time when the spirits of loved ones return to celebrate with family and friends. The holiday is meant to be a time of year when you offer hospitality to the spirits by celebrating with food, drinks and art. There will be traditional Mexican cuisine, sugar skull decorating and face painting and live music. Admission and parking at the event is free, and you can take the MTS Route 30 bus there and back.