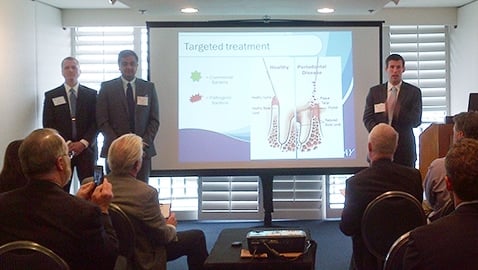 At a school known for its research and innovation, it's no surprise that UCSD students have developed some new technologies that have caught the public eye.
Last week, UCSD Masters student Shawn Mailo, his undergraduate team partner Ali Athar and UCSD graduate student Giovanna Scheidler competed as finalists in the second annual Rady Student Venture Open, a national competition for students to pitch their own inventions to companies and investors. The competition is sponsored and organized by the World's Best Technologies Innovation Marketplace in partnership with the Rady School of Management at UCSD and gives students a chance to receive licensing and funding for their inventions in addition to small cash prizes. Forty students entered the competition this year, but only seven finalists were selected to participate in the two-day competition.
Mailo, Athar and Scheidler presented their respective inventions in front of an audience and a panel of nine judges at the Sheraton San Diego Hotel and Marina. Their inventions included Stored Blood Quality Diagnostic Device, which analyzes key properties of stored blood to provide metrics for its quality and functionality before blood transfusions, and OvalPal, a patch that helps women track their ovulation cycle.
"The judges represent investors from the San Diego community, industries and technology," Director of the California Institute for Innovation and Development Lada Rasochova said.
Five teams of finalists from other schools, including Stanford University, Purdue University, the University of Texas at Austin and the University of Louisville, were there to give them a run for their money. Their technologies ranged from medical devices to cooking instruments and communication tools. But in the end, the University of Louisville claimed the top two spots with Systemica Health, an oral treatment for gum disease, and Therabracelet, a bracelet that increases sensitivity, movement, reaction time and general motor skills of the hands. Along with a cash prize, the winner of the competition was invited to compete at the Global Venture Lab Investement Competition, where they can win $78,000 and another chance to market their product.
"The University of Louisville had great technology — they were very well prepared," Rasochova said.
The competition consisted of two parts: the Elevator Pitch Competition and the Finals. During the first part of the competition, the participants had two minutes to pitch their invention to the audience. In the second part of the competition, the participants competed in front of a panel of judges made up of local investors and companies, such as Johnson & Johnson, CONNECT and Angel investors. They had 12 minutes to give a presentation on their projects and three minutes to answer questions posed by the judges.
"[The competitors] had very interesting technology," Rasochova said.