A.S. Council's incoming Vice President of Campus Affairs and former Triton volleyball captain Amber Hawthorne intends to use her new position to push UCSD's athletics to new heights.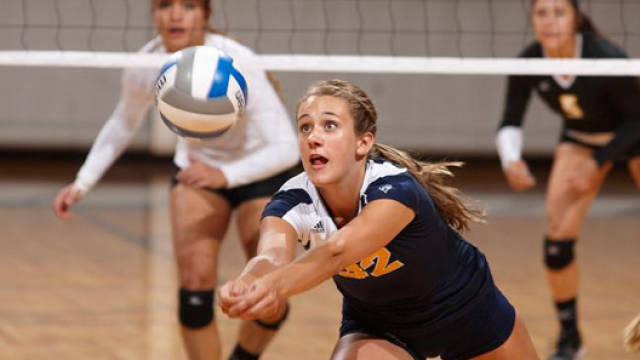 Newly elected A.S. Council Vice President of Campus Affairs Amber Hawthorne knows a thing or two about what it takes to be a leader. After entering UCSD as a high-profile volleyball recruit, Hawthorne spent two years on the Triton women's volleyball squad before making her  move to student politics. Her time in athletics included one year as the team captain, giving her quite the leg up on her political competition in terms of leadership qualifications.
Hawthorne's sports life started not in volleyball but in softball. It was not until a spontaneous tryout for a volleyball team that Hawthorne found her way into the game.
"My sister was going to try out for a recreational team," Hawthorne told the UCSD Guardian. "When we got to the tryout, she decided she didn't want to try volleyball just yet. Since we were there, I figured I might as well try it."
Hawthorne went on to play both junior varsity volleyball and softball at Granada Hills High School and lettered for both sports her sophomore year. By her junior year, however, she quit softball to make volleyball her primary focus.
"I had been playing [softball] since I was six, and by the time I got to my high school years, volleyball was fresher and had caught my interest," Hawthorne said.
Soon enough, she began to attract collegiate volleyball recruiters and, in her sophomore year, received her first letter from UCSD's then-head coach Tom Black.
"I visited the school three times before my senior year," Hawthorne said. "I fell in love with the campus, the climate and the sort of overall campus vibes."
In her freshman year as a Triton, she started 14 matches during the 2011 fall season and was one of just three Tritons to play in all 102 sets. By the end of only her first year, Hawthorne recorded seven double-doubles along with balancing her academics — a standout freshman campaign that earned her California Collegiate Athletic Association All-Academic Award as well.
As a sophomore and newly minted captain in 2012, she started all 31 matches, playing 114 of 115 sets. She was selected All-CCAA Second Team and led the team with 26 service aces. Hawthorne also recorded 12 double-doubles on the season and tallied the team's only triple-double of the year with 14 kills, 39 assists and 20 digs at Cal State Monterey Bay.
Yet with such a successful collegiate volleyball career only halfway finished, the accomplished Triton felt something was missing. Hawthorne was in search of a more well-rounded college experience.
"By the time I got to college, I was seeing all my friends involved in different things," Hawthorne said. "So I really wanted to branch out and get a different taste of the college experience."
Since her departure from athletics, she truly has branched out. Hawthorne has utilized her newfound free time to work under Student Services as a college ambassador and also joined Greek Life as a member of Pi Beta Phi — all on top of making her mark in student government.
Her new position will certainly provide pressures and challenges, but Hawthorne plans to meet them head-on. She intends to waste no time in her position as she plans for increased campus spirit and event attendance for UCSD's athletic programs.
"I want to do a lot of personal communication with Tritons Athletes Council and with the Greek community [to] see if there are some sorts of events that they can host together," Hawthorne said. "I would also like to work with Ken Gross on having another spirit night during [Fall Quarter 2014]."
While Hawthorne's position covers many facets of student life, her approach is very rooted in her athletics background. She believes UCSD's athletics are the key to a more unified Triton community and a better overall campus environment.
"My whole position is, in a broad sense, to improve campus spirit and raise the excitement of the overall climate," Hawthorne said. "I am a huge supporter of that coming out of athletics because it is something that is nonpolitical, and it is something people can really rally around."
One of her primary goals is to liven up sporting events, and she has several ideas on promoting visibility for the Triton sports squads.
"I want to work with the AVP of Concerts and Events on having a Bear Garden, potentially on RIMAC field before sporting events so that everyone is really amped up and there is a good campus vibe going into the game," she said.
Beyond that, the push for a move to Division I for the UCSD Athletics Department is still a top priority. Hawthorne believes that pushing for increased student awareness of and enthusiasm in Triton athletics are the keys to doing so.
"I want to get A.S. and all the different groups on campus to know about athletic events to foster their interest," Hawthorne said. "With that, if a [Division I] referendum were to come around in the next couple years, there would be a heightened love for the athletic programs throughout campus."
Though she no longer sports a Triton uniform herself, she is still passionate about the sports community.
"I came to UCSD really excited about athletics," Hawthorne said. "That love never died. [Running for A.S.] was more about getting involved in the whole campus community, and athletics is still very dear to my heart."