Men's Golf snags third place title at Dennis Rose Invitational, Clayton Yamaguchi takes first individual collegiate title.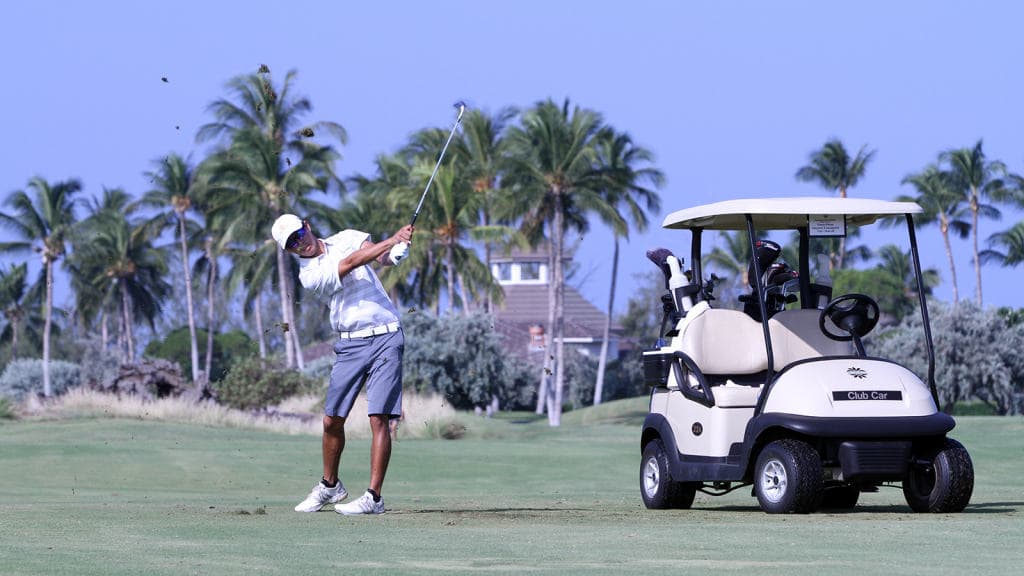 UCSD's senior Clayton Yamaguchi won his first-ever collegiate tournament at the Dennis Rose Invitational at the Waikoloa Beach Resort Kings' Course on Hawaii's Big Island. UCSD placed third as a team on Saturday after finishing the first day of the competition Friday in second. No. 8 Cal State Monterey Bay won it all, followed by Wilmington in second place.
DAY ONE
Yamaguchi hit a 70 to open the day on Friday on the par-72 course. He followed that up with a 69 in the second round, bringing his total to a 5-under par (139). Yamaguchi was tied for fourth after one round of competition, but took sole possession of first place at the end of the day. He was two strokes ahead of Wilmington's junior Sam Clark (141) in second while Cal State Monterey Bay's junior Fredrik Jullum, senior Ray Richards and senior Carr Vernon were three strokes away, all tied for third with a count of 142.
As a team, UCSD was in a tie for third following the first round after shooting 298. It moved up to second with a 293 in the second round, two strokes ahead of Saint Martin's and Wilmington, both tied for third with a 593. UCSD's 591 was 20 strokes over Cal State Monterey Bay's field best 5-under 571.
Tritons senior Jeff Roseth was tied for 12th after one day (148), senior Daniel Yang tied for 33rd (152), freshman Jake Haselden tied for 38th (154) and sophomore Grant Amerson rounded out UCSD's point scorers tied for 42nd (155).
DAY TWO
Yamaguchi shot 70 again on Saturday in the third round to win the individual title, while UCSD finished third out of 10 after the second day of the tournament.
Yamaguchi finished with a 209 (7 under par) to earn his first collegiate win.
"I worked really hard this summer preparing for the season and was playing really well heading into the school year," Yamaguchi told the UCSD Athletics Department. "Unfortunately, when school started, I kind of lost things and wasn't playing very well. I really had to grind these last few weeks, and the hard work paid off."
Cal State Monterey Bay's Jullum finished two strokes behind Yamaguchi with a 211, 5 under par. Richards finished third with a total of 212, 4 under par.
"The course definitely suited my game," Yamaguchi said. "I felt very comfortable and was able to execute shots and make some putts. I was diligent in picking out targets and hitting them."
UCSD dropped from second to third after shooting a 294 on the final day. The Tritons finished with an 885, 21-over par, as a team. Cal State Monterey Bay won with a total of 852 (-12). Wilmington finished second at 879 (+15), a strong 27 strokes behind Monterey Bay.
Roster tied for 13th (220), Yang was 28th (225), Haselden tied for 41st (233) and Amerson was 47th (236) for the Tritons.
"This week in Hawaii has been a lot of fun for the team," Yamaguchi said. "Walking away with a victory is something I'll never forget."
UCSD is now done with its fall season. Next time the Tritons will see a competition is Feb. 8 to Feb. 9, at the Cougar Invitational hosted by Cal State San Marcos at Shadowridge in Vista.